Today I am going to show you how to cook spaghetti squash in the oven, in the microwave, and even in the slow cooker.
In fact, if you have always struggled with cooking this amazing low-carb vegetable, this will show you exactly what to do.
Spaghetti squash is a wonderful keto pasta replacement or a quick and easy alternative to zoodles. It's also the perfect side dish for low-carb vegetarian meals.
Is spaghetti squash keto?
Spaghetti squash is part of the squash family which is grown above ground, large in size, and varies in shades of yellow to orange. It is low in carbs, high in fiber, and often used as a side dish, a pasta replacement, or a meal on its own with butter and seasonings.
Are you ready to create the ultimate 12-month blueprint for reaching your health & weight loss goals this coming year?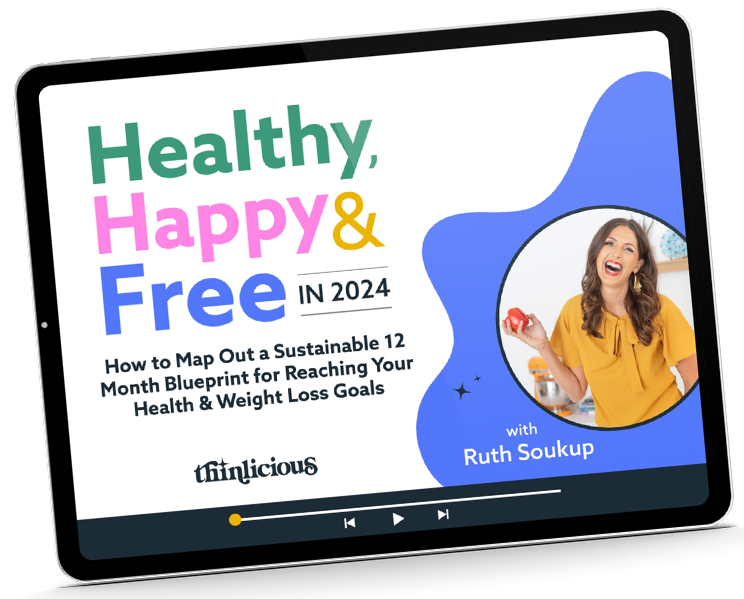 Our free on-demand video training will walk you through how to make 2024 THE year you set health goals…and keep them.
How many carbs are in cooked spaghetti squash?
Per 150g (1 cup) there are 10g total carbs, 2g fibre (so 8g net carbs). Now compare this with 1 cup (140g) cooked wheat spaghetti which has 43g carbs, 3g fibre (so 40g net). Spaghetti squash also contains Vitamins A, B6, C, niacin, manganese, and thiamin.
How to cook
It is used as a low-carb alternative to spaghetti and can be baked, boiled, microwaved, or steamed. Boiling or steaming has a tendency to make the spaghetti squash strands a little on the soggy side, so I prefer to bake it as shown in the 'how to cook spaghetti squash video'.
How to serve
Spaghetti squash can be served simply with butter and garlic (my favorite) or with a spaghetti sauce or used in any other pasta recipe. It is a quick and easy keto pasta replacement and keto vegetarians especially love it because it is so flavorsome and low in carbs.
What to serve with spaghetti squash
What a wonderful way to get more vegetables into your children. No more wheat pasta, which in effect is just cooked starch. Let them pull the strands from the cooked spaghetti squash. It's so much fun letting them help out with the meal and learning to cook at the same time.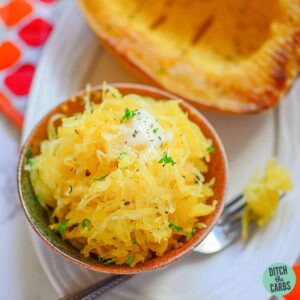 How To Cook Spaghetti Squash (Baked,Slow-cooker, Microwave)
My little how to cook spaghetti squash video will show you once and for all how easy it is to make, and how amazing strands of spaghetti squash are made, as if by magic!
Print
Pin
Rate
Want to lose weight and get healthy for life—without dieting, drugs, or making yourself miserable?
We can help! Tell me how!
Equipment
Slow cooker

Casserole Dish
Ingredients
1

spaghetti squash

extra virgin olive oil

salt and pepper

to taste
Instructions
Oven method
Watch the "How to cook spaghetti squash video".

Cut the spaghetti squash in half and scoop out the seeds with a spoon.

Drizzle olive oil inside the spaghetti squash and rub all over.

Add salt and pepper to taste.

Oil a large baking dish and place the spaghetti squash cut side down.

Pierce the hard skin a few times (6-8).

Bake at 180C/350F for 30 – 50 minutes depending on the size of the spaghetti squash you used.

It is ready when the skin can be pressed down with your fingers gently. Test by turning over the spaghetti squash and with a fork, scrape away at the sides to separate the spaghetti strands, if they pull away easily, it is cooked.

Serve with plenty of butter and garlic or sauce of choice.
Microwave method
Cut through the skin and pierce into the centre 8-10 times. Place the WHOLE spaghetti squash in the microwave.

Cook on HIGH for 5 minutes, turn over, cook for another 5 minutes on HIGH.

Remove the spaghetti squash from the microwave onto a chopping board. Now that the skin is cooked and soft, you can easily cut the squash in half.

Remove the seeds and place one half in the microwave, cook on HIGH for 1 minute. Repeat with the other half.
Slow Cooker Method
Follow the oven method as per recipe above, but instead of placing the two spaghetti squash halves on a baking tray in the oven, place 1 or 2 (depending on the size of your slow cooker) in the slow cooker dish.

Place the lid on and cook on HIGH for 4 hours or LOW for 6 hours. Times are approximate and will vary according to your slow cooker.
Nutrition
Serving:
100
g
Calories:
42
kcal
Carbohydrates:
10
g
Protein:
1
g
Fiber:
2
g
Sugar:
4
g
More pasta recipes
If you are looking for more pasta alternatives, why not try out my family favorite, spaghetti bolognese. Both can be made with zoodles or spaghetti squash, so if you have been buying gluten-free pasta, nows the time to ditch them forever and start making your own nutritious past alternatives.
Remember gluten-free foods are highly processed and devoid of much nutrition at all. There are so many recipes here, all naturally gluten-free.
Get our FREE guide to finally fix your metabolism!
Losing weight & getting healthy is never easy, but lately you might feel like it's suddenly become impossible.
Our Flip the Switch guide will help you clearly understand what's been going on, as well as exactly what you can do to get your metabolism working again so that you can look and feel your best—it's easier and more simple than you think!