Cream cheese stuffed meatballs, the perfect high protein snack, lunch or dinner.
These can be frozen for easy meal prep for the weeks ahead or saved for school lunch boxes.
Tasty low carb cream cheese stuffed meatballs are quick to make, economical, perfect as a high protein snack, lunch, dinner, breakfast, and can be frozen.
So why not make a double, triple batch and be prepared for the weeks ahead.
Are you ready to create the ultimate 12-month blueprint for reaching your health & weight loss goals this coming year?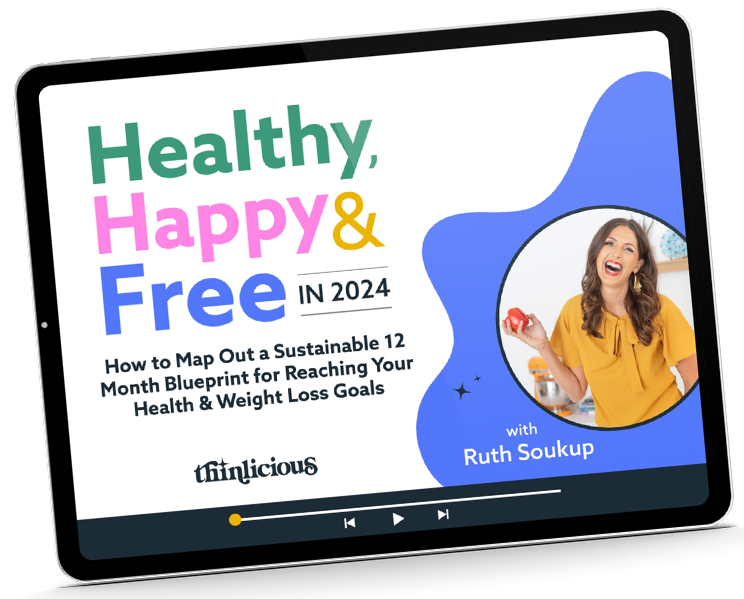 Our free on-demand video training will walk you through how to make 2024 THE year you set health goals…and keep them.
How many carbs are in meatballs?
Homemade meatballs are almost zero carbs, but it depends on what other added ingredients you use that will affect the nutrition value and carb count.
Store-bought meatballs generally contain fillers and stuffers such as potato starch, wheat flour, tapioca starch, and breadcrumbs. Even gluten-free meatballs can be high carb because gluten-free flour is not a low-carb flour.
Are meatballs high protein?
Yes, meatballs are high protein, especially if you make them yourself with no added flour or breadcrumbs.
The nutrition values (per 100g) to show you how many carbs and protein are in meatballs:
Meatballs, pork, no sauce: 10.2 g net carbs, 19.4 g protein, 16.7 g fat, 277 calories (store-bought with flour and breadcrumbs).
Cream cheese stuffed meatballs, no sauce: 1.9 g net carbs, 23.6 g protein, 21.4 g fat, 290 calories (homemade, recipe card below).
Nutritional values from cronometer.com
Which meat is best for meatballs?
You can use almost any ground meat to make meatballs. Traditional meatballs are made with pork but other common meatballs are ground beef, ground chicken, and ground turkey.
Ground poultry meatballs tend to be a little drier because poultry is a low fat meat. They are however delicious if you serve them with some creamy low-carb sauce or tangy sugar-free BBQ sauce.
Which is the best stuffing for meatballs?
You can use almost anything to stuff meatballs. However, I prefer to use cream cheese because it adds a soft and creamy center and you can add a huge variety of flavors, herbs, and spices to the cream cheese mixture.
Firm meatballs stuffing such as diced cooked bacon, fried halloumi, or a cube of cheese also work well.
What is the keto alternative to breadcrumbs?
The best alternative to breadcrumbs on the keto diet is ground almonds, nut flour, or ground pork rinds. They are all extremely tasty and much lower in carbs. They are crunchy and add extra nutrients to your meal.
I often mix herbs, spices, and seasonings to my ground almonds to make a breadcrumb when making my low-carb real chicken nuggets. The almond flour crumb coating is tasty and fries to a lovely crunchy texture.
Serving
These creamy meatballs can be served on a platter as an appetizer, on bamboo sticks, or warm them up on the barbecue in summer. They can be served hot or cold, with or without dips.
Meatballs work brilliantly with my tangy sugar-free BBQ sauce, homemade ketchup, or low-carb curry coconut dipping sauce. They are a quick high protein snack, they are portable and sturdy enough to carry around.
Variations
Simple stuffed meatballs are incredibly versatile. You can adapt the cream cheese fillings to your liking. You could use the following as meatball stuffing ideas:
Feta and basil
Blue cheese
Halloumi
Chives
Mozzarella and pepperoni
The possibilities are endless. I try to make my recipes as adaptable as possible.
Please leave a comment with your fabulous idea for a new cream cheese stuffing combination.
How to cook meatballs in the oven
Place all the rolled meatball shapes onto a prepared baking dish. I like to line my baking tray (sheet pan) with baking parchment. It makes it easy to roll the meatballs so they cook evenly on all sides halfway through cooking.
How to cook meatballs in the air fryer
Using an air fryer to cook keto meatballs is quick and easy.
Preheat to 180C/350F.
Spray the wire basket with cooking oil.
Gently place each meatball into the oiled basket. Ensure there is plenty of space between them.
Cook for 10 minutes, open the drawer and turn each meatball.
Cook for a further 5-10 minutes, depending on the size of meatballs being cooked.
If you love using your air fryer, I have 101 keto air fryer recipes for you to choose from (chicken, pork, ground beef, salmon, vegetables, and even desserts). Discover how to use your air fryer plus FREE printable air fryer cooking cheat sheets.
More Monday meatball recipes
Cream cheese meatballs were developed after readers asked me for more quick high protein snacks. But if you're after meatballs with a marinara sauce, you could try keto meatballs with a mushroom sauce or easy meatballs made in the Instant Pot.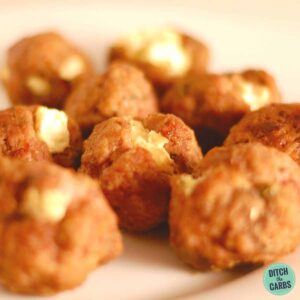 Cream Cheese Stuffed Meatballs Recipe
Cream cheese stuffed meatballs are perfect for dinner, lunch, a snack or an appetiser. So make plenty and keep on hand for a quick high protein snack.
Print
Pin
Rate
Want to lose weight and get healthy for life—without dieting, drugs, or making yourself miserable?
We can help! Tell me how!
Ingredients
Meatballs
1

spring onion/scallion

finely sliced

1

clove

garlic minced

crushed

750

g

ground/mince meat

I used pork

salt and pepper

to taste

1

eggs – medium

slightly beaten

2

slices

bacon

finely chopped

3

tbsp

sundried tomatoes

finely diced

2

tbsp

favourite herbs

– I use rosemary, thyme, oregano and sage
Filling
110

g

cream cheese

diced into squares
Instructions
Meatballs
Place all the meatball ingredients on a large mixing bowl. Mix thoroughly with your hands.

Using a dessert spoon, scoop up a golfball size of meatball mixture.

Squeeze the mixture into a ball then flatten into a circle.
Filling
Place a cube of cream cheese in the centre of the meatball circle then enclose the meatball mixture around the cream cheese.Place the cream cheese stuffed meatball on a greased baking tray.

Repeat until all the mixture has been used. Spray them all with olive oil spray so they will crisp and brown beautifully.

Bake at 180C/350F for 15-20minutes depending on your oven, or until golden brown.
Notes
The nutrition panel shows the nutrition for 1 meatball. The recipe makes 25 but if you like your meatballs to be smaller or larger, you will need to recalculate the nutrition values accordingly.
Nutrition
Serving:
1
meatball (makes 25)
Calories:
105.7
kcal
Carbohydrates:
0.7
g
Protein:
5.9
g
Fat:
8.7
g
Sodium:
46.7
mg
Potassium:
120.8
mg
Fiber:
0.1
g
Sugar:
0.4
g
Vitamin A:
81.5
IU
Vitamin C:
0.6
mg
Calcium:
10.8
mg
Iron:
0.4
mg
Get our FREE guide to finally fix your metabolism!
Losing weight & getting healthy is never easy, but lately you might feel like it's suddenly become impossible.
Our Flip the Switch guide will help you clearly understand what's been going on, as well as exactly what you can do to get your metabolism working again so that you can look and feel your best—it's easier and more simple than you think!