</p>
This keto pumpkin soup is what fall dreams are made of! Not only is the flavour and aroma incredible, but this dish is so easy to make too.
Chunks of pumpkin combined with a smoky, salty bacon hock make a delicious soup that tastes amazing. And there's even more good news with this dish – it is cooked entirely in the slow cooker! Simply add your ingredients and go about your day.
This soup can be enjoyed by absolutely everyone. It's low-carb, gluten-free, keto, and dairy-free, made with just 3 ingredients. It was inspired by my other slow-cooker pumpkin soup with coconut.
Are you ready to create the ultimate 12-month blueprint for reaching your health & weight loss goals this coming year?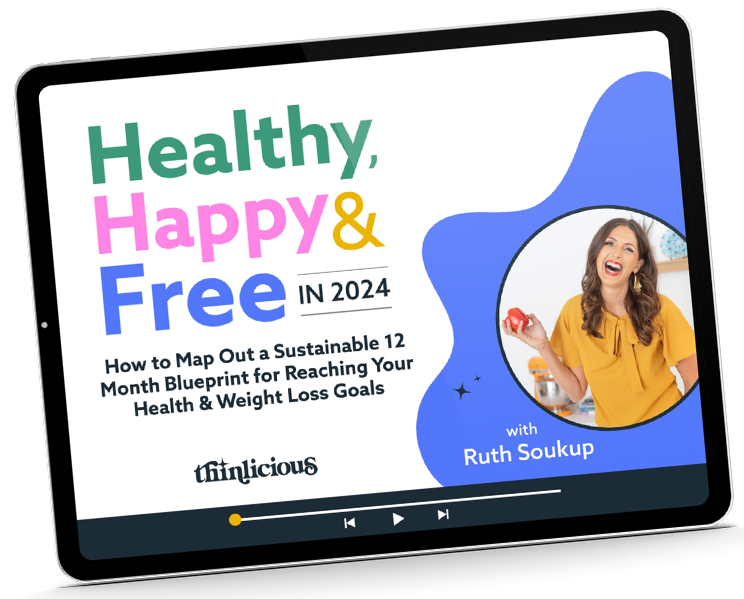 Our free on-demand video training will walk you through how to make 2024 THE year you set health goals…and keep them.
Is pumpkin keto?
Fresh pumpkin is a wonderful sweet low-carb vegetable that is versatile and perfect for the keto diet or low-carb diet.
Pumpkin is used in savoury dishes such as pumpkin and coconut soup, roast pumpkin, or mashed pumpkin with butter and garlic. It can also be used in sweet recipes such as keto chocolate pumpkin pie, pumpkin pie spice fudge, and pumpkin pie spice latte.
It is low carb, low calorie, low fiber, low protein, and contains vitamin A, vitamin C, and iron.
Pumpkin nutrition per 100g (raw): 6.5 g total carbs, 0.5 g fiber, 6 g net carbs, 1 g protein, 0.1 g fat, 26 calories.
Ingredients
Low carb recipes don't have to be complicated or fussy, this keto pumpkin soup is easy peasy! In fact, this pumpkin soup recipe only has 3 basic ingredients (quantities and instructions are in the recipe card below):
Pumpkin – remember when I said this soup was easy? You don't even have to make homemade pumpkin puree. Instead, just grab a fresh pumpkin and chop it into rough pieces before adding it to the slow cooker. Almost any pumpkin or squash variety will work. I love using cinderella pumpkins, jack-o-lantern pumpkins, or butternut squash for the best texture, but others work too.
Bacon hock – this ingredient makes the keto pumpkin soup have a delightful smokey bacon flavour that when combined with pumpkin is deliciously salty and sweet. It's addictive No idea what a bacon hock is? Read more below.
Boiling Water – straight out of the kettle works fine and it speeds up the heating/cooking in the slow-cooker.
Yup, that's it!
Substitutions
Bacon Hock
If you can't find a bacon hock where you live, ask your butcher for a ham hock or some other similar cured joint of meat.
In reality, any meat bones would be lovely in this recipe, but you may need to add salt and flavourings if the meat is not cured in any way. I don't add salt or herbs to this recipe because the bacon hock imparts a lovely salty smokey flavour.
If you were to use chicken bones, for example, you might want to add some dried or fresh rosemary, crushed garlic, or other fresh chopped herbs and seasoning to taste.
Remember to remove all the bones from any meat before serving, especially chicken bones which are tiny.
Why not keep the leftover bones from roast dinners in the freezer, ready for when you want to make this keto pumpkin soup recipe? Or bone broth?
Pumpkin
If you aren't able to find a fresh pumpkin to make this recipe, you have a few choices.
You can use canned pumpkin puree instead of fresh, but you'll want to adjust the cooking time to 2-3 hours rather than the longer 6+. You also need to read the nutrition label to ensure there are no added sugars or starches.
While you can use fresh pumpkin puree, it's really not worth your time to make it. As the chunks of pumpkin cook in the slow cooker, it will cook into its own puree of sorts!
You can also make this keto pumpkin soup with squash instead of pumpkin. The chunk of squash will cook nicely and still give you a similar flavour.
Equipment
The main thing you need for this keto pumpkin soup recipe is a slow cooker.
You also might want to have an immersion blender on hand. While this is not a must-have, it can give you an even smoother puree for your soup!
No slow cooker? You can also make this on the stove top in a large stock pot. Just keep it simmering on medium heat for several hours, and give it a stir every once in a while.
Variations
This soup as-is works so well. It's simple and flavourful! However, you can play with this pumpkin soup and change it up as well. Here are a few ideas:
Smoky soup – if you feel like being a bit fancy, you can fry up some bacon in a pan, then set the bacon aside. Use the bacon grease to coat and cook your pumpkin in, then mash it down a bit to create freshly roasted pumpkin puree. Make the soup as directed, then top with some of the bacon.
Creamy keto soup – add a bit of sour cream or canned coconut cream to your soup before serving. Then top with roasted pumpkin seeds.
Herbal soup – keep the recipe the same but toss in some fresh herbs as it cooks. I like this keto pumpkin soup with fresh thyme or chopped parsley.
Spicy soup – the sweet soup works very well with spice if you crave it! Add a few dashes of cayenne pepper then enjoy.
Want to try another low-carb pumpkin soup recipe? You'll love this vegan pumpkin soup with coconut milk!
Instructions
Place the pumpkin chunks and bacon hock in your slow cooker. Then, add boiling water over the top. Set on low for 6-10 hours or high for 3-4, depending on when you want dinner ready.
Once the bacon hock has been cooking in the slow cooker for a few hours, remove the joint of meat from the slow cooker and place it on a chopping board to start pulling the meat away from the bones.
All the collagen, gelatine, and amazing nutrients will have been boiled into the soup so you may discard the bones now and place the meat back into the slow cooker dish.
You can serve the keto pumpkin soup as it is, rustic, lumpy, and pieces of meat clearly visible.
Personally, I like to make it smooth with my stick/immersion blender. It's completely up to you.
Keto garlic bread
What to serve with keto pumpkin soup? This soup recipe is practically begging to be served with a lovely chunk of bread. Fortunately, you have plenty of low-carb options to choose from!
This cheesy keto garlic bread made with fat head dough is the most popular bread recipe on Ditch The Carbs. It's a firm favourite the whole family will love.
You might also like to serve it with low-carb focaccia bread. This can be made as one loaf or rolled out to become a flatbread. Simply slice and serve with lashings of butter or toast before serving.
I also recommend this low-carb 3-seed multigrain bread , keto cheese bread loaf (almond flour recipe), or these 4-ingredient keto breadsticks.
This keto pumpkin soup also pairs well with this easy keto cornbread (less than 3 carbs!)
You can also add garlic butter. Either to the bread or as a garnish to the bacon and pumpkin soup.
Storage
Storing this keto pumpkin soup is easy! Just add it to an airtight container with a lid and place it in the fridge for up to 3 days.
Curious if you can freeze soups like this one? Well, you can! Simply spoon the cooked soup into freezer-safe containers. Make sure to leave a few inches for expansion, then add the lid and place it in the freezer.
Keto pumpkin soup FAQs
What is a bacon hock?
I have used bacon hock and bacon bones before in recipes but my American followers are often confused. The picture below shows what I can buy here in New Zealand. By definition, bacon hock is similar to ham hock.




They are the same joint from the pig but bacon is cured and salted, whereas ham is salted and cooked. The confusion arises because bacon is generally made from a flank of meat with no bone. Both are delicious, but you may need to add a bit of salt and seasoning if you use ham in this keto pumpkin soup.
How can I freeze individual portions of soup?
Pour cooled soup into muffin tray and place in the freezer until completely frozen solid. Then pop each single-serve portion of soup out of the tray and place it into a ziplock bag for easy storage in the freezer.
How do I reheat soup?
Soup is best reheated in a saucepan over medium heat. Stir continuously as the edges begin to bubble to make sure there are no cold spots. Alternatively, you can reheat soup in a microwave-safe dish in the microwave. Reheating times will vary depending on your method and quantity.
How many carbs are in a pumpkin?
Per 100g (raw), pumpkin has 6.5 g total carbs, 0.5 g fiber, 6 g net carbs, 1 g protein, 0.1 g fat, 26 calories.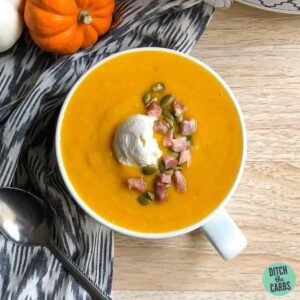 Slow Cooker Keto Pumpkin Bacon Soup Recipe
This keto pumpkin soup is the perfect recipe for a busy family. Throw it in the slow cooker – amazing!! With only 3 ingredients!!
Print
Pin
Rate
Want to lose weight and get healthy for life—without dieting, drugs, or making yourself miserable?
We can help! Tell me how!
Equipment
Measuring cups and spoons

Slow cooker

Stick Blender
Ingredients
1

bacon hock

900

g

pumpkin

diced

boiling water
Instructions
Place the bacon hock and diced pumpkin in the slow cooker. Cover with boiling water.

Cook on HIGH for 3-4 hours or LOW for 6-10 hours.

After you see the meat coming away from the bones, remove the joint carefully and place it on a chopping board. Gently pull the meat away from the bones and place the meat back into the slow cooker. Discard the bones.

When ready to serve, it can be left as it is, or it can be pureed until smooth.

Serve with sour cream or cream cheese (optional if not paleo).
Notes
Cooking times are approximate as each slow cooker varies and generally you can keep this cooking for extremely long periods which just makes the bacon meat more tender.
Nutrition
Serving:
1
serve ( serves 10)
Calories:
32.6
kcal
Carbohydrates:
5.1
g
Protein:
1.2
g
Fat:
1
g
Sodium:
15.5
mg
Potassium:
310.4
mg
Fiber:
1.1
g
Sugar:
2.5
g
Vitamin A:
7662.5
IU
Vitamin C:
8.1
mg
Calcium:
19
mg
Iron:
0.7
mg
More low-carb keto pumpkin recipes
There are so many ways to use pumpkin in keto recipes, these are some of the most popular.
Get our FREE guide to finally fix your metabolism!
Losing weight & getting healthy is never easy, but lately you might feel like it's suddenly become impossible.
Our Flip the Switch guide will help you clearly understand what's been going on, as well as exactly what you can do to get your metabolism working again so that you can look and feel your best—it's easier and more simple than you think!