Making your own keto herb butter (compound butter) is a great way to add flavor and herbs to your meal.
These four herbed butter flavors are fun and easy to make. All you need is a stick of butter and some herbs!
If you want to impress your dinner guests, or simply want to add some extra flavor to your meal, then keep some of these herb butter recipes in your fridge or freezer!
Following keto diet or a low-carb diet? You're in luck, this homemade herb butter has absolutely zero carbs! Even if you aren't watching your carb count, you will want to make herb butter again and again.
Are you ready to create the ultimate 12-month blueprint for reaching your health & weight loss goals this coming year?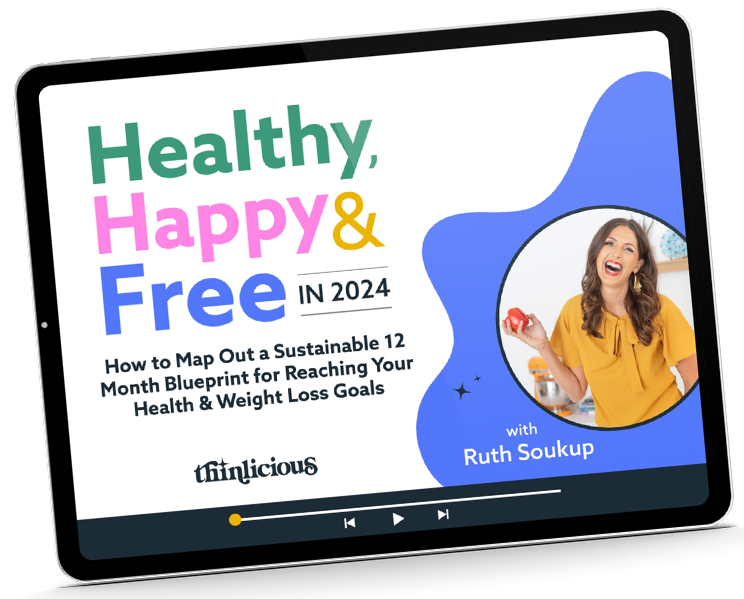 Our free on-demand video training will walk you through how to make 2024 THE year you set health goals…and keep them.
What is compound butter?
Compound butter (herb butter) is softened butter (usually salted butter) that has been mixed with fresh herbs and spices. The flavored herb butter quickly adds flavor to fresh bread, corn on the cob, baked chicken, barbecue meat, and steamed vegetables.
Once you learn how to make homemade herb butter, you can flavor almost any savory dish.
Use garlic herb butter to make garlic bread
Use tarragon butter on roast chicken
Use fresh sage and honey butter on roast lamb
How to measure butter
Butter can be measured by cups, grams, ounces, or a stick of butter.
Using these quick butter conversion charts will show you the best way to measure butter, and how to convert recipes.
Ingredients
The ingredient list for this flavorful butter is short and sweet. All you need is softened butter and the herbs or add-ins of your choice! To get you started, here are 4 variations to try:
Which butter is best?
Because the butter itself is such a crucial part of this homemade herb butter recipe, I strongly suggest you purchase the best quality of butter you can afford. It makes a big difference!
Is salted ur unsalted butter best? It's up to your preferences. salted butter is the most commonly used butter but you can use unsalted butter and then season with salt to your liking
Garlic herb butter with chives
For the exact quantities, see the herb butter recipe card below.
butter
fresh chopped chives
minced garlic
Rosemary and lemon butter
butter
lemon zest
dried (or fresh) rosemary
Dill and lemon butter
butter
lemon zest
dried dill
Blue cheese butter
Blue cheese butter…can you imagine anything better melting over thick, juicy grilled steaks? or how about spread over keto crackers or keto breadsticks.
Instructions
To make fresh herb butter, start by softening a stick of butter or to room temperature. Then, add in your herbs of choice and mix well. I like to use a combination of fresh and dried herbs for the best flavor, but either works fine.
To mix the compound herb butter, I have found it easiest to just use a fork. Simply mash away until it's well mixed!
Once everything is mixed together, place the herb butter in a small dish and refrigerate for at least an hour so that the flavors have a chance to meld and infuse.
Storage
You can store the herbed butter in your fridge in a container wrapped in plastic wrap or rolled as a log shape in baking parchment paper for several days. I suggest plastic wrap to help keep the flavor fresh.
You can also freeze herb butter by placing it in an airtight container or an ice cube tray for individual portions. Freeze for up to a month and enjoy!
Variations
The beautiful thing about homemade herbed butter (compound butter) is you can easily change it up by switching out the finely chopped herbs you use. Here are a few ideas:
Homemade flavored butter ideas:
sun-dried tomato butter
butter made with fresh thyme
tarragon butter
swap out lime zest for lemon
mint butter
sage butter
spicy butter with red pepper flakes
cilantro lime butter
See what I mean? Choose an herb and mix it up – it's practically guaranteed to be better than regular butter.
How to serve flavored herb butter
Compound butter is incredibly versatile, and as you've seen, it's not difficult to make – easy peasy. Yet they look incredibly beautiful to serve and enjoy. Here are a few ideas to get you started:
Host a dinner party and lay out the fresh butter mixture options. Guests can pick their favorite option to flavor their food.
Want an easy way to get kids to eat their veggies? This is it! Children can lavish herbed butter on their vegetables (so can adults) and watch them empty their plates as quick as a flash.
Now we talk steaks – nothing, absolutely nothing, beats a beautifully cooked steak with blue cheese (IMHO). So if you're hosting a summer BBQ or a winter steak night, offer these herbed butters.
It's not just great on steak either! In fact, if you like a salmon steak, the dill and lemon are the perfect match. Perhaps the rosemary and lemon would be fabulous on a lamb steak while the garlic herb butter may be perfect for some vegetable kebabs.
Want even more ideas for serving this yummy herb butter?
Serve with steamed vegetables
Stir through mashed cauliflower (every bit as good as baked potatoes or mashed potatoes with none of the guilt)
Add to scrambled eggs
Serve with steaks – fish, lamb, beef, pork…
Stir through zoodles
Spread on FatHead crackers
FAQs about herb butter
Should I use salted or unsalted butter?

That is completely up to you! I prefer a more flavorful butter, so I like to use salted butter. However, I know some people prefer using unsalted butter so they can control the amount of salt in the recipe.

If you do opt for unsalted butter, I'd recommend giving it a quick taste as you are mixing it up to make sure it's to your liking and you don't need to add salt.
Are fresh herbs or dried herbs better when making herb butter?

Again, this is a matter of preference. I like to use both fresh and dried herbs when making herb butter because it results in the best flavor.

If you only have one or the other on hand, then don't worry – you can still make delicious herb butter!

Using fresh herbs? Just make sure to wash and dry them, then chop them finely for best results.
How can I soften butter quickly?

If you need to soften butter, there are a few methods you can use.

The first is to set the stick of butter out on the counter for an hour or so until it comes to room temperature. If you're in a hurry, though, you can also cut the stick of butter into small cubes and place them in a microwave-safe bowl.

Microwave the butter on low power for 5-10 seconds at a time, stirring in between until it's softened. You'll need to be careful with this method as the butter can easily melt if zapped for too long!

A third method is to place the stick of butter in a double boiler over a bowl of warm water for a few minutes until it softens. Again, just keep a close eye so it doesn't melt!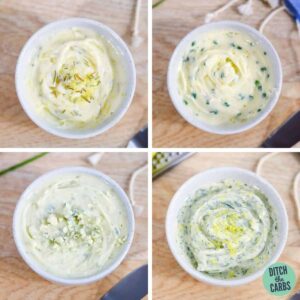 Herbed Butter Recipe (4 Flavours)
How to make 4 creamy herb butter recipes. Perfect for spreading over keto garlic bread.
Print
Pin
Rate
Want to lose weight and get healthy for life—without dieting, drugs, or making yourself miserable?
We can help! Tell me how!
Ingredients
Rosemary And Lemon
110

g

butter

softened

1

tsp

lemon zest

1

tsp

dried rosemary
Dill And Lemon
110

g

butter

softened

1

tsp

lemon zest

1

tsp

dried dill
Garlic And Chives
110

g

butter

softened

1

tbsp

fresh chives chopped finely

1

clove

garlic minced

crushed
Blue Cheese
110

g

butter

softened

50

g

blue cheese
Instructions
With each herbed butter recipe, gently mix the softened butter with the herbs using a fork to mash and mix the butter well.

Place each herbed butter in its own serving dish or platter as shown.

Can be frozen in individual ice cube trays and kept for up to 1 month in the freezer.

Cover with cling film or pop into an airtight container after they are frozen so you separate the aroma of the herbed butter from the contents of your freezer.
Nutrition
Serving:
15
g
Calories:
26.3
kcal
Protein:
0.1
g
Fat:
3
g
Sodium:
23.6
mg
Potassium:
0.9
mg
Sugar:
0.1
g
Vitamin A:
91.6
IU
Calcium:
0.9
mg
Iron:
0.1
mg
Get our FREE guide to finally fix your metabolism!
Losing weight & getting healthy is never easy, but lately you might feel like it's suddenly become impossible.
Our Flip the Switch guide will help you clearly understand what's been going on, as well as exactly what you can do to get your metabolism working again so that you can look and feel your best—it's easier and more simple than you think!