This crispy keto salmon recipe with a creamy butter garlic sauce is made with a few simple ingredients and it's all made in one pan on the stove.
This healthy and delicious keto garlic butter salmon recipe is the easiest way to cook salmon that's juicy and flaky.
A keto salmon dinner is packed with healthy fats and is the perfect way to cook a salmon fillet.
So many people loved this popular crustless smoked salmon and cream cheese quiche on this site, it was time for another simple and delicious flaky salmon recipe.
Ready to lose weight and get healthy for life without dieting, drugs or making yourself miserable?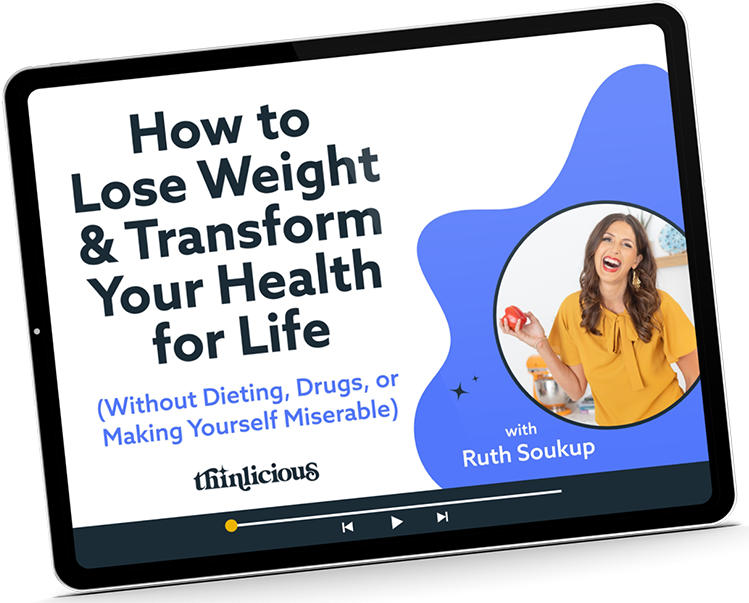 Our free on demand video training will help you understand why it's been so hard and what do to about it.
Is salmon keto?
Salmon fillets are wonderful high-protein fish that is full of healthy fats and zero carbs. It is perfect for the keto diet, low-carb diet, high-protein low-carb diet, and a pescatarian diet (a person who does not eat meat but eats fish).
Salmon is a healthy fatty fish that is also high in vitamins B12, B2, B3, vitamin D, selenium, and potassium. It deserves a 5 stars health rating.
Salmon Nutrition per 100g:
Atlantic wild salmon: 25.4g protein, 8.1g fat (including 2.7g Omega 3 fatty acids), zero net carbs, 182 calories.
Which salmon is healthiest?
There is much debate over which salmon is the best to eat. Atlantic salmon? Wild-caught salmon? Farmed? Frozen salmon?
The main difference is the way the salmon was raised, caught, and eventually cooked.
Wild salmon are stronger so their fillets are firm. Farmed salmon is often fed food that is not natural to them, they may have been fed antibiotics, and the fillets may need to be dyed to look like wild pink salmon fillets.
How you cook salmon will have a huge impact too. For example, fresh salmon grilled and all the salmon oil eaten will have a different nutrient profile than that same salmon deep fried in unhealthy cooking oils such as canola oil or soy oil, then drained.
Is there more Omega 3 fatty acids in farmed or wild salmon?
Studies have shown there are often more long-chain omega-3 fatty acids (EPA and DHA) in farmed salmon because they are not as active as wild-caught salmon so have more total fat. But this has to be traded off with potentially higher carcinogens. (1)(2)(3)
| per 100g/3.5oz | Wild salmon | Farmed salmon |
| --- | --- | --- |
| Protein | 19.5g | 20.4g |
| Total fat | 4.42g | 13.3g |
| Iron | 0.96mg | 0.35mg |
| Calories | 115 | 212 |
Ingredients you need
This easy keto salmon recipe with a tasty creamy keto garlic butter sauce is one of the easiest ways to cook salmon and a family favorite meal.
The dried dill and freshly chopped parsley give the creamy sauce a fresh herby flavor while the lemon gives the salmon a pop of lemon zest. Heavy cream and shredded parmesan give the sauce a rich flavor while thickening the sauce too.
See recipe card below for quantities of each ingredient and full instructions.
salmon fillets – fresh or defrosted frozen fillets
heavy cream – double cream, whipping cream
melted butter – salted or unsalted then season to your taste
chicken broth – homemade chicken broth or store-bought
parmesan cheese – shredded parmesan helps to thicken the garlic butter sauce
garlic – fresh minced or crushed garlic is best
olive oil – extra virgin olive oil or mild-tasting olive oil
dried dill – or fresh dill
parsley – fresh parsley is best but dried parsley can be swapped
lemon slices – use to garnish and squeeze lemon juice over as much as you like
Instructions
To make this keto salmon recipe with creamy garlic butter sauce you will need to first heat a cast iron skillet on medium-high heat with a tablespoon of olive oil.
Next, season the salmon with salt and pepper. Sear the salmon in your hot skillet for 3-5 minutes on each side. Remove the fillets from the pan and set them aside.
Melt the butter in the skillet. Add the crushed garlic (minced garlic) and saute until fragrant. Pour in the chicken broth and let simmer until it reduces by half. Lower heat to medium-low. Add the cream and dill to your skillet.
Once the sauce has started simmering again, mix in the freshly grated parmesan cheese. Continue to stir until the cheese has melted and the sauce has thickened.
Add the partly cooked salmon back to the skillet. Allow the salmon to cook in the sauce for 1-2 minutes or until the salmon is warm. Garnish with fresh parsley and lemon slices.
Serve the salmon with a side of steamed vegetables mashed cauliflower or keto 3-ingredients pasta.
Expert cooking tip: Try to not move the salmon around while it is searing until you are ready to flip the fillets. This will ensure your salmon has crispy skin on each side.
Substitutions
Are you missing an ingredient or want to reduce the calories? Below you can find recommendations for common keto salmon recipe substitutions.
Please only make 1 substitution so the recipe is as close as you can to the original low-carb salmon recipe card.
Chicken broth – use vegetable broth, bouillon cube, or homemade bone broth.
Butter – the butter can be omitted or replaced with coconut oil.
Minced garlic – omit the minced garlic or replace it with 1 1/4 teaspoon garlic powder.
Heavy cream – a heavy cream substitute can be made at home by combining 3/4 cup milk with 1/4 cup melted butter. Alternatively, you can use sour cream.
If you are using milk and butter in place of heavy cream you may need to allow your sauce to reduce a bit longer to thicken. Alternatively, you can use a bit of xanthan gum to thicken the sauce if necessary.
Variations
Keto salmon with creamy garlic butter sauce is the perfect base recipe for a delicious and easy meal. You can make this meal even more impressive with the recommended variations below as the salmon cooks.
Herbed salmon – add additional fresh herbs like dill, basil, thyme, or rosemary.
Add vegetables – toss a couple of handfuls of spinach or saute some halved Brussels sprouts in the sauce to make a delicious one-pot meal.
Coconut salmon – use coconut cream instead of heavy cream for a sweet and savory coconut flavor. Garnish with desiccated coconut to serve.
Garlic butter chicken – If you aren't a fish eater, you can replace the salmon with chicken. The chicken just needs to cook longer to reach an internal temperature of 74C/165F.
Salmon asparagus recipe – add chopped asparagus (or chopped broccoli) to the creamy sauce as you cook the salmon. It's an absolutely delicious one-pan dinner.
Red pepper flakes – adding a few pepper flakes with some Dijon mustard to your cream sauce makes a fantastic recipe with a spicy taste.
Top tip: If you love garlic butter salmon, you'll also love one-pan pork chops in garlic sauce.
Equipment
You will need a large skillet to sear your salmon and make the sauce. A hot pan really contributes to a crispy crust on your salmon.
I used a large cast iron skillet to make my salmon, but any large skillet or large frying pan will do. The key is to make sure the pan and oil are hot before adding the salmon to the skillet.
How to store leftover salmon
Cooked salmon can be stored in an airtight container in the refrigerator for 3-4 days. Leftover salmon can also be used in salmon quiches, served as salmon scrambled eggs for breakfast, or with a large keto salad for lunch.
How to reheat leftover salmon
Salmon is best reheated in the oven and not in the microwave. Reheat the cooked salmon to 150C/300F for 10 minutes in the oven. Be sure to place the salmon on a baking tray or oven-safe container before reheating.
Cover with aluminum foil or a baking lid to prevent the salmon flakes from drying out.
Best keto side dishes to serve with salmon
There are so many delicious low-carb and keto side dishes to serve with salmon. Salmon is a versatile family-friendly dinner and so you need to choose quick and easy healthy side dishes the whole family will love.
Here are some of my favorite keto side dishes to serve with salmon.
Expert tips
You can tell if your salmon is cooked through by watching the pink line on the side of the fillet. As it cooks the color of the pink will lighten. When the pink line gets halfway up the salmon fillet it is time to flip the salmon filets.
Recipe FAQ
What internal temperature should salmon be cooked to?
For medium doneness cook salmon at 125F/52C. For well-done salmon, your internal temperature should be 145F/62.8C. Many chefs recommend cooking salmon to medium doneness for the best flavor and texture.
What is the best way to serve and garnish salmon?
Add a slice of lemon on the side so guests can squeeze as much as they want over the garlic sauce. Season with salt and pepper after cooking because there is salt already in the broth.
Can I cook frozen salmon?
It is recommended that you defrost frozen salmon before cooking. If you try cooking salmon from frozen, you risk the outside burning before the center is thoroughly cooked.
Is salmon good on a keto diet?
Salmon is a wonderful fish that is full of heart-healthy fats and has zero carbs so it's perfect for the low-carb keto diet.
Can I bake this keto salmon recipe in the oven?
Place your salmon fillets on a baking sheet or sheet pan lined with baking parchment paper. Bake at 180C/350F for 15 minutes. Make the creamy garlic butter sauce in a saucepan. Or simply serve with garlic butter for an easy sheet pan dinner.
Can I cook this salmon recipe with smoked salmon?
If you use smoked salmon, you don't need to cook the salmon. Make the garlic butter sauce and warm the smoked salmon fillets in the sauce as it simmers.
How many net carbs are in salmon?
There are no net carbs in salmon. This garlic butter salmon has 3.6g net carbs per serve because of the heavy cream and garlic.
What to serve with baked salmon?
The easiest side dish has to be a large leafy green salad or a bag of pre-made cauliflower rice.
More keto salmon recipes
If you love this keto salmon recipe, these are some of the best salmon meals you can cook for dinner tonight.
Each of these delicious recipes is family-friendly.
Smoked salmon roulade – the delicate mix of smoked salmon and cream cheese.
Instant Pot lemon salmon – moist tender salmon fillets cooked with dill mayonnaise and a final drizzle of lemon juice.
Slow-cooker poached salmon – if you don't want to cook a baked salmon recipe, another great way is to use your slow cooker instead.
Low-carb salmon patties (dairy free) – you can use salmon fillets or canned salmon, served with lime avocado dipping sauce. It's an easy keto salmon meal prep recipe.
Keto salmon quiche – a classic salmon recipe that's also low-carb and gluten-free.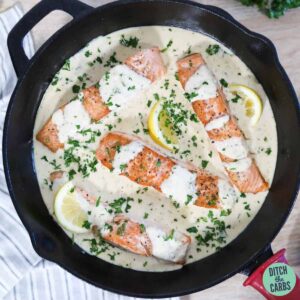 Crispy Keto Salmon Recipe (Creamy Garlic Butter Sauce)
This crispy keto salmon recipe with a creamy butter garlic sauce is made with a few simple ingredients and it's all made in one pan on the stove. This healthy and delicious keto garlic butter salmon recipe is the easiest way to cook salmon that's juicy and flaky.
Print
Pin
Rate
Want to lose weight and get healthy for life—without dieting, drugs, or making yourself miserable?
We can help! Tell me how!
Equipment
Skillet

Measuring cups and spoons
Ingredients
4

salmon fillet

+/- salt and pepper

1

tbsp

extra virgin olive oil
Creamy Garlic Butter Sauce
1

cup

heavy whipping cream

3

tbsp

butter

unsalted

5

cloves

garlic minced

½

cup

parmesan cheese

freshly grated

½

cup

chicken stock or broth

¼

tsp

dried dill

2

tbsp

fresh parsley

lemon slices

optional
Instructions
Heat the olive oil in a skillet over medium-high heat. Season the salmon with salt and pepper on both sides. Sear the salmon in the hot pan for 3-5 minutes on each side.

Remove the salmon from the pan and set them aside.

Melt the butter in the skillet and saute the garlic until fragrant. Add the broth. Let it come to a simmer then reduce the heat to medium-low. Let the sauce simmer until the broth reduces by half.

Mix the cream into the pan. Add salt and pepper. Once the sauce is simmering again stir in the parmesan cheese. Continue to simmer and stir until the cheese melts and the sauce thickens.

Add the salmon back to the pan to reheat for a minute or two. Top with parsley and lemon slices. Serve with steamed vegetables or mashed cauliflower. Enjoy!
Nutrition
Serving:
1
serve ( serves 4)
Calories:
623
kcal
Carbohydrates:
3.8
g
Protein:
40.8
g
Fat:
49.2
g
Sodium:
489
mg
Potassium:
941.4
mg
Fiber:
0.2
g
Sugar:
2.1
g
Vitamin A:
1537.1
IU
Vitamin C:
4.3
mg
Calcium:
232.8
mg
Iron:
1.8
mg
Get our FREE guide to finally fix your metabolism!
Losing weight & getting healthy is never easy, but lately you might feel like it's suddenly become impossible.
Our Flip the Switch guide will help you clearly understand what's been going on, as well as exactly what you can do to get your metabolism working again so that you can look and feel your best—it's easier and more simple than you think!