These low-carb snacks are sure to keep you full without derailing your low-carb lifestyle. Packed with healthy fats and protein, stay fueled the easy way!
Whether you are craving a crunchy low-carb snack or a tasty snack that satisfies your sugar cravings.
Get your FREE printable PDF with the top 50 easy low-carb snacks below.
[convertkit form=2151328]
Are you ready to create the ultimate 12-month blueprint for reaching your health & weight loss goals this coming year?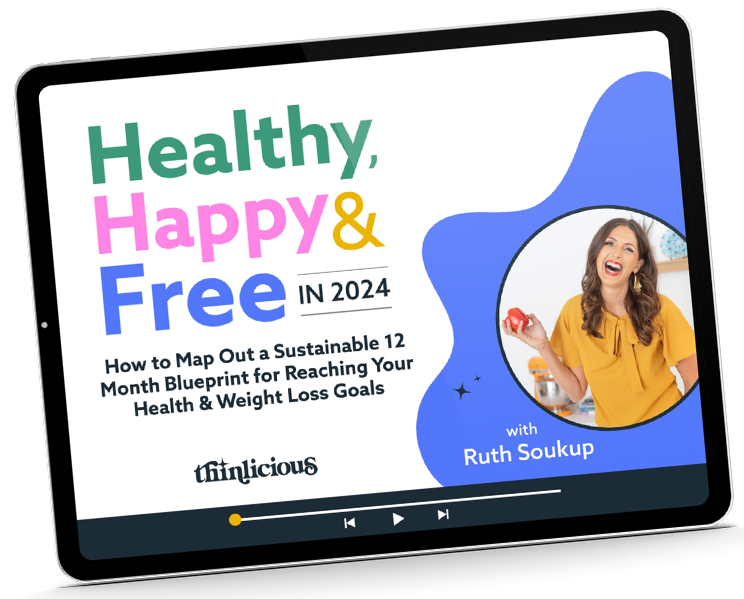 Our free on-demand video training will walk you through how to make 2024 THE year you set health goals…and keep them.
Can I snack on a low-carb keto diet?
Yes, you can snack on a low-carb diet or keto diet BUT you need to learn how to snack smarter.
First, you need to know how many carbs per day you can tolerate. You may need to use a macro calculator (it's free). The limit that you set for yourself will depend on your health and weight loss goals.
Next, you need to know how to read food labels so you can avoid any unnecessary and refined carbs and hidden carbs.
Finally, snacks are a wonderful way to stop your sugar addiction and junk food cravings. However, it can also be one of the most common reasons why you're not losing weight.
Healthy fats are delicious on your low-carb diet, but you don't want to overdo them.
Top 10 low-carb snacks
1. Antipasto platter (charcuterie board)
For a simple low-carb snack with lots of flavour, try an antipasto plate.
Make a small plate with a selection of cheeses and cured meats. Mozzarella cheese, smoked cheddar, and creamy cheese like blue cheese work well. Then add items like pate, ham, salami, peppers, olives, etc.
This is a great way to get in fresh veggies in too. Add some cucumber slices or celery sticks instead of wheat/rice crackers.
It's a wonderful range of high-protein snacks that can become an entire meal depending on portion sizes.
2. Avocado
Yes, avocado is one of the best low-carb snacks and is packed with healthy fats (including very little saturated fat). It's also very versatile and easy to make.
Simply slice an avocado in half and season with salt and pepper then eat straight from the avocado skin. Sprinkle with sunflower seeds or pumpkin seeds to pack them with even more nutrients.
Want even more ways to enjoy it? You can also make an avocado boat!
3. Eggs
Eggs are fantastic any which way. This is a favourite option of mine because it's easy to make, the ultimate high protein snack, and filled with nutrients. They are also very affordable and portable.
Here are just a few ways you can enjoy eggs:
Deviled eggs – make hard-boiled eggs, scoop out the yolks and mix with mayonnaise, mustard, and diced pickles. You can even make curried deviled eggs!
Egg salad – egg salad is delicious on a bed of greens, with fresh veggies, or just by the spoonful.
Scrambled eggs – make scrambled eggs with cheese and add your favourite spices.
Want to keep it really simple? Keep a stash of hard-boiled eggs in the fridge for easy snacks, take them to work, and snack away.
4. Meat
Yes, meat totally counts as a low-carb snack. And a high-protein snack.
Any cold meat from the deli counter is great to keep on hand—just avoid ones made with honey or sugar to keep net carbs low.
Remember to also choose meat that has minimal processing. Choose ham off the bone (not processed into dinosaur shapes or circles), bacon with no honey or sugar, pepperoni/salami with 98% or more meat/fat and minimal additives, and sausages with 85% or more meat.
Leftover roast meat, leftover meatballs, bacon, sausages, etc are also all quick and easy low-carb snacks.
If you are a vegetarian you may be wondering about what are the best low-carb protein sources for vegetarians. Or you may wish to begin using a protein powder that has no added sugars to quickly add more protein to your meals.
Make a dipping sauce or creamy dip and snack away!
Keto Meatloaf Cupcakes Recipe
Versatile and easy meatloaf cupcakes are great for dinner, lunch or the school lunch box. Make extra as they freeze really well in an airtight container. They can even be used when you need a protein hit.
Check out this recipe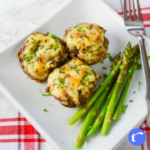 5. Seafood
Seafood is a surprisingly great snack and healthy part of a low carb diet. It is also loaded with healthy fats to keep you satiated until your next meal.
Take a tin of tuna to work and eat it as it is, or mix it with mayonnaise to make a tuna salad for a bigger snack/lunch.
Shrimp can be taken to work, also plain or with added mayonnaise. Try the different flavours of tuna salad packets available too, but read the nutrition label as many are high in added sugars or unhealthy vegetable oils.
These lemon crumb shrimp make especially tasty low-carb snacks in my opinion!
[convertkit form=2151328]
6. Yogurt
You'll have to read labels carefully for this one, but look for a low-carb, high-fat yoghurt to serve as the base. Then, add a sprinkle of grain-free & sugar-free granola/muesli and/or add a spoonful of coconut cream.
You can also add a sprinkle of berries for a bit of sweet and tart flavour.
7. Nuts and seeds
Nuts and seeds are a good source of protein and fiber but choose nuts carefully. Here's what you need to know about net carbs in nuts and seeds. Hint: cashews are the highest in carbs, and almonds are the lowest while also being high in calcium and iron.
You can enjoy a quick spoon of peanut butter and almond butter but avoid cashew butter.
Choose wisely! Portion control!
Bring bags of nuts to work or in the car for convenient snack food. Read the nutrition labels for bags of nuts as trail mix often contain raisins, dried fruit, or added flavorings and sugars.
Nuts can be high in calories, so while they are a great low-carb snack, don't overeat nuts when starting your low-carb keto diet.
8. Berries
Berries are a great source of vitamin C and a powerful antioxidant that fights free radicals that cause aging, disease, and low immunity. Serve with heavy whipping cream (no added sugar) and a few macadamia nuts.
Eat this low-carb snack when fresh in season, or buy them any time of year in the frozen aisle. Buy a variety of berries to get all the different nutrients and properties they offer.
But be aware of high-sugar berries and fruits by learning the carbs in fruit charts. They are an easy way to remind yourself what you can enjoy and what you need to avoid for better blood sugar control.
9. Dark chocolate
Yes, dark chocolate can be a part of a low-carb diet! However, label-reading is crucial.
Make sure to buy 80% and above dark chocolate as the higher the cocoa content, the more health benefits and the less sugar it will contain.
Read the nutrient labels of different brands in the supermarket as they vary widely.
Also by being bitter chocolate rather than one made with tons of sugar, you are more likely to eat only 1 or 2 squares. You will really appreciate it rather than a whole block disappearing before you know it.
10. Drinks
I know a drink isn't necessarily a snack, but it's important to ask yourself: are you hungry or thirsty? A creamy coffee is often what you need to get you through your morning slump rather than a cake or chocolate bar.
Before you snack, try to hydrate with a low-carb drink! Go for sparkling water, creamy coffee, diet drinks (only at the beginning to wean you off soda, then stop them completely), iced tea, herbal teas, etc.
You may find that you aren't really hungry for a snack after all.
[convertkit form=2151328]
Easy low-carb snack recipes
For more easy low-carb snack ideas, look at my recipe finder. Below are just a selection of what you will find there.
The most popular low-carb and keto snack ideas:
Low-carb snacks FAQ
Is snacking okay on low carb?
As long as the snacks fit into your goals for net carbs, snacking is okay. However, eventually, as you become in control of your appetite and become a fat burner, not a sugar burner, your hunger will diminish. You will consume fewer carbs, and fewer calories and you will be less tempted to snack.

Snacking is not so important to me now, but it does take months to get there. Eventually, you will give up snacking entirely.

Give it time, and you will finally learn the difference between hunger, boredom, and habit.

Want to join our next no-snacking challenge? We do twice monthly mini-challenges inside Ditch The Carbs PRO. I will coach to you learn everything there is to know about low-carb snacking and how to stop being triggered and NEVER fall back into old habits ever again.
What is a low-carb keto snack?
Technically any food can be eaten as a keto snack, it depends on whether you are doing clean keto or dirty keto. Most people chose to spend their carbs wisely and only eat high protein, low carb, and moderate fat snacks. I am often asked, "is this keto" for a particular food, vegetable, or snack? It depends on quality and quantity.
What foods are filling but low in carbs?
High protein low carb snacks that are particularly filling include meat, cheese, and hard-boiled eggs.

Snacks high in fat are also filling: an avocado is an excellent option that will keep you full.
What portable snacks can I eat on keto?
Pork rinds (pork crackle) is the most easy-to-carry portable keto snack. They're slaty, crunchy, and full of protein. Boiled eggs, avocado, or sandwich-filling ingredients (deli meat, cheese, etc) are easy to grab and go. The same can be said for nuts, and olives too.
Is popcorn OK for the keto diet?
No, popcorn is made from sweetcorn which is sweet (hence the name), high in sugar, and full of easily digestible carbs. Popcorn is incredibly easy to overeat and go over your daily carb limit. the best crunchy snacks are pork rinds and salted nuts.
Are keto bars healthy?
Mostly, no. Most store-bought keto bars advertise themselves as being high in protein and only a few grams of carbs, however, they are sneaky in their labelling. Most contain maltitol, a sugar alcohol, that will raise blood sugar and kick you out of ketosis and stop weight loss. It's easier and cheaper to make your own homemade keto bars.
What are lazy keto snacks?
The lazy keto diet only focuses on how many grams of net carbs per day you consume. It does not worry about fat, protein, or calories. Lazy keto snacks require little or no cooking and it doesn't matter what the quality of food is like.
50 low-carb snacks (printable list)
[convertkit form=2151328]
Please let me know what are your favourite easy low carb snacks. Comment below, I'd love to hear your ideas.
Get our FREE guide to finally fix your metabolism!
Losing weight & getting healthy is never easy, but lately you might feel like it's suddenly become impossible.
Our Flip the Switch guide will help you clearly understand what's been going on, as well as exactly what you can do to get your metabolism working again so that you can look and feel your best—it's easier and more simple than you think!