This soft keto roti is the perfect soft and foldable flatbread perfect for scooping up food. Can be used with keto curry recipes or keto Mexican recipes too.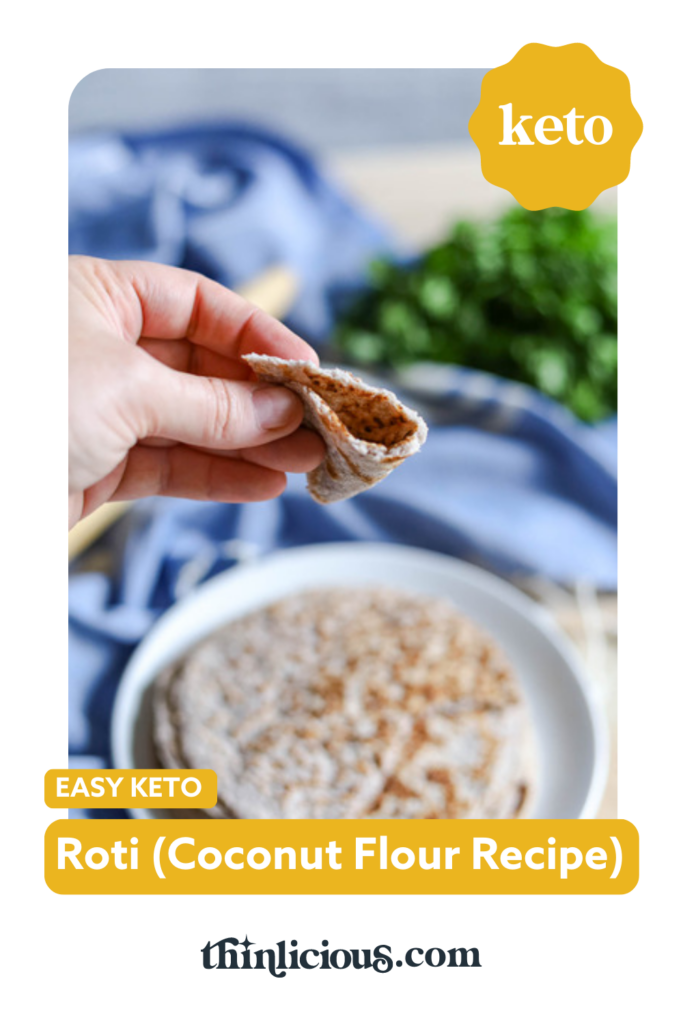 This was inspired by my keto tortillas and keto naan bread. This low-carb roti is the perfect side dish for many of the delicious curry recipes you'll find on this site. You can also use it to make keto samosas too.
What is roti?
Roti is a round flatbread that is usually made with whole wheat flour. It can be served with breakfast or dinner and is perfect for ripping and using to scoop food as you eat.
Ready to lose weight and get healthy for life without dieting, drugs or making yourself miserable?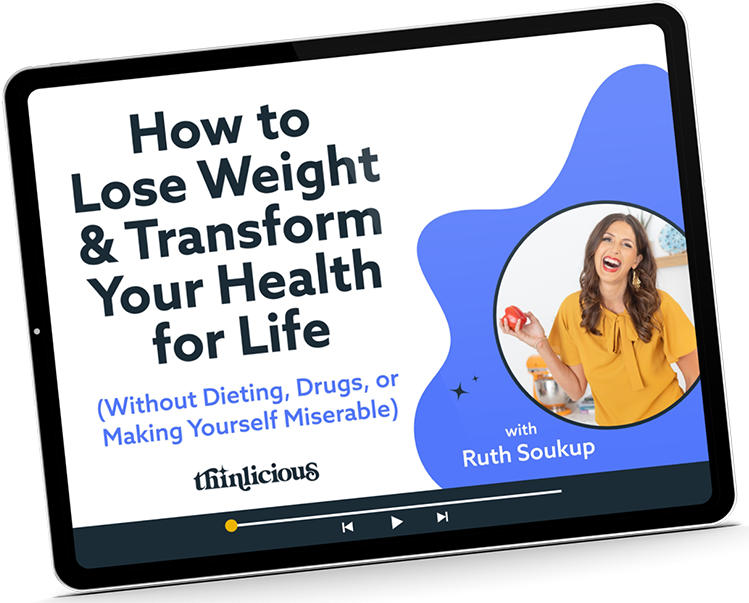 Our free on demand video training will help you understand why it's been so hard and what do to about it.
You'll find roti served in many cultures including the Indian subcontinent and the Caribbean. It is similar to how you would use a pita bread in Mediterranean recipes, or a low-carb tortilla in Mexican recipes, to wrap or scoop up food.
This simple keto flatbread recipe is made with coconut flour so it is an incredibly low-carb bread that is also high in fiber.
Ingredients
Keto roti is easy to make and requires minimal ingredients. To make this keto flatbread low-carb and gluten-free we will be using coconut flour instead of whole wheat flour. There is also a substitution below if you wish to use almond flour.
This keto flatbread is very soft and foldable, but won't fall apart on you. It is perfect for breakfast burritos, wraps for lunch, or served on the side of dinner.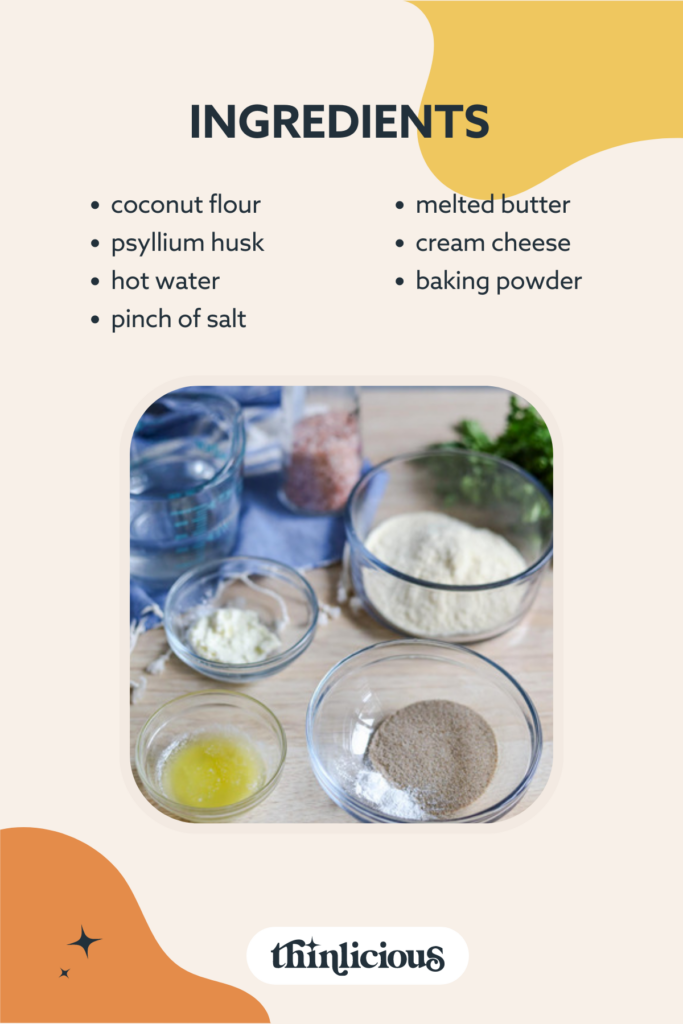 coconut flour – coconut flour is the perfect base for this delicious Indian food! This is usually my go-to for low-carb flours as it adds an airy slighty sweet flavour. Coconut flour has a very low carb count and I use it in so many keto recipes.
psyllium husk – this is used to mimic gluten and bind all your ingredients together.
melted butter – don't skip this one! You'll want that classic buttery taste in your keto roti.
cream cheese – helps to keep your keto roti soft. Use plain, full fat cream cheese.
baking powder – helps the keto bread rise just enough to be soft and not dense.
pinch of salt – add salt to taste.
hot water
See the keto roti recipe card at the bottom of this post for exact quantities.
Instructions
This is one of my new favorite low-carb keto curry recipes. You'll be amazed at how simple it is to make…and how delicious.
To make keto roti start combining all your ingredients EXCEPT the water together in a bowl. Use a fork to cut the cream cheese and mix the butter into dough to make a crumbly mixture.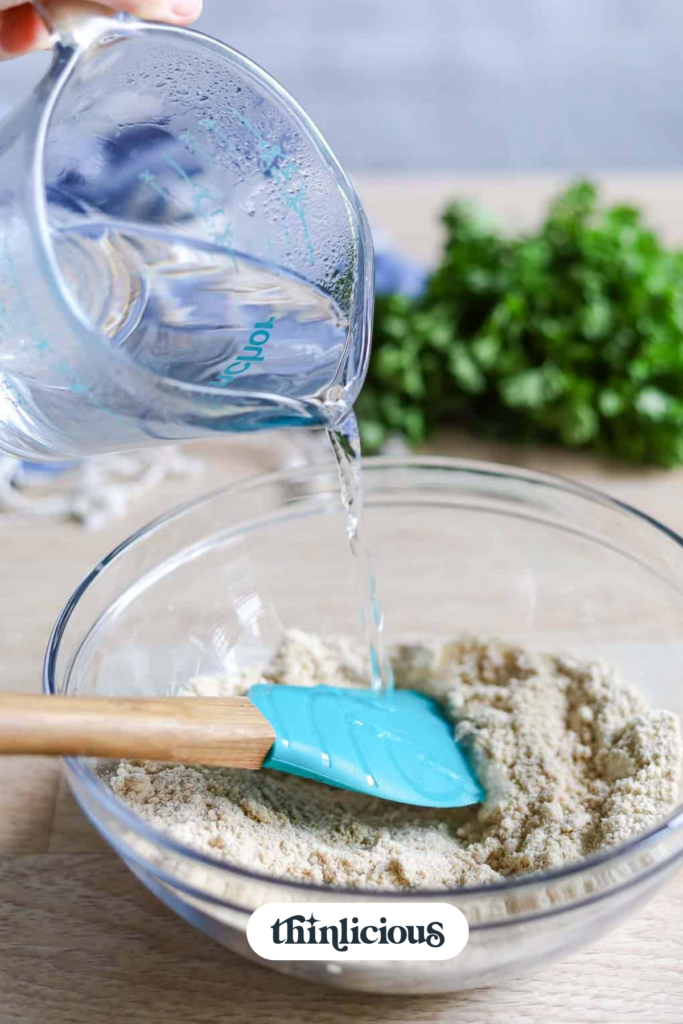 Next, slowly mix half a cup of the hot water to the dry ingredients initially and mix. Next, slowly add more hot water into the dough being sure to knead the dough with a mixing spoon or your hand as you do. You may need a little more or a little less water depending on your brand of coconut flour.
Remember, make sure it's hot! Cold water or lukewarm water will not work as well in this side dish.
Add the water until your dough is sticking together in a dough ball. Your dough should be damp but not sticky wet.
If you add too much water you can add a little more coconut flour to fix it. I used the full cup of water.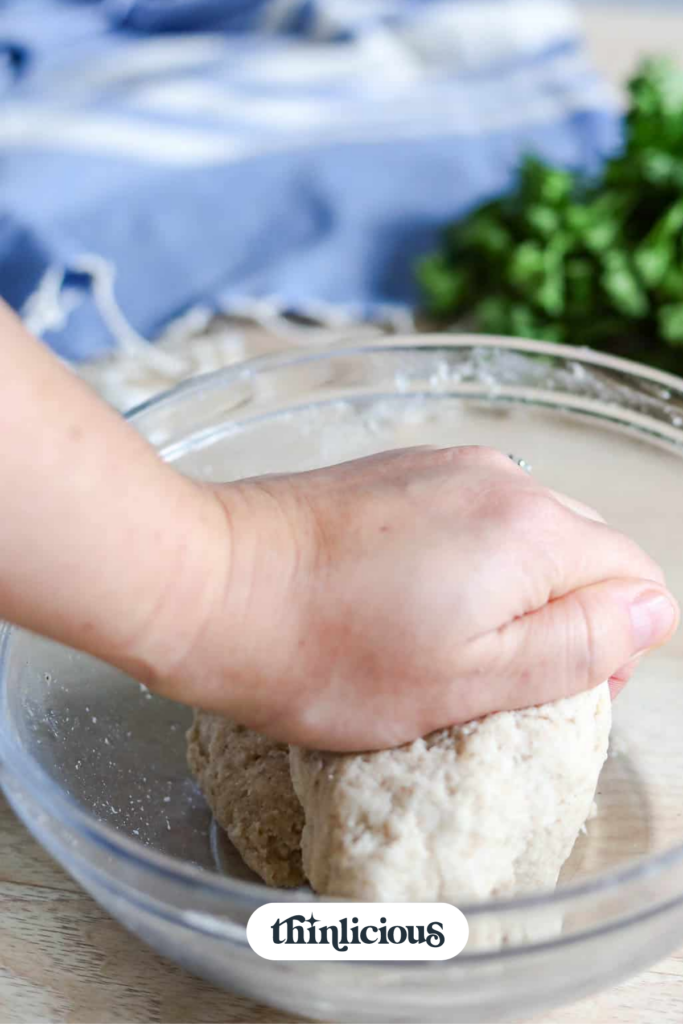 Then cover your dough ball and let the dough rest on the counter for 20-30 minutes. This gives the coconut flour and psyllium husk powder time to absorb your liquids and bind them together.
Shaping keto roti
You'll know your dough is ready because it will become kind of stretchy. Cut the dough into 6 equal portions and roll each into balls.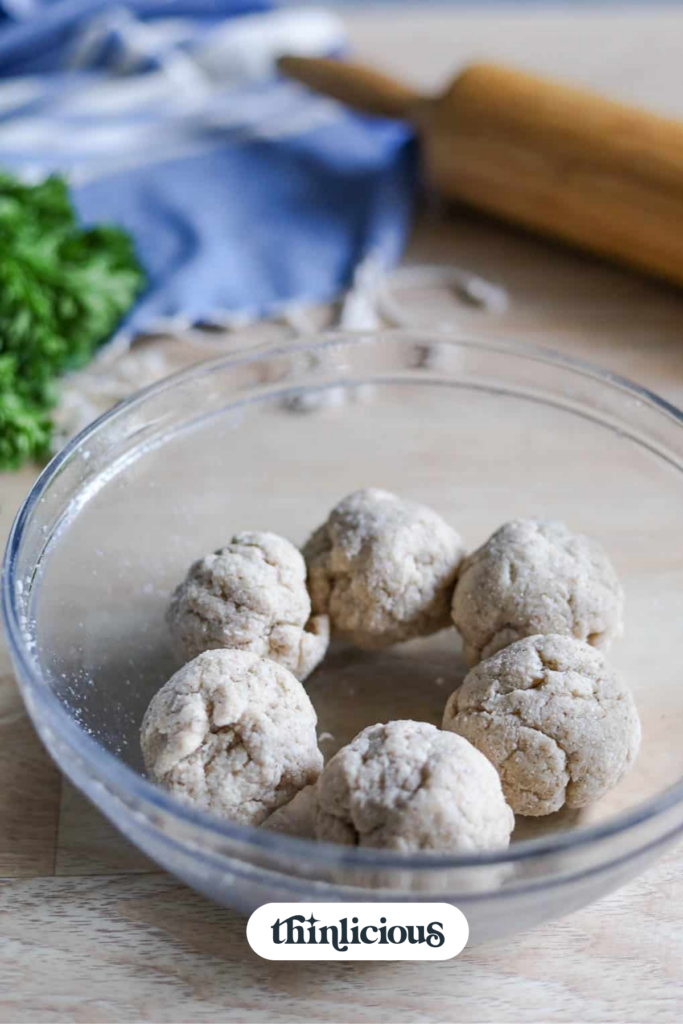 Form your roti by placing each ball of dough between two pieces of parchment paper or wax paper and rolling it out with a rolling pin into a round shape.
Your roti thickness will depend on your preference, but I recommend rolling it out between 1/16th and 1/8th of an inch.
You can cut the circles by using a small bowl and a sharp knife, a tortilla press, or simply using a rolling pin over each dough ball.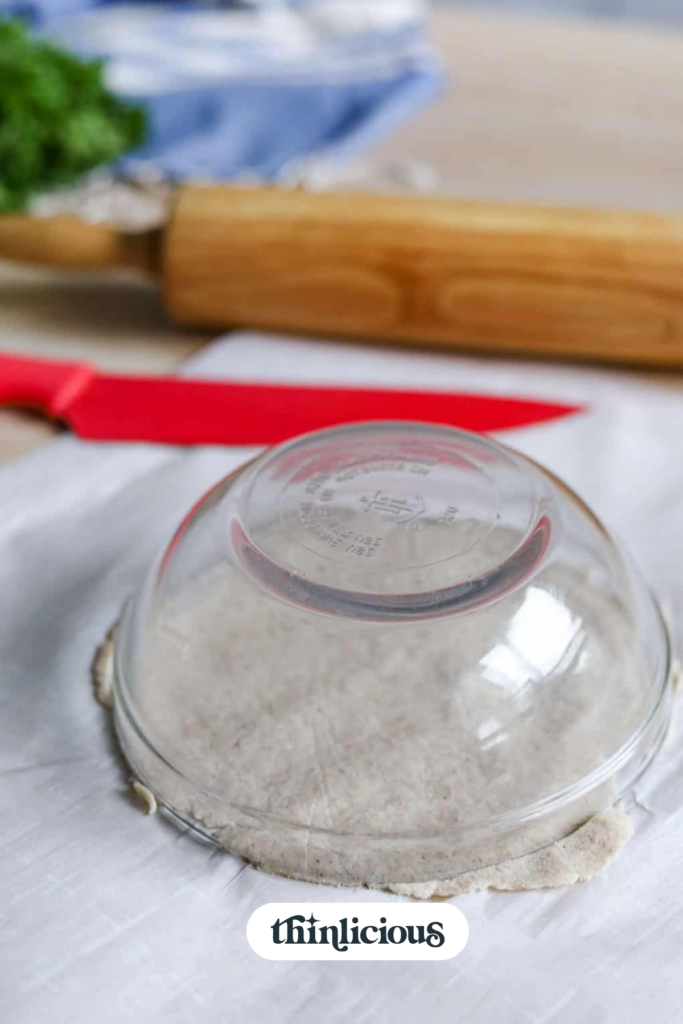 Want your keto roti to be perfectly round? You can clean up the edges of your roti by placing a bowl over the roti and trimming the edges with a knife, but that is optional.
Hint: save some time and heat your pan while you are rolling out your roti. Just be sure you don't grease the pan until you are ready to cook so the oil doesn't burn.
Cooking roti
You'll need a hot pan or skillet to cook these. To cook your roti start by placing a cast-iron skillet or flat pan on your stove over medium heat. When the pan is hot lightly grease it with olive oil, coconut oil, clarified ghee, or butter, and place the roti in the center of the pan to cook.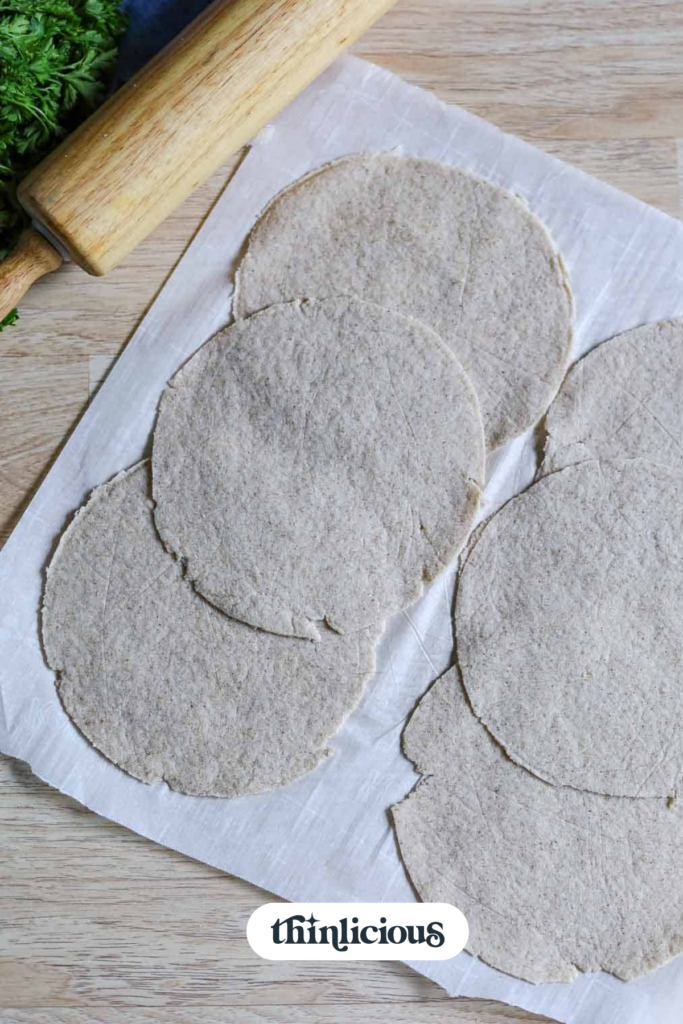 You cook these similarly to how you cook a coconut flour tortilla.
Let the coconut flour roti cook on the pan for 1-3 minutes then flip it over and cook on the other side for an additional 1-3 minutes.
As your roti cooks on the second side you'll notice that it will puff up a little bit (not as much as normal roti). Don't push these bubbles down they will fall as it cools.
Repeat the process with each of your roti until you are all done cooking. If your pan is large enough you may be able to cook more than one at a time.
If you have access to an open flame like on a gas stove you can puff your roti even more by cooking it a little longer over the open flame, but this is not necessary.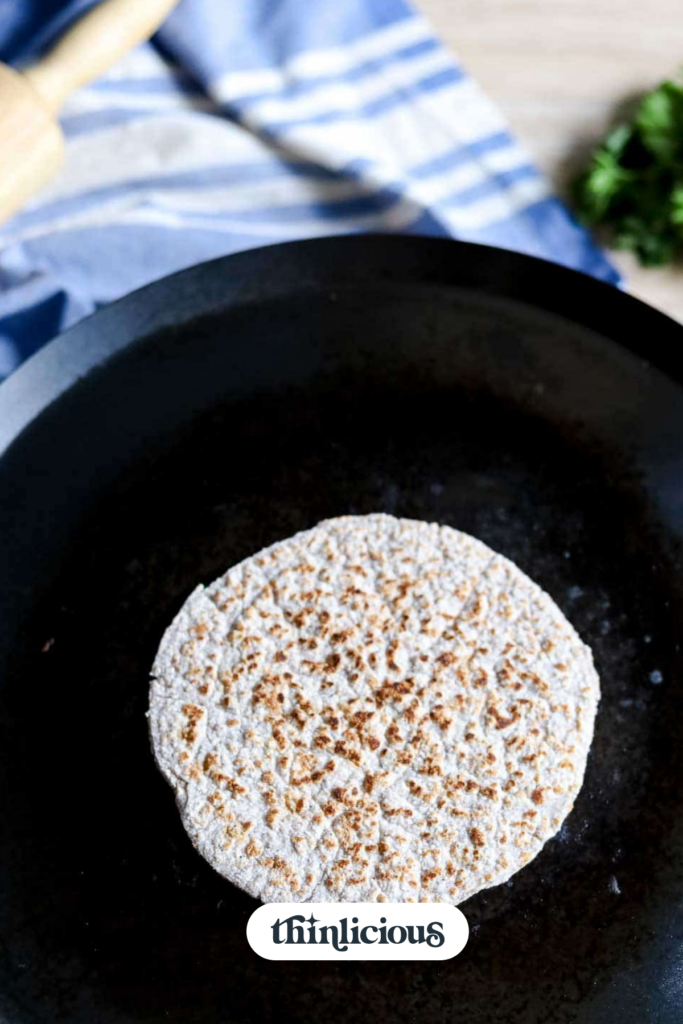 Substitutions
While I like this keto roti recipe best as-is, there are a few substitutions you can make.
Variations
A delicious flatbread like keto roti can be used customized to compliment so many dishes. This low-carb roti recipe is for a basic, but delicious, flatbread. Check out some of the recommendations below for ideas of how really bring your roti to life and make it one of your favorite recipes.
Spicy roti – add chili pepper flakes into the dough to add a spicy heat into the roti.
Garlic roti – add a crushed garlic (minced garlic) or 1/4 tsp garlic powder. You could also brush the cooked roti with melted butter mixed with garlic and herbs.
Wholegrain roti – if you want the look of a wholegrain bread, add 1 or 2 tablspoons of whole chia seeds into your dough. You may need to add additional warm water becuase the chia seeds are thirsty little seeds.
Onion roti – add 1 tablespoon of onion powder and any other spices you prefer.
Try any version of low-carb roti with this keto butter chicken on my website! Grab the butter chicken recipe right here.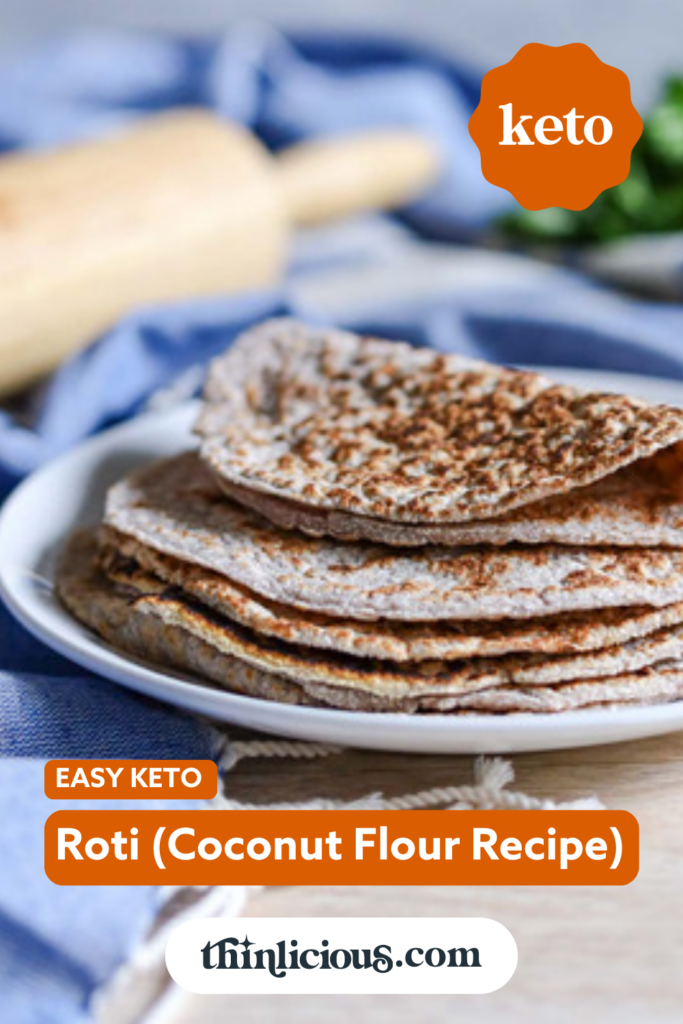 Storage
Your keto roti can be stored both cooked and uncooked.
To store uncooked keto roti wrap in parchment paper first then wrap it in either plastic wrap (sandwich wrap) or place in a zipped storage bag. Uncooked roti can be stored in the refrigerator for up to 3 days before cooking. I recommend putting parchment paper or sandwich wrap between each low-carb flatbread so they don't stick together.
Cooked roti can be stored in an airtight container or bag on the counter for 2-3 days or in the refrigerator for up to 5 days. Be sure to let the roti cool completely before storing.
Both cooked and uncooked roti can be frozen if tightly wrapped for up to 6 months. Let the roti defrost on the counter before cooking or reheating on the stove.
Top tip
Always make sure your pan is preheated before cooking your roti. Using a hot pan will prevent the roti from sticking to the pan.
To keep your cooked keto roti warm, wrap them in a towel and serve. Enjoy!
FAQs about keto roti
Is roti allowed in the keto diet?
Yes, this keto-friendly recipe is made with coconut flour and is incredibly low in carbs and high in fiber. A normal roti is made with wheat flour. A 6-inch chapatti has up to 15g net carbs.
How many calories are in keto roti?
There are 83 calories in each coconut flour roti. You can see all the nutrition facts in the recipe card below.
How many grams of carbs are in keto roti?
There are 3g net carbs per keto roti. Each flatbread has 9.2g total carbs and 6.2g fiber.
What should I serve this Indian roti with?
This keto roti is a perfect part of the keto diet and can be enjoyed with so many different recipes. Here are a few I particularly recommend.

Butter chicken is an Indian food staple and works very well with this roti. Grab my keto-friendly butter chicken recipe here (I'll also show you there how to make keto naan bread too for another option!).

This fabulous recipe also pairs perfectly with any of these delicious keto curry recipes. Make sure to make yourself a side of cauliflower rice too (grab my curry cauliflower rice recipe here)
Can I use either coconut flour or almond flour in this recipe?
I wrote this recipe with coconut flour in mind, and personally prefer that to using almond flour. However, you can swap for either if you keep a few things in mind, such as needing to add more water with almond flour. See the recipe notes above for more information and my guide to using coconut flour or almond flour.
Can I omit the psyllium husk?
No, you need this to make sure the keto flatbread is bendy and foldable. If you really don't like, or cannot tolerate psyllium husk, you may want to make my 3-ingredient keto tortilla instead. That keto bread recipe uses xanthan gum instead.
Can I make the dough in my food processor?
You can use the dough hook of your stand mixer, but it is such a simple recipe, I prefer to make the dough by hand. I like to keep my prep time and wash-up time to a minimum.
My dough is dry, what do I do?
Simply add 1 teaspoon of warm water at a time until the dough is pliable and able to be rolled out.
My dough is wet, what do I do?
Add extra coconut flour or more psyllium husk to absorb any extra water in the dough.
What is psyllium husk for?
Psyllium husk powder (or whole psyllium husk) acts as a binder and is a common addition to low-carb and keto recipes when using coconut flour or almond flour. Psyllium adds fiber and absorbs and swells with water.
Why does psyllium husk sometimes turn purple?
The husk of psyllium seed has a blue, grey, or purple tint. Sometimes recipes that use psyllium husk will turn purple because of an acidic ingredient or baking powder. It is safe to eat keto recipes that have turned purple, but they may not be attractive and look unappealing.
How can I reheat a coconut flour tortilla?
Fry each tortilla for 30 seconds on each side, microwave for 10 seconds, or warm in the oven for 5 minutes.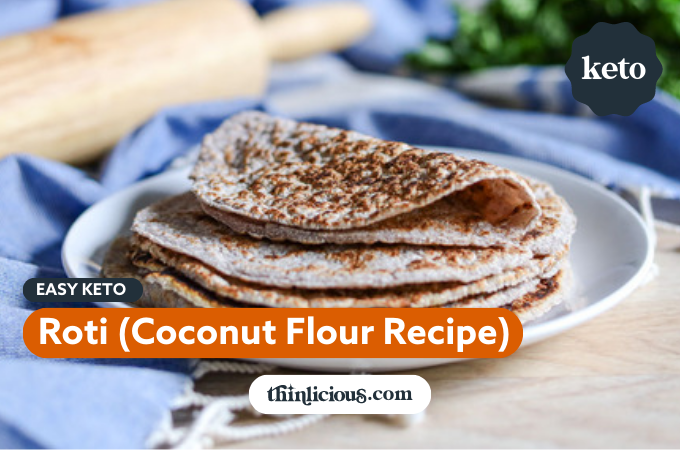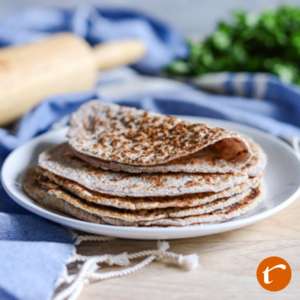 Easy Keto Roti Recipe (coconut flour recipe)
Easy keto roti are the perfect soft and foldable flatbread perfect for scooping up food. Can be used with keto curry recipes or keto Mexican recipes too.
Print
Pin
Rate
Want to lose weight and get healthy for life—without dieting, drugs, or making yourself miserable?
We can help! Tell me how!
Equipment
Measuring cups and spoons

Mixing Bowls

Skillet

Rolling Pin

Parchment Paper
Ingredients
½

cup

coconut flour

2

tbsp

psyllium husk

¼

tsp

baking powder

1

tbsp

cream cheese

softened

1

tbsp

butter

(use coconut oil if vegan)

1

cup

hot water

salt
Instructions
Mix all your ingredients except the water together in a large bowl with a fork or silicone spatula. Be sure to press the dry ingredients into the butter and cheese to make crumbles.

Next, slowly pour the hot water into the bowl while you continue to mix and knead the dough. Knead the dough for a few minutes until it is all sticking together. Cover your bowl and let the dough rest for 20-30 minutes.

Break your dough into 6 equal pieces and roll into small balls. Place the ball one at a time between two sheets of parchment or wax paper. Roll each ball out to your desired thickness between 1/16th and 1/8th of an inch.

Use a bowl and a knife as a guide to cut your roti into a circle and clean up the edges if desired. Repeat this process until all 6 roti have been rolled out.

Heat a skillet over medium heat on your stove. Once the pan is hot lightly grease it with olive oil or butter. Place one roti in the center of the skillet one at a time to cook for 1-3 minutes. Then flip the roti over and cook it for another 1-3 minutes on the other side.

Your roti will puff up a little bit, but not as much as traditional roti. Remove from the skillet and repeat the process until all roti is cooked. Serve warm with curries to rip and scoop your food. Enjoy!
Notes
Your roti should puff up just a little bit after it has been flipped. However, the inside won't be hollow like traditional roti. This roti is perfect for ripping and scooping food.
If you are able to cook your roti over an open flame your roti may puff up more. I recommend still cooking your roti in a skillet and then puffing your roti over an open flame if you try this.
Nutrition
Serving:
1
roti
Calories:
83.1
kcal
Carbohydrates:
9.2
g
Protein:
1.7
g
Fat:
4.3
g
Sodium:
49.3
mg
Potassium:
21
mg
Fiber:
6.2
g
Sugar:
0.8
g
Vitamin A:
92.1
IU
Calcium:
21.7
mg
Iron:
0.4
mg
More keto curry recipes
if you love keto curries, you'll also love these other low-carb recipes. Serve your curries with a keto naan, cauliflower rice, or a simple coconut tortilla.
Get our FREE guide to finally fix your metabolism!
Losing weight & getting healthy is never easy, but lately you might feel like it's suddenly become impossible.
Our Flip the Switch guide will help you clearly understand what's been going on, as well as exactly what you can do to get your metabolism working again so that you can look and feel your best—it's easier and more simple than you think!