</p>
Learn how to make a homemade pumpkin pie spice recipe with the perfect ratios of 5 simple spices PLUS 8 recipes to use it.
It only takes a few minutes to make, it's economical, and you can use it in sweet and savory recipes.
It also makes the perfect gift for friends and family at this time of year.
Are you ready to create the ultimate 12-month blueprint for reaching your health & weight loss goals this coming year?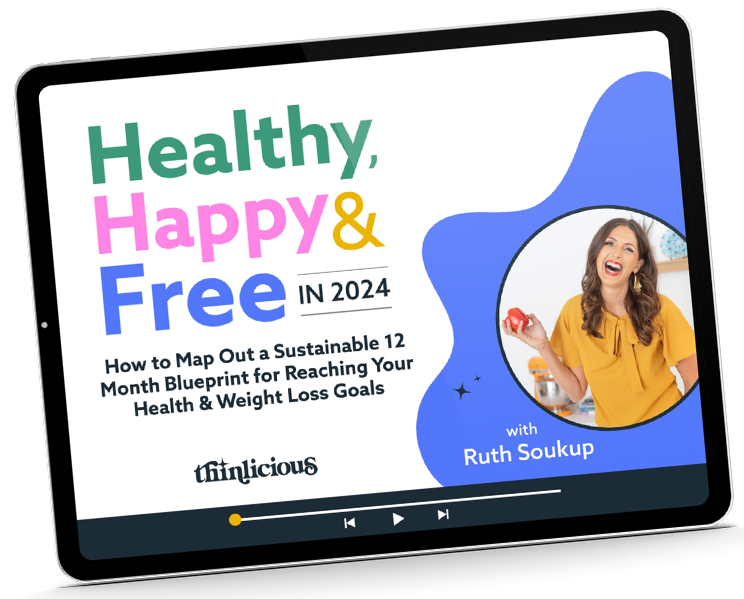 Our free on-demand video training will walk you through how to make 2024 THE year you set health goals…and keep them.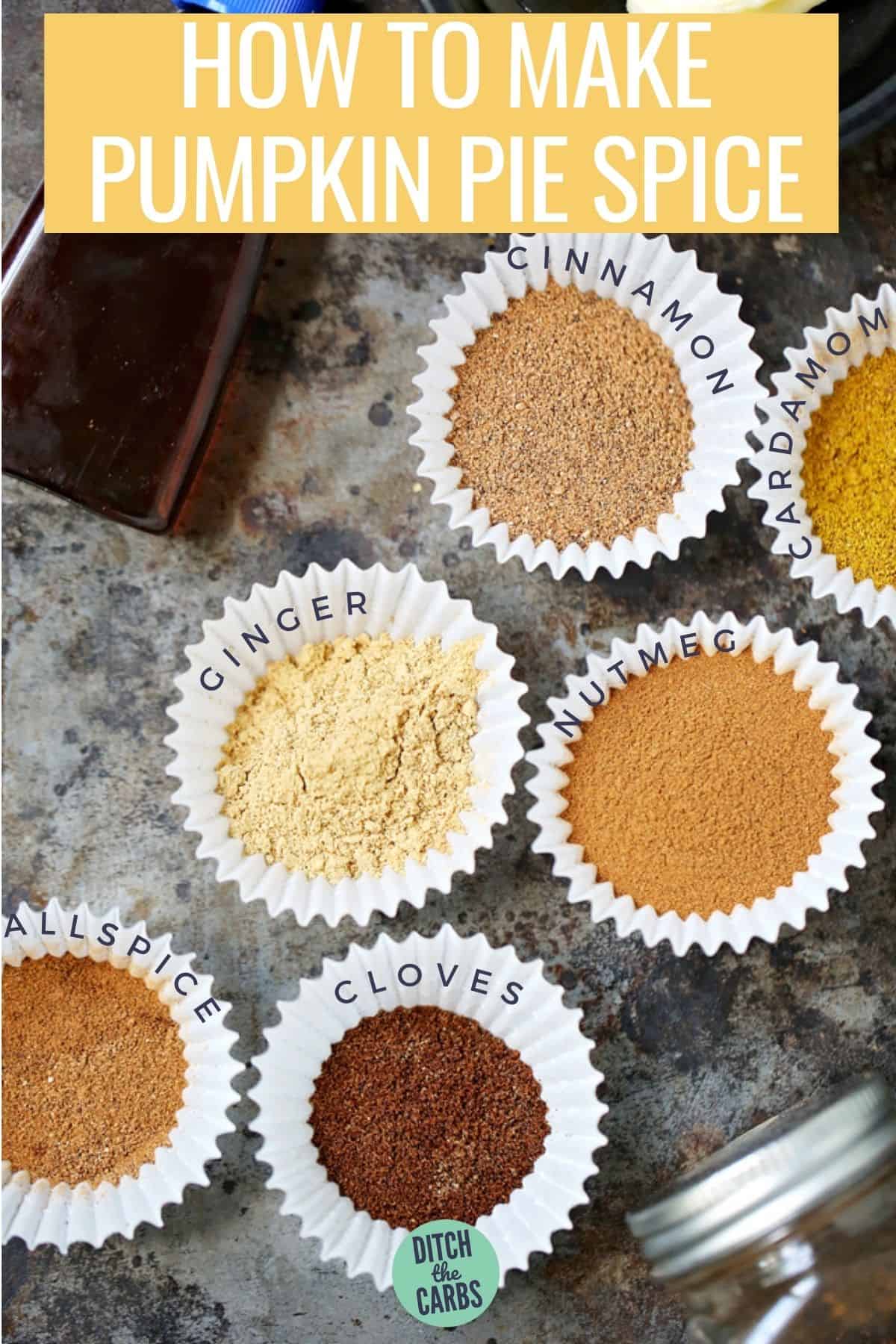 What is pumpkin pie spice?
Did you know that pumpkin pie spice does not contain any pumpkin? It is a combination of 5 warm spices that are perfect to use in a variety of pumpkin recipes, pies, soups, fudge, drinks, and winter comfort food.
There are so many variations of pumpkin spice, the recipe below is a classic combination that is based on ground cinnamon and other classic winter spices such as ground ginger, ground allspice, ground nutmeg, and ground cloves. There is also an option to make variations such as ground cardamom (completely optional).
Cardamom gives it that extra winter comfort food flavor. You may omit this if you like, but after much trial and error, I truly believe it takes how to make pumpkin pie spice to another level. Go on, try it yourself and taste the difference.
Why should I make my own?
Making your own homemade spice blend means you can adjust the flavors exactly to how you prefer to make the perfect flavor. It also stops any added sugars or starches that some spice mixes often contain.
Homemade pumpkin pie spice is cheaper than store-bought and you know exactly what goes into the recipe. It also makes. beautiful fragrant gift at Thanksgiving or Christmas.
You can also make smaller batches of pumpkin spice blends in a small bowl so you always have a fresh batch in your spice cabinet.
Spices you need
All quantities, ingredients, and instructions are in the best pumpkin pie spice recipe card below.
This spice blend is a traditional recipe of fall spices, it has all the flavors you expect to enjoy. However, there are many variations from what the recipe calls for. You could add a pinch of chili powder to give it a small spicy kick.
What's the best ratio of spices?
Homemade pumpkin pie spice has the following ratio of spices.
9 ground cinnamon: 2 ground nutmeg: 2 ground ginger: 1 ground allspice: 1 ground cloves
By making your own homemade spice blend, you can adjust the quantities of the individual spices to exactly how you like them. The classic store-bought pumpkin spice and spice mix recipe below is predominantly a cinnamon blend.
You may, however, prefer more ground ginger and less ground cinnamon. For a spicier flavor, you may want to add more ground allspice and more ground cloves.
How to make pumpkin pie spice mix
How to miss the spices: In a small bowl, small jar, an old spice container, or gift jar, mix all the measured spices until combined. You can use a small whisk, use a fork, or put the lid on and shake the spices together.
How to store the spice mix: Always store herbs and spices in an airtight container, away from direct sunlight, in a cool place.
Now you can make all your favorite winter baking and pumpkin recipes with your own homemade personalized blend.
Pumpkin pie spice FAQ
What's in pumpkin pie spice?
Pumpkin pie spice is a traditional mix of ground cinnamon, ground ginger, ground allspice, ground cloves, and ground nutmeg.
Is there pumpkin in pumpkin pie spice?
No, there is no pumpkin in pumpkin pie spice. The species are a blend of warm flavors that go well with pumpkin recipes.
What recipes can I make using pumpkin pie spice?
You can make almost any recipe that requires cinnamon, with pumpkin pie spice instead. Sprinkle it on coffee and whipped cream, add it to cheesecakes, and turn cinnamon scrolls into pumpkin spice scrolls.
How much pumpkin pie spice do I need to use?
How much you use depends on the recipe you are baking. Sweet recipes might require less spice mix for a subtle flavor, whereas in savory recipes such as keto pumpkin soup, you may want to add more so it's extra warm and comforting.
How do I store pumpkin pie spice?
Always store spices in an airtight container, away from direct sunlight, and not in any area of the kitchen that may become damp or full of steam. Fresh homemade pumpkin pie spice can be stored for up to 2 years (or use the shortest expiry date from the spices you used in the recipe below).
What is allspice?
Allspice is the dried, unripe berry of the juniper dioica plant. It is called allspice because it has the flavors of cinnamon, cloves, and nutmeg.
What is apple pie spice?
Apple pie spice is very similar to pumpkin pie spice. it is most commonly a blend of cinnamon, nutmeg, and allspice, but may also have ginger and/or cardamom.
Recipes that use pumpkin pie spice
This homemade spice is so versatile. It can be used in baked goods, sweet cakes, fudges, and cheesecake, or added to pumpkin and coconut soup or keto pumpkin and bacon soup for delicious healthy comfort food.
Best Chocolate Keto Pumpkin Pie (Gluten-Free)
Sweet, delicious, and creamy chocolate keto pumpkin pie recipe that's only 3.4 g net carbs. Can be served hot or cold with whipped cream and keto maple syrup.
Check out this recipe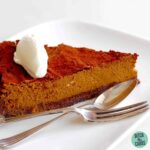 Keto Pumpkin Spice Mug Cheesecake Recipe
Delicious egg-free pumpkin spice flavored cheesecake that you can cook in a mug or ramekin using your microwave!
Check out this recipe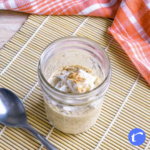 Easy Pumpkin Pie Keto Fudge Recipe (No Bake)
Smooth and creamy no-bake pumpkin pie keto fudge (0.8g net carbs). An easy one-pot recipe made in under 10 minutes.
Check out this recipe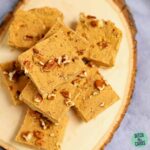 Recipes to swap pumpkin spice for cinnamon
Low-Carb Cinnamon Roll Mug Cake Recipe (Cream Cheese Frosting)
How to make a quick and tasty cinnamon roll mug cake in the microwave plus icing/frosting.
Check out this recipe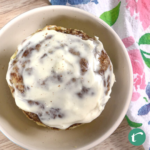 Keto Cinnamon Churro Chaffles Recipe
Make delicious Keto Cinnamon Churro Chaffles, in less than 5 minutes.
Check out this recipe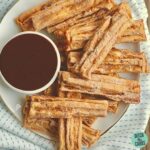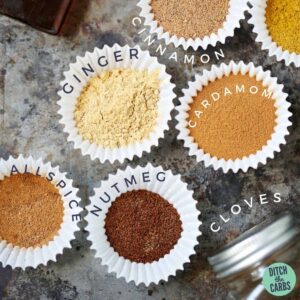 How To Make Homemade Pumpkin Pie Spice Recipe
Learn how to make a homemade pumpkin pie spice recipe, the exact spice ratios you need PLUS a variety of recipes to use it. It's a perfect gift.
Print
Pin
Rate
Want to lose weight and get healthy for life—without dieting, drugs, or making yourself miserable?
We can help! Tell me how!
Equipment
Measuring cups and spoons

Mixing bowls
Ingredients
3

tbsp

ground cinnamon

2

tsp

ground nutmeg

2

tsp

ground ginger

1

tsp

ground allspice

1

tsp

ground cloves

¼

tsp

ground cardamom

(optional)
Instructions
Mix and place in an airtight container, mason jar, or gift jar.
Notes
Expiry dates – always check the expiry dates of the spices you are using for this spice mix. Use the shortest date to give an expiry to your homemade DIY pumpkin pie spice mix.
Nutrition
Serving:
1
tsp
Calories:
7.2
kcal
Carbohydrates:
1.8
g
Protein:
0.1
g
Fat:
0.2
g
Sodium:
0.8
mg
Potassium:
14.7
mg
Fiber:
1
g
Sugar:
0.1
g
Vitamin A:
6.1
IU
Vitamin C:
0.1
mg
Calcium:
18.9
mg
Iron:
0.2
mg
Get our FREE guide to finally fix your metabolism!
Losing weight & getting healthy is never easy, but lately you might feel like it's suddenly become impossible.
Our Flip the Switch guide will help you clearly understand what's been going on, as well as exactly what you can do to get your metabolism working again so that you can look and feel your best—it's easier and more simple than you think!