The most delicious and easy sugar-free birthday cake that only needs 7 ingredients and takes less than 5 minutes to prepare in 1 mixing bowl.
So skip the store and make this delicious sugar-free birthday covered with sugar-free sprinkles.
Birthday celebrations are a special time, and that calls for a special cake covered in sprinkles and candles. Everyone will love this easy sugar-free vanilla cake with whipped heavy cream or cream cheese frosting.
Ready to lose weight and get healthy for life without dieting, drugs or making yourself miserable?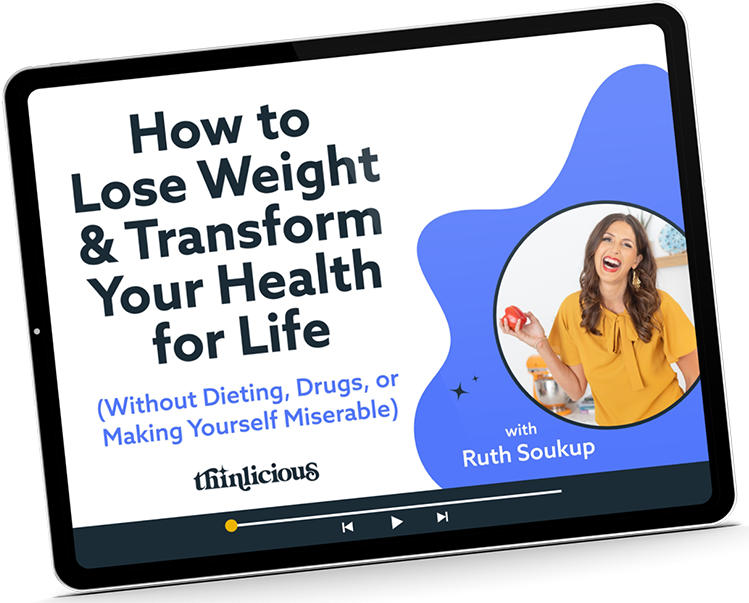 Our free on demand video training will help you understand why it's been so hard and what do to about it.
When it's time to sing happy birthday, this sugar-free vanilla cake (delicious diabetic birthday cake) is perfect for any healthy sugar-free diet.
Is vanilla cake healthy?
A classic vanilla birthday cake is made with wheat flour, sugar, and sometimes unhealthy oils. This birthday cake is made with almond flour (a naturally low-carb flour) and a sugar-free sweetener so it is very low in net carbs and sugars.
Keto vanilla cake (nutritional value per slice): 3.9g net carbs, 2.6 g fiber, 25.6 g fat, 8.9g protein, and 280 calories.
It is perfect for the low-carb diet, sugar-free diet, keto diet, and anyone who wants to maintain healthy blood sugar levels.
Vanilla cake ingredients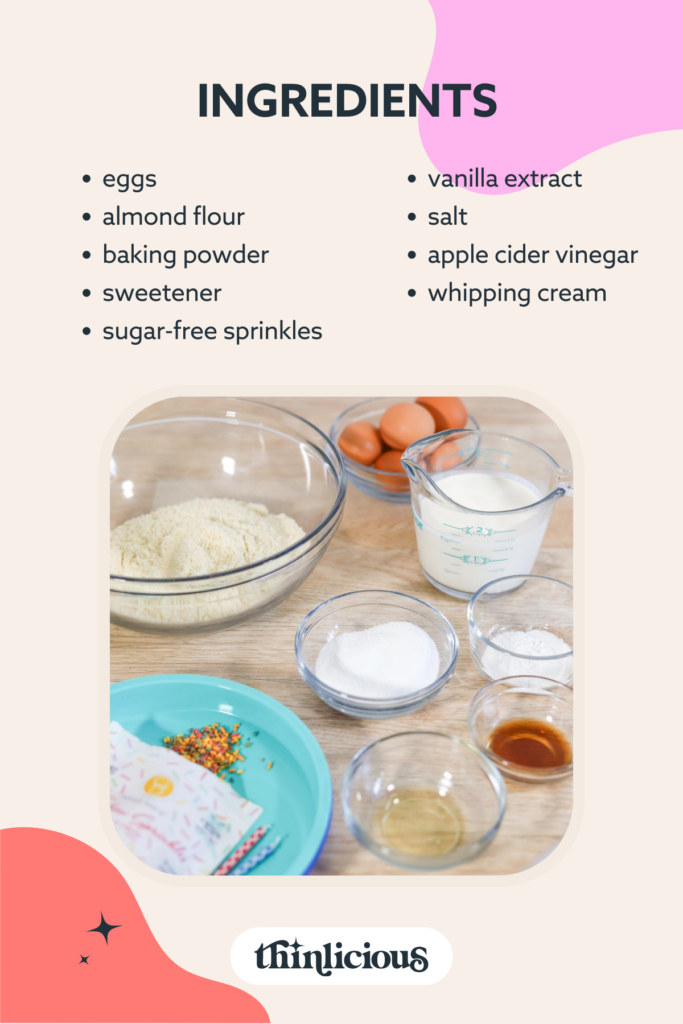 Only seven simple ingredients are needed to make this cake batter. Since almond flour is used to bake this gluten-free birthday cake, your cake will be a bit denser than a regular cake. However, the whipped cream frosting is light so it is perfect for offsetting the density of the cake.
A little apple cider vinegar is used to activate the baking powder. This makes the cake a little lighter, and you can't taste the vinegar at all.
Keto vanilla cake ingredients
See the recipe card below for ingredient quantities and full instructions.
eggs – it's best to use fresh medium eggs, rather than an egg substitute in baking
almond flour – if you can get super fine blanched almond flour, this makes lighter and fluffier keto cakes
baking powder – always check the expiry date to make sure you use fresh baking powder (and not baking soda)
sweetener – the most popular sugar-free sweeteners are granulated erythritol, powdered erythritol, allulose, monk fruit sweetener, and xylitol. Try to avoid stevia because it can often add a bitter taste to cakes.
vanilla extract – or sugar-free vanilla extract
salt – a little pinch of salt brings out the sweetness and vanilla.
apple cider vinegar – the vinegar activates the baking powder to create air bubbles and softness.
Decorations
whipping cream – while the birthday cake is dairy-free, the whipped heavy cream is delicious to decorate. You can use whipped coconut cream to have a dairy-free topping instead.
sugar-free sprinkles – colorful sugar-free sprinkles bring the cake alive.
How to make sugar-free cake batter
Start by preheating your oven to 180C/350F. Grease your cake pans using olive oil or brush with melted butter to ensure they can be easily removed.
Line each cake pan with circles of baking parchment paper.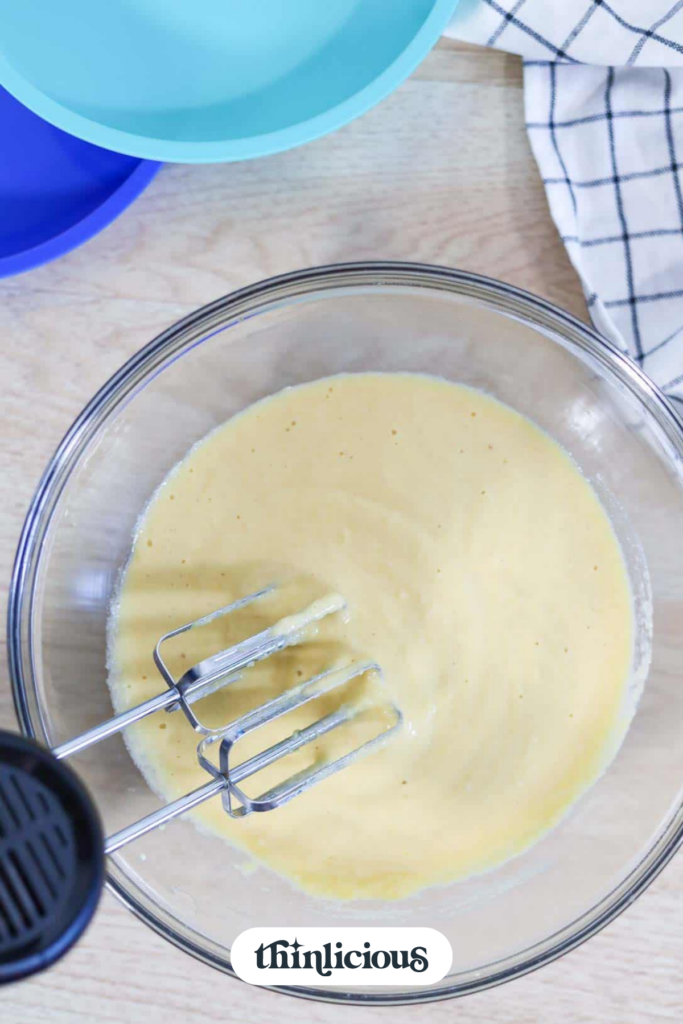 Mix all your cake ingredients together in a large mixing bowl. I used an electric hand mixer, but you can also mix it together by hand or using a stick blender with a whisk.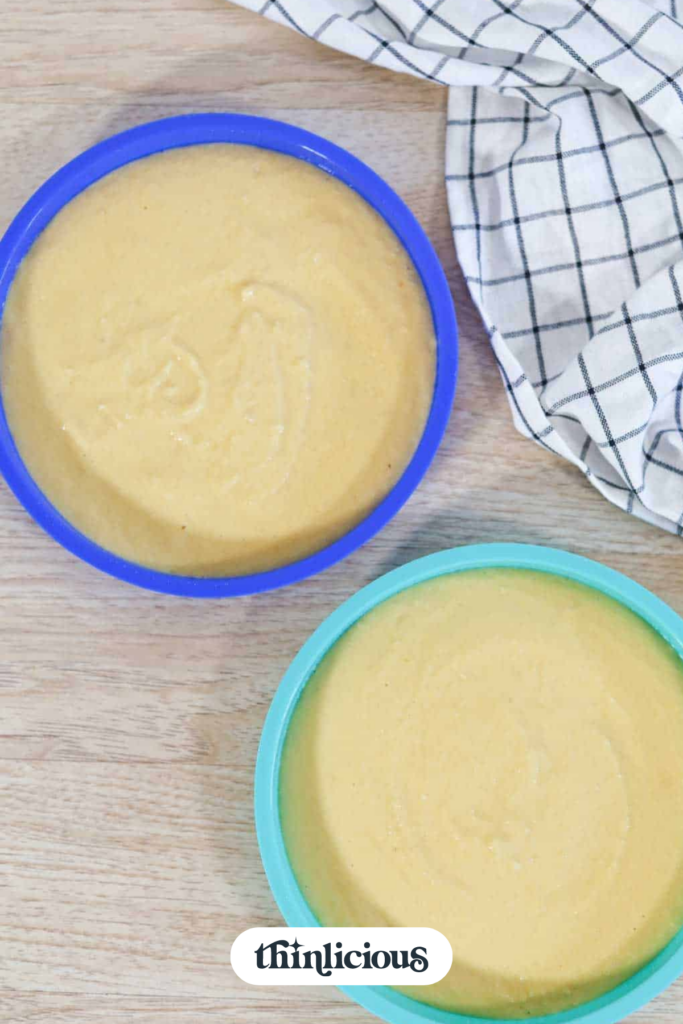 Divide the cake mixture in half between two 8-inch round cake pans. Bake on the middle rack in the oven for 12-15 minutes. Let the sponge cakes cool completely to room temperature before frosting.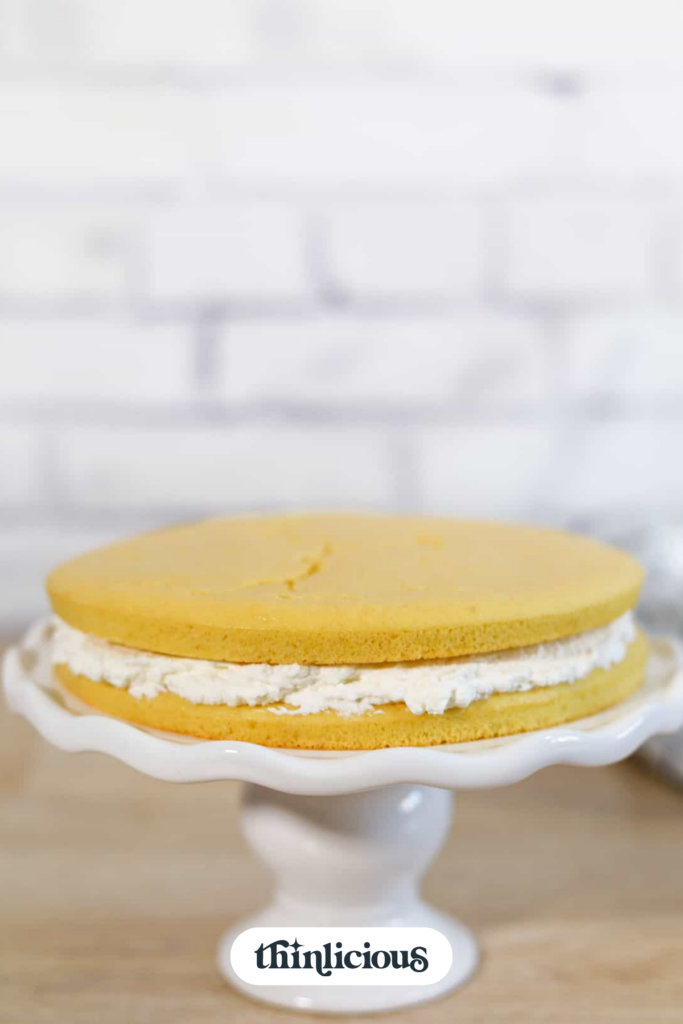 When each cake layer is cool, whisk together your whipped cream frosting. Frost the cake adding a layer of frosting between the two layers.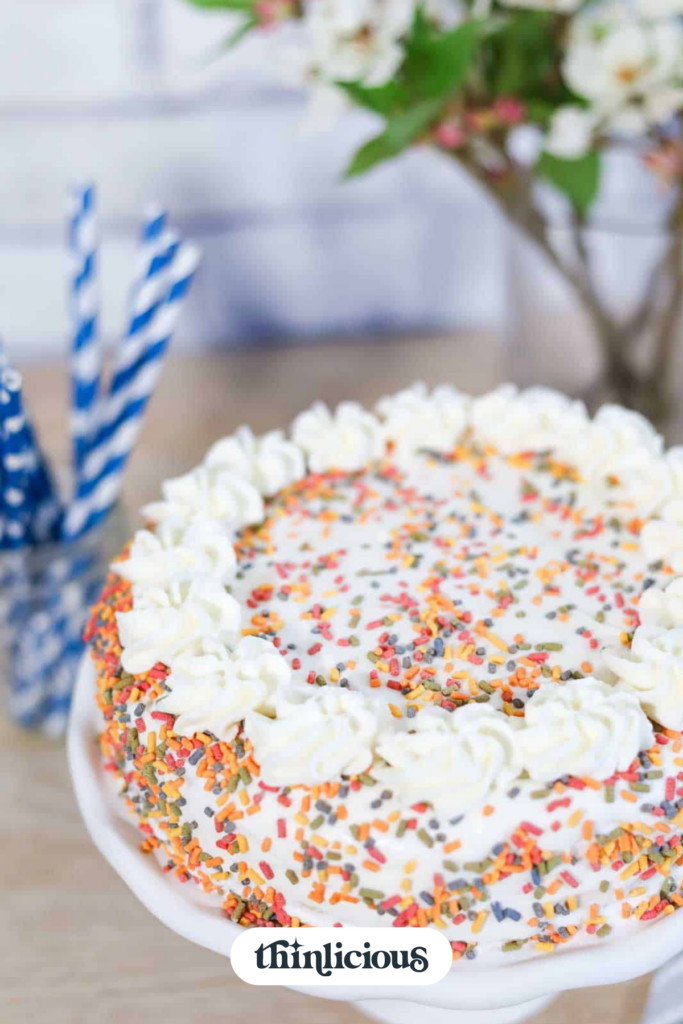 Decorate the cake with sugar-free sprinkles over the entire cake. Pipe leftover whipped cream around the edges and serve!
Hint: Be sure to oil and line each cake pan before filling them with batter.
How to decorate a sugar-free birthday cake
Decorating a birthday cake can be as easy or complicated as you want to make it. I prefer to keep it simple, using heavy whipping cream (or coconut cream) and sugar-free rainbow sprinkles.
ALWAYS make sure the cake has been cooled on a wire rack to allow any moisture to escape and to reach room temperature.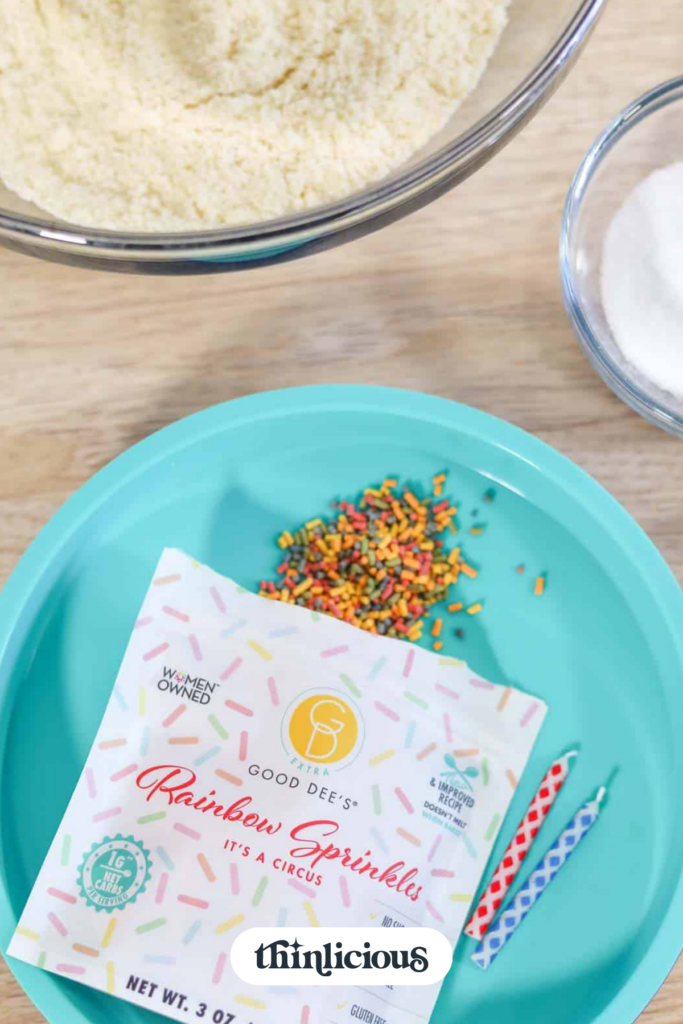 To decorate the sugar-free cake, add 1/4 of the frosting to the first cake layer. This adds a nice layer of frosting between the two layers. Place the second cake layer on top.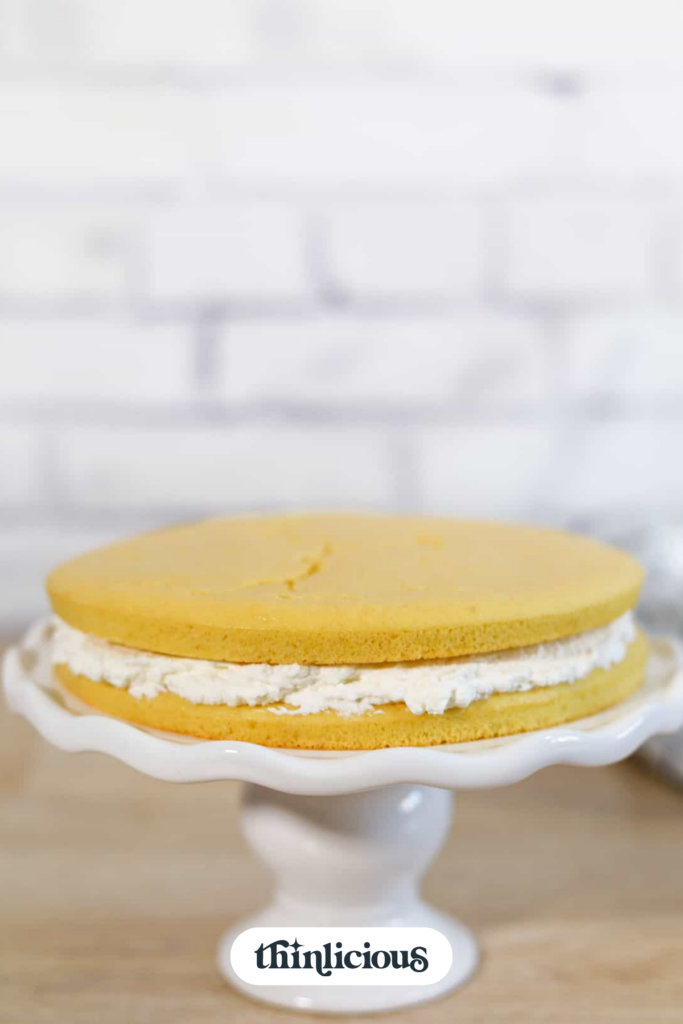 Next, cover both cake layers with a thin layer of frosting and placed it in the freezer for about 10-15 minutes to set. This is the crumb layer.
A crumb layer of frosting locks in any stray crumbs before adding the top layer of frosting.
Cover the layer cake with another layer of frosting and add sprinkles on the top and sides. Pipe the remaining frosting around the edges of the cake or in swirls.
How much frosting to use on a cake
Whether you decide to use whipped heavy cream, cream cheese frosting, or chocolate frosting (chocolate buttercream), this is how you divide the frosting when decorating a layer cake.
1/4 of the frosting = filling between layers
1/2 frosting = cover the cake layers (sides and top of the cake)
1/4 frosting = pipe decorations around the edges.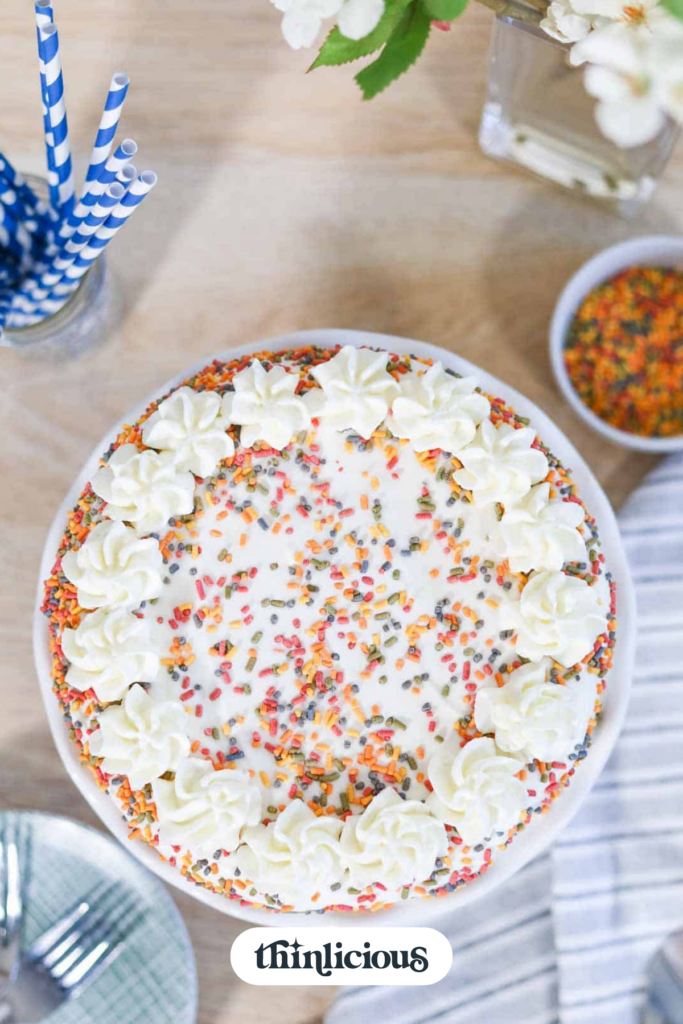 Substitutions
Do you love the idea of this sugar-free birthday cake, but need to make a couple of changes to meet your needs? Check our recommended substitutions below.
Almond flour – use ground almond, almond meal, fine almond flour, or a different nut/seed flour as your flour mixture. Check my guide to low-carb flours to learn why coconut flour is NOT a suitable replacement for almond flour.
Vinegar – substitute the apple cider vinegar with white vinegar, lemon juice, or orange juice(from an orange). However, you will be able to taste the lemon or orange juice
Rainbow sprinkles – If you can't get your hands on these sugar-free rainbow sprinkles try using colored unsweetened coconut instead. This will take a bit more preparation on your part, but you could color the coconut yourself and let it dry before sprinkling it on the cake!
Learn how to color shredded coconut in my Sugar-Free Coconut Ice recipe.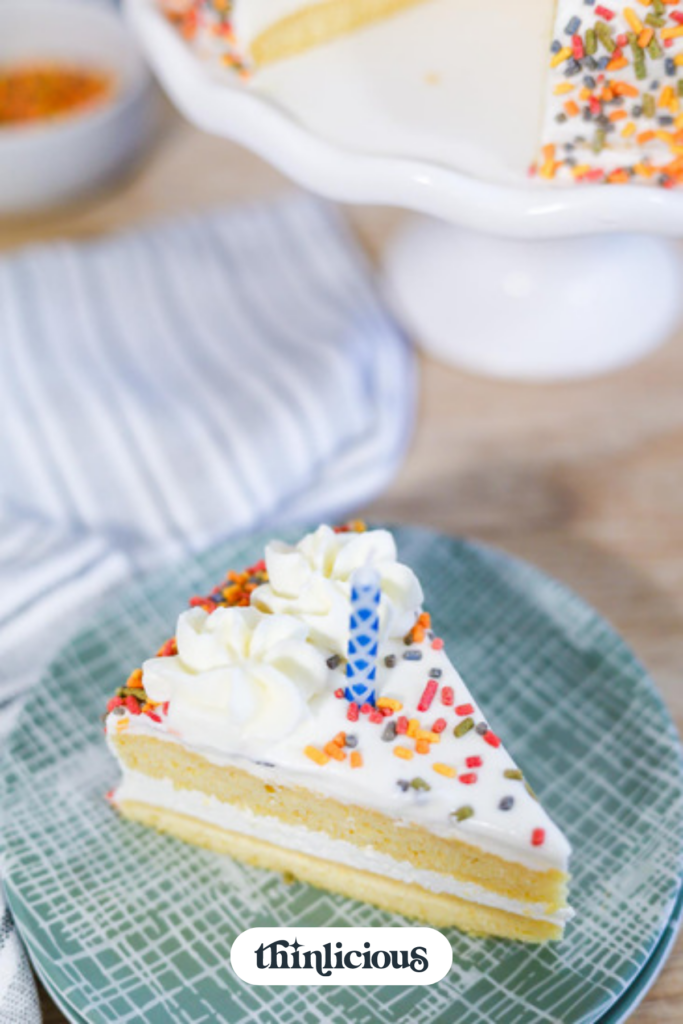 Variations
This delicious birthday cake recipe is the perfect base recipe for any birthday cake.
This birthday cake recipe is so versatile and so easy to make whole new flavors of sugar-free cakes with just a few simple adjustments.
Cream cheese frosting – there are other frosting recipes you can use instead of whipped cream. A simple cream cheese and butter mixture can transform a birthday cake recipe. Sugar-free cream cheese frosting or a sugar-free chocolate buttercream frosting instead of whipped cream frosting.
Funfeti – mix sprinkles into the batter before baking.
Strawberry – layer sliced fresh strawberries or fresh berries between the layers of the cake.
Chocolate cake – perfect for chocolate lovers, add 1/4 cup of unsweetened cocoa powder to the cake batter and 1 or 2 tablespoons of heavy cream. Sprinkle sugar-free chocolate chips over the chocolate frosting.
Lemon vanilla cake – make the vanilla cake as per the recipe card below, but add 2 tablespoons of lemon zest to the cake mixture before baking, then cover with the lemon frosting recipe and sugar-free sprinkles.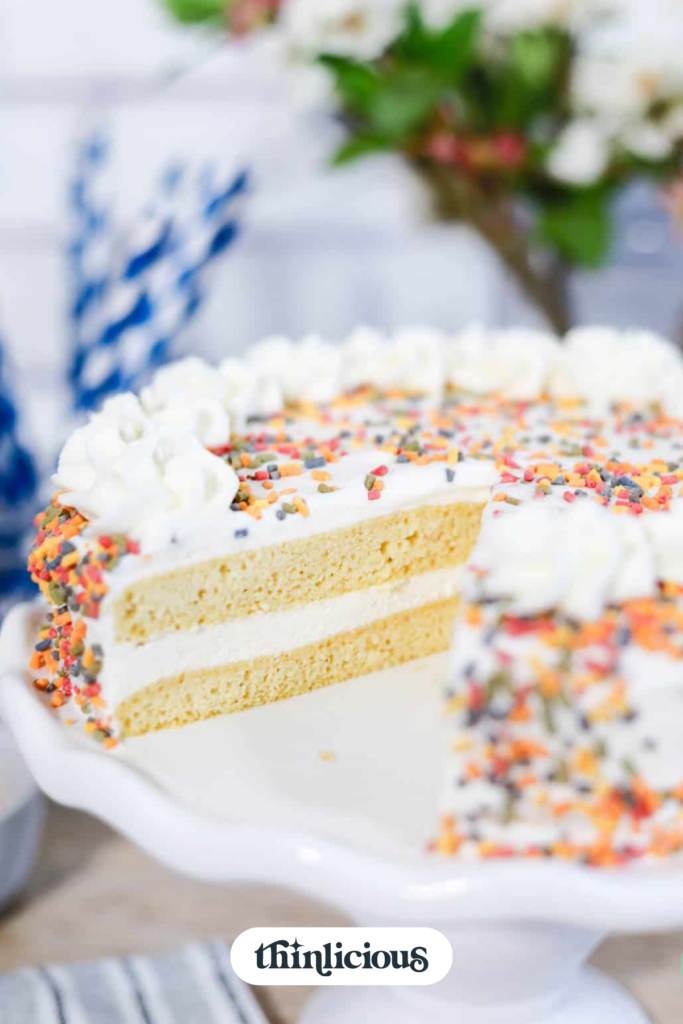 Equipment
You can make the cake with a large mixing bowl but you can also use a blender or food processor, however, do not over-mix the batter to ensure the birthday cakes are light and fluffy.
You will want to bake this cake on the middle rack in your oven. I have fallen in love with silicone cake pans because it's so easy to remove the cakes from the pan.
I used two 8-inch round silicone pans while making this sugar-free birthday cake. Alternatively, you can use two 8-inch springform pans.
To make the whipped cream frosting I recommend using an electric hand mixer, stick blender, or stand mixer to whip up the frosting. However, you can also beat the frosting by hand using a large whisk.
How to store birthday cake
Store this sugar-free birthday cake in the refrigerator until you are ready to serve.
Leftover cake can be stored in an airtight container in the refrigerator for 5-7 days or in the freezer for up to 3 months.
You can store individual slices of cake so it's easy to defrost only one serving at a time.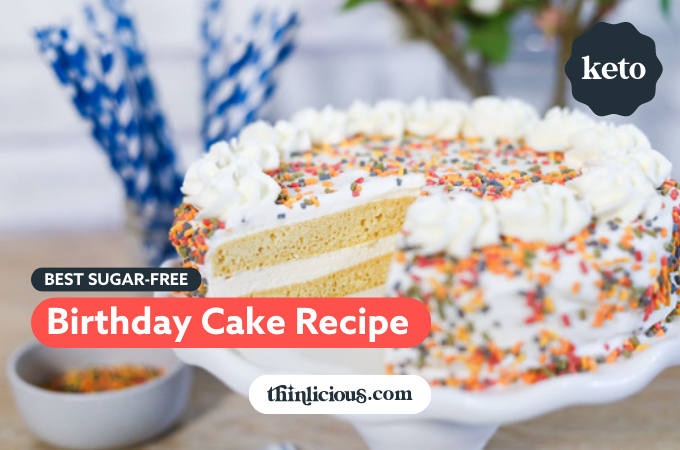 Expert baking tips
How you measure baking ingredients can make a huge difference in the end results. Always spoon your almond flour into the measuring cup, never scoop the almond flour when measuring.
Scooping the almond flour will compact the flour in the cup. You'll actually use way more flour than needed and your cake will be very heavy.
Whip your whipped cream frosting until stiff peaks form. Under-whipping the frosting will result in a runny whipped cream. Over-whipping your cream can make it too thick to spread, curdle, or even split and turn into butter.
Recipe FAQ
Are sugar-free cakes good for diabetics?
This sugar-free birthday cake is made with almond flour which is a low glycemic index food. So it won't impact blood sugar the same way a cake made from wheat flour and sugar would.

Some cake recipes however are made with regular cake flour and natural sweeteners in the mistake they are kinder on blood sugars. But all types of sugar will raise blood sugar. It's best to use sugar-free sweeteners or a keto sweetener such as the sugar alcohol erythritol, or monk fruit sweetener.
How to make a sugar-free chocolate cake?
You can add unsweetened cocoa powder to the cake batter with an additional 1-2 tablespoons of heavy cream. Decorate with sugar-free chocolate frosting and sprinkle in between the cake layers, and on top, with sugar-free chocolate chips.
How can I make a taller cake?
To make a tall birthday cake, you can make a double recipe and extend the baking time, or use a smaller cake tin rather than sponge cake tins.
Can I swap baking powder for baking soda?
Both baking powder and baking soda will make cakes rise with the air bubbles they create. It's best to use what the recipe has suggested otherwise the change in ratios of ingredients can ruin the entire cake.
Which sweetener is best for a diabetic birthday cake?
The most commonly used diabetic sweeteners in sugar-free cakes are monk fruit, erythritol, allulose, and xylitol. Avoid using pure stevia extract which can create a bitter taste.
Are low-carb cakes gluten-free?
If your low-carb cakes and keto cakes are made with grain-free flour such as almond flour or coconut flour, they will naturally have no gluten. But remember, not all gluten-free flours are low-carb.

Most gluten-free baking uses a flour mixture of rice starch, potato starch, or tapioca starch which are all high in carbohydrates that may raise blood sugars and are not suitable for diabetics.
Can I use a regular cake with sweetener as a diabetic birthday cake?
If your traditional recipe contains wheat and sugars, then no, this type of cake is not suitable for a diabetic birthday cake. Even if it is made with honey, maple syrup, coconut sugar, or dried fruit as a substitute for regular sugar, these are all sugars and are not diabetic-friendly.
What is the best way to line c cake tin?
Brush the bottom and sides with oil such as melted salted butter, unsalted butter, or coconut oil, then cut a circle of baking parchment paper and place it on the bottom of the pan.
What do I add if my cake batter is dry?
Sometimes if you use smaller eggs than the recipe needs, the cake batter may need an extra tablespoon of almond milk, heavy cream, or skim milk (depending on your diet and preferences).
What do I add if my cake batter is dry?
If your eggs are a little larger, then your cake batter may be too wet. Add 1 or 2 tablespoons of almond flour and fold gently.
Do I need to add the wet ingredients and dry ingredients in separate bowls?
No, this simple vanilla cake recipe is all made in one large bowl. Fold gently, do not overmix the ingredients to make sure your cake is light and fluffy.
More healthy birthday cake recipes
These are the most popular sugar-free cake and diabetic cake recipes that are all family-friendly too. Perfect for your next birthday party.
These delicious recipes are all gluten-free and sugar-free cakes.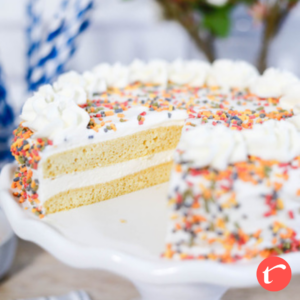 The BEST Sugar-Free Birthday Cake (Keto Vanilla Birthday Cake).
The most delicious and easy sugar-free birthday cake. Gluten-free and dairy-free covered with sugar-free sprinkles.
Print
Pin
Rate
Want to lose weight and get healthy for life—without dieting, drugs, or making yourself miserable?
We can help! Tell me how!
Equipment
Measuring cups and spoons

Mixing Bowls

Food Processor

Round baking pan
Ingredients
Sugar-Free Birthday Cake Batter (dairy-free)
6

eggs – medium

medium

2½

cups

almond meal/flour

1

tsp

baking powder

4

tbsp

granulated sweetener of choice

or more, to your taste

1

tsp

vanilla extract

¼

tsp

salt

2

tsp

apple cider vinegar
Whipped Cream Frosting (optional)
1½

cups

heavy whipping cream

(or whipped coconut cream)

3

tbsp

powdered sweetener

1

tsp

vanilla extract
Instructions
Sugar-free birthday cake
Preheat your oven to 180°C/350°F and grease two 8-inch round cake pans. Line with baking parchment paper is optional but recommended.

Mix all the sugar-free cake batter ingredients together in a large mixing bowl.

Divide the birthday cake batter evenly between the two cake pans.

Bake on the center rack of the oven for 12-15 minutes or until done. Place the cake on a wire cooling rack or towel and let cool completely.
Sugar-free frosting (optional)
While the cake is cooling make the whip cream frosting by whipping all the frosting ingredients together in a bowl. Mix with an electric hand mixer or stick blender until stiff peaks form.

Place the frosting in the refrigerator until ready to use.

Once the cake is cooled remove it from the pan and place one layer on your serving tray or cake stand.

Spread 1/4 of the frosting over the top of the cake. Then place the 2nd layer on top. Frost the cake top and sides with the remaining frosting and top with sugar-free sprinkles if desired.

Store cake in the refrigerator until ready to serve.
Notes
Sugar-free sprinkles are optional, but really help the cake come alive and look like a regular birthday cake.
[eafl id="45270″ name="Sugar-free sprinkles" text="Sugar-free sprinkles"] are an additional 1g net carbs per serving.
You can also use sugar-free vanilla cream cheese frosting or chocolate frosting.
Nutrition
Serving:
1
slice (decorated)
Calories:
280
kcal
Carbohydrates:
6.5
g
Protein:
8.9
g
Fat:
25.6
g
Sodium:
89.3
mg
Potassium:
96
mg
Fiber:
2.6
g
Sugar:
2
g
Vitamin A:
580.9
IU
Vitamin C:
0.2
mg
Calcium:
99.7
mg
Iron:
1.4
mg
Get our FREE guide to finally fix your metabolism!
Losing weight & getting healthy is never easy, but lately you might feel like it's suddenly become impossible.
Our Flip the Switch guide will help you clearly understand what's been going on, as well as exactly what you can do to get your metabolism working again so that you can look and feel your best—it's easier and more simple than you think!