Spice meal time up with a homemade keto taco seasoning. Whether you prefer your homemade taco seasoning mild or spicy, we have all the options you will need to make your healthy tacos taste amazing.
Plus, there's no need to worry about added sugar or hidden gluten when you make your own taco seasoning mix. It's sugar-free and gluten-free.
By the way, your taco seasoning mix can be used for more than just a keto taco. It is a delicious blend of spices and herbs that tastes amazing when added to ground beef, vegetables, soups, and even dressings/dips.
Discover the 8 clever ways to use your seasoning mix below (especially if you want quick and easy healthy family-friendly dinners).
Ready to lose weight and get healthy for life without dieting, drugs or making yourself miserable?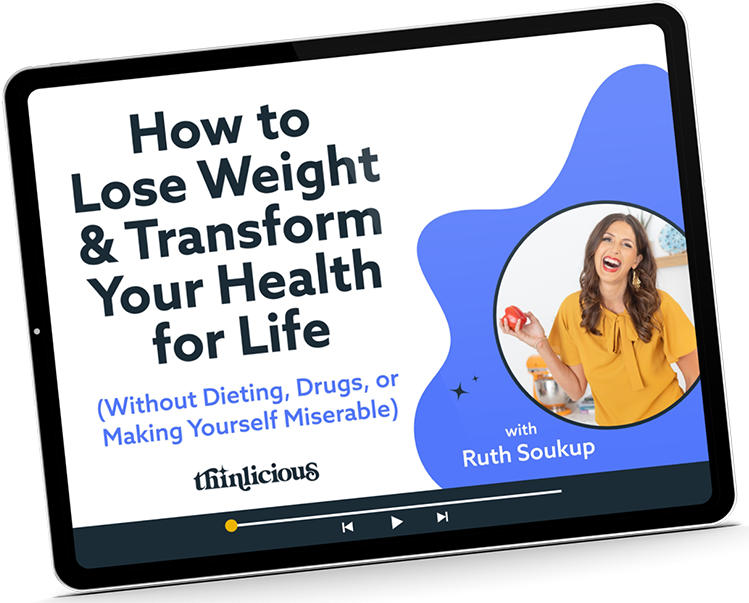 Our free on demand video training will help you understand why it's been so hard and what do to about it.
Ingredients
Only a handful of spices and herbs are needed to make your own homemade taco seasoning. Make it once and have enough to make four meals!
Some ingredients are used for added heat or depth of flavor. If you like mild seasoning, feel free to leave them out.
It's the perfect seasoning mix to jazz up ground beef, chicken, pulled pork, or Mexican salads.
Here's what I put in my spice mix:
See the homemade taco seasoning recipe card below for quantities. Remember to always read labels to ensure all the spices you purchase are gluten-free.
Instructions
To make keto taco seasoning simply mix all the ingredients together in a bowl or jar. You can also grind the ingredients together in a food processor or blender if you prefer.
Once all your ingredients are mixed together store them in an air-tight container. This can be a jar with a lid, an old seasoning container you saved and cleaned out, or a zipped bag.
Now, your taco seasoning is all done and ready to use!
Hint: For an extra-fine keto taco seasoning mix that is well-blended, use a coffee grinder or mini blender to blend your seasoning.
How to use
To use your keto taco seasoning you will want to use 2 tablespoons for every 1 pound of meat or vegetables. I like to add a spoonful or two of water/broth to my taco meat at well. This creates a slurry that coats the meat and really ups the flavor.
Soups – mix one or two spoonfuls into the broth to flavor the soup, or sprinkle it on top.
Dressing or dips – mix with mayo, sour cream, cream cheese, or yogurt to make a tasty dressing or dip.
Vegetarian – add to sauted vegetables or keto refried "beans".
There are so many ways that you can use this homemade taco seasoning mix.
Variations
If you want to play with the flavours of this homemade taco seasoning, here are a few options:
Spicy – add chili pepper flakes or cayenne pepper to make it extra spicy.
Zesty – add some dried lime or lemon zest to your seasoning to give some zesty flavor.
Smokey – Use smoked paprika or smoked chili powder to add a smokey flavor.
Want to pair your meal with something fun? See this Keto Taco Bell recipe on my website to learn how to make keto refried beans!
Equipment
Minimal equipment is needed besides measuring spoons and a container to hold your keto taco seasoning.
You can even get away without a jar if you use a Tupperware container, zipped bag, an old Mason jar, or reuse an empty seasoning container. You just need an air-tight container so that your taco seasoning stays fresh!
Storage
This recipe will make enough seasoning to cook up to 4 pounds of meat.
Your taco seasoning mix can be stored safely in a cool dry place in a cabinet, counter, pantry, or shelf. Your taco seasoning will stay fresh for up to a year in your container.
Top tip
Trying to figure out how much taco seasoning you need to make?
To make just enough keto taco seasoning for one pound of ground beef cut the recipe into 1/4 or adjust the serving size down to one in the recipe card.
You can also double or even triple the keto taco seasoning recipe to make more.
FAQS about homemade taco seasoning
Is taco seasoning keto? Are there carbs in taco seasoning?
Many commercial taco seasonings have added sugar, corn starch, and flour which are not low-carb keto-friendly. By making your own keto-friendly taco seasoning mix you save carbs and save money.
What meat works best with DIY taco seasoning?
I like using ground beef, which is perhaps the most classic option. However, ground turkey or ground chicken will work well too! Even rub your taco mix onto chicken drumsticks for a quick protein snack or quick chicken dinner.

You can also sprinkle your low-carb taco seasoning over pulled pork for your own taco meat.
What are the basic taco seasoning ingredients?
You only need a few simple herbs and spices – chili powder, red pepper flakes, cumin powder, paprika, coriander, onion powder, garlic powder, and oregano.
How can I make my taco seasoning spicier?
If you like hot and spicy seasoning mixes, just add more chili powder or crushed red pepper flakes to your taco mix.
How can I make my taco seasoning milder?
If you are sensitive to chili powder, then only add as much as your taste buds (or tummy) can handle. Each member of the family can then adjust how spicy their own meal is by adding more taco seasoning to their dinner.
Is it better to make homemade taco seasoning?
I know it's tempting to grab store-bought taco seasoning packets, but before you do make sure you read the label! You'll find that many have sugar, gluten, and preservatives added that can really drive up the carb count.

As it is so simple to make this taco seasoning recipe, I'd highly recommend you do that rather than purchasing pre-made.
How much seasoning do I need for taco seasoned ground beef?
The suggested quantity of keto taco seasoning is 2 tablespoons per pound of meat or vegetables. You may use more or less depending on how tasty and spicy you like your Mexican food.
9 clever ways to use taco seasoning
Keto Tortillas Recipe
These easy 3-ingredient keto tortillas will make you excited for Taco Tuesday again!
Check out this recipe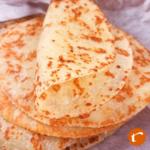 Low-Carb Taco Salad (with keto cheese tortilla strips)
Quick and tasty taco salad for lunch or dinner.
Check out this recipe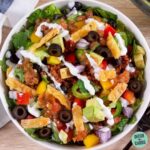 Copycat Keto Taco Bell Supreme Soft Tacos
Enjoy a tasty copycat keto Taco Bell supreme soft tacos in Libby's keto tortillas.
Check out this recipe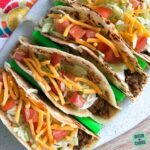 Copycat Low-Carb Taco Bell Supreme Burrito
Enjoy a tasty copycat low-carb Taco Bell supreme burrito with faux refried "beans" wrapped in a keto tortilla.
Check out this recipe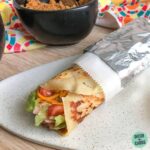 Keto Zucchini Taco Boats Recipe (courgettes)
Super easy recipe for keto zucchini stuffed taco boats. A delicious and healthy Mexican meal for the whole family. Quick and easy.
Check out this recipe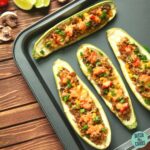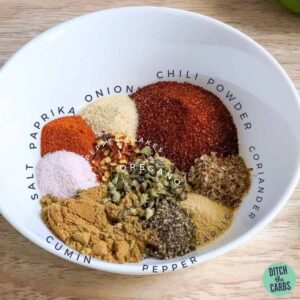 Keto Taco Seasoning Recipe (Gluten-Free)
Delicious homemade keto taco seasoning that is sugar-free and gluten-free. Replace those packets with this easy spice mix.
Print
Pin
Rate
Want to lose weight and get healthy for life—without dieting, drugs, or making yourself miserable?
We can help! Tell me how!
Equipment
Measuring cups and spoons
Ingredients
2

tbsp

chilli powder

1

tbsp

ground cumin

½

tbsp

paprika

1

tsp

salt

1

tsp

garlic powder

1

tsp

onion powder

1

tsp

oregano

1

tsp

ground coriander/cilantro

optional

½

tsp

pepper

optional for heat

¼

tsp

crushed red pepper flakes

optional for heat
Instructions
Add all the ingredients to a jar. Shake until completely combined.

Tighten the lid to the jar. Store and use as needed for up to 1 year.

Use 2 Tbsp. taco seasoning for every 1 lb (450g) of meat or vegetables.
Notes
1 serving size is 2 Tbsp. This recipe will make 8 Tbsp. taco seasoning.
Use 2 Tbsp. taco seasoning per 1 lb cooked meat or vegetables.
Omit coriander if you dislike the taste of coriander/cilantro.
Notes: The unit of tablespoons measurement varies by region. So check your measuring spoons (and where they were made).
A tablespoon in the United States, United Kingdom, Canada, and New Zealand is approximately 15 ml (0.50 US fl oz), but an Australian tablespoon is 20 ml (0.68 US fl oz).
Download your own international cooking conversion charts here – measurements, volumes, temperatures, and even international names of ingredients.
Nutrition
Serving:
1
serve ( serves 4)
Calories:
27.2
kcal
Carbohydrates:
4.8
g
Protein:
1.2
g
Fat:
1.2
g
Sodium:
676.1
mg
Potassium:
156.8
mg
Fiber:
2.5
g
Sugar:
0.5
g
Vitamin A:
1706.7
IU
Vitamin C:
0.8
mg
Calcium:
44.7
mg
Iron:
2.3
mg
More keto Mexican recipes
When making tacos for Taco Tuesday be sure to pair them with Libby's Famous 3 Ingredient Keto Tortillas. If you feel like stepping out of the box use this seasoning for recipes like easy keto taco salad and Instant Pot Chicken Taco Soup.
If your family loves Taco Tuesdays, you will also love these delicious recipes, and they are a great way to use your homemade seasoning mix.
Get our FREE guide to finally fix your metabolism!
Losing weight & getting healthy is never easy, but lately you might feel like it's suddenly become impossible.
Our Flip the Switch guide will help you clearly understand what's been going on, as well as exactly what you can do to get your metabolism working again so that you can look and feel your best—it's easier and more simple than you think!