Discover how this quick chocolate keto granola recipe (toasted keto muesli) is one of the best keto breakfast recipes that you AND your children will love.
PLUS it can be sprinkled on top of yogurt or keto ice cream for a quick keto dessert.
Keto granola is so versatile. You can eat granola as a quick grab-and-go breakfast, packed in ziplock bags for a tasty crunchy keto snack, or sprinkled over natural yogurt for a quick dessert.
This keto chocolate granola is sugar-free, gluten-free, dairy-free, grain-free, and it's even Paleo granola too. It's perfect for any type for low-carb keto diet.
Ready to lose weight and get healthy for life without dieting, drugs or making yourself miserable?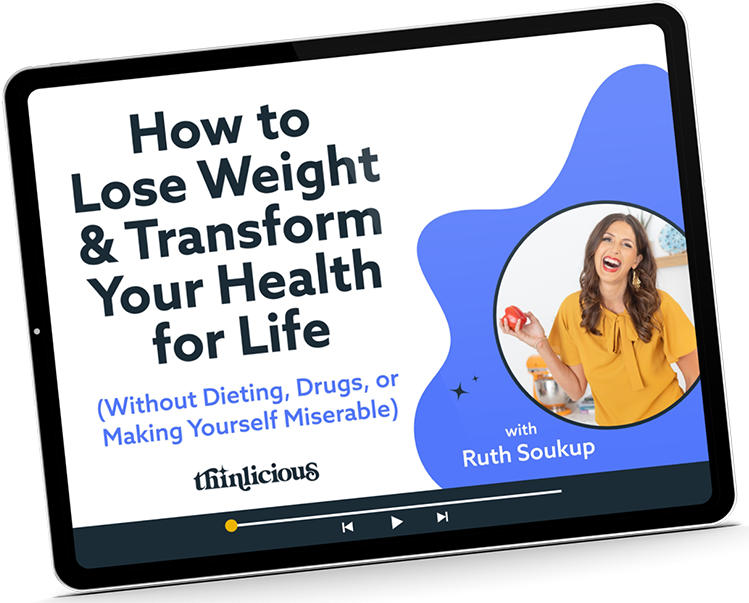 Our free on demand video training will help you understand why it's been so hard and what do to about it.
Is granola keto?
No, traditional granola (toasted muesli) is made with oats and sugar. Granola is often served with honey and high-sugar fruit.
Oats are a high-carb grain that will raise your blood sugars slowly and steadily for a very long time. Oats are not keto-friendly.
Chocolate keto granola is made with a variety of nuts and seeds and has no added sugar. It is not served with honey and only served with low-sugar fruits such as nutrient-dense berries and natural unsweetened yogurt.
Keto granola nutrition
One serving of keto chocolate granola (30g, approximately 1/3 cup):
2.2g net carbs, (6.2g total carbs, 4g fibre), 17.7g fat, 4.2g protein, 187 calories.
There are serving options below if you want to increase your protein and enjoy a high-protein breakfast.
If you are new here, or new to the keto diet, you may want to see my original Low-carb granola post and read why cereal is the first thing you should stop buying and eating. And discover the top myths that still surround cereal to this day (no. 3 always makes me giggle).
Ingredients
This is an incredibly adaptable and customisable recipe. You may add whatever combination of coconut, seeds, and nuts that you have on hand.
The nutrition values will differ enormously depending on which combination of seeds and nuts you add, and what quantity.
This easy keto granola recipe has just a few ingredients, many of which you probably already have in your pantry!
Find the exact quantities for this sugar-free granola recipe on the card below.
*This chocolate keto granola recipe has just enough cocoa and a little sweetener, to make this a sweet keto granola. However, because everyone's taste buds are different, I recommend you add a bit at a time and check to see if it's at your desired sweetness.
Instructions
Putting this keto granola recipe together is so easy! Store-bought keto granola can be expensive but this is quick, easy, adaptable and the whole family will love it.
STEP 1: Make the keto chocolate sauce
First, grab a microwaveable glass bowl and melt coconut oil in it by giving it a quick blast in the microwave for a few seconds. Coconut oil has a low melting point so don't overheat it.
Stir in the sweetener and cinnamon until they are both dissolved.
STEP 2: Mix the seeds and nuts
Next, grab a baking sheet. You may want to have a prepared baking sheet by lining it first with baking parchment paper. Add all of the seeds, nuts, and coconut to the prepared baking sheet, then give it a good stir.
STEP 3: Mix the nuts, seeds, and keto chocolate sauce
Now, get your melted chocolate and coconut oil. Slowly drizzle it over the granola mixture of nuts and seeds on the baking tray.
Carefully stir it up so that the low-carb granola ingredients are all coated with the chocolate wet ingredients and everything is evenly coated.
STEP 4: Bake until golden
Bake the keto granola at 180C/350F for about 20 minutes until it's golden brown.
Note: This low-carb granola can burn easily, so keep a close eye on it! I suggest setting a timer and turning the granola every 3-4 minutes so the nuts and seeds don't burn.
Serving
The easiest way to eat keto granola is with a small amount of full-fat milk (or unsweetened almond milk if you are dairy-free). Or, opt for natural unsweetened yogurt, and some low sugar berries such as raspberries, strawberries, and a few blueberries which are a little higher).
How you decide to serve your sugar-free granola will depend on your daily carb limit.
My children like to eat their keto granola with cold milk. Then as winter was setting in, they decided to heat their milk in the microwave and make warm keto "oats".
They also sprinkle this low-carb granola on berries and whipped cream for an after-dinner dessert enjoyed with a keto chocolate sauce or a keto syrup.
Storage
Once your keto granola recipe has been cooked, place the baking tray (sheet pan) on a wire rack to allow the granola to cool completely. Once the granola is cooled, place it in an airtight container.
To store low-carb granola in the summer months, place it in the fridge for up to 2 months. In cooler months, it can be left in a cool part of the kitchen for up to 2 months.
The keto granola recipe can be frozen in an airtight container for up to 6 months.
Variations
Want to customize the recipe to your own preferences? There are so many options on the keto diet! Here's how you can turn this homemade sugar free granola into something different:
Impact on blood sugar
Want to make keto granola but are nervous it will impact your blood sugar? Well, now we have proof that this homemade keto granola keeps your blood sugar nice and steady!
One reader sent me his stable blood glucose readings after enjoying my low-carb granola recipe with berries and unsweetened yogurt.
More keto granola recipes
For the best low-carb granola recipes and healthy recipes to start your day, these keto recipes will be sure to please everyone in your family.
Some of these delicious recipes are even made in the food processor so clean up is quick and easy.
Keto granola FAQ
Which sweetener is best for keto granola?
Erythritol is the most common keto sweetener used in granola recipes. It tastes like sugar and gives a slight crunch that sugar does. However, you can also use whichever sweetener you prefer such as monk fruit, allulose, or stevia.
How can I store my keto granola?
When the weather is warm (or you have a hot kitchen) keep your granola in an airtight container in the fridge for up to 2 months.

Granola can be left in a cool part of the kitchen for up to 2 months.

The keto granola recipe can be frozen in an airtight container for up to 6 months.
What are easy keto breakfast options?
The perfect keto breakfast is low in carbs, high in protein, and with no added sugars. Easy keto breakfast ideas are fried or boiled eggs, keto breakfast chaffles (cheesy waffles), keto almond flour bread, and a keto smoothie.
Are oats keto-friendly?
No, oats are a high-carb grain and are not low-carb or keto. Most grains are avoided on a low-carb keto diet. Oats are a high-carb grain that will raise your blood sugars slowly and steadily for a very long time.

Oats are not keto-friendly. Oats have 67 grams of total carbs per 100g/3.5oz and only 10g of fiber, making them high in net carbs and never found in keto recipes.
How do I make granola clusters?
Instead of mixing the granola as it cooks, you can press the granola evenly onto the baking sheet and cook at a lower heat so the granola bakes almost like one large piece.

As it cooks, gently break it into keto granola clusters. These big crunchy clusters can be eaten as keto snacks. Keep them in a small container to carry in your bag.
I don't like sunflower seeds or pumpkin seeds.
That's OK, this delicious low-carb granola recipe is so adaptable, you can use whichever nut mixture and seeds you prefer. Why not use sliced almonds? Chopped pecans? Seed butter? and drizzle with sugar-free keto maple syrup?
What can I add to low-carb granola to make it taste like the real thing?
To make a really delicious keto cereal, why not add sugar-free chocolate chips, some vanilla extract, sesame seeds, and serve with almond butter (for extra protein).
What to serve keto granola with?
Keto granola and low-carb granola can be served with milk or dairy-free milk (such as unsweetened almond milk or coconut milk) if you are dairy free.
How often can I eat low-carb granola?
Low-carb granola can be eaten for breakfast, lunch, or as a snack BUT you will not get enough protein into your day and you will probably exceed your daily fat limit. If you are unsure how many carbs, protein, and fat to enjoy on your low-carb diet, use the free keto calculator.
What kind of granola can I have on keto?
Homemade granola made with unsweetened shredded coconut, sunflower seeds, pumpkin seeds, nuts, and coconut oil is the perfect healthy granola.
Get our FREE guide to finally fix your metabolism!
Losing weight & getting healthy is never easy, but lately you might feel like it's suddenly become impossible.
Our Flip the Switch guide will help you clearly understand what's been going on, as well as exactly what you can do to get your metabolism working again so that you can look and feel your best—it's easier and more simple than you think!