What's not to love about Thanksgiving?
In fact, I think out of all the holidays, it's the one I get most excited about. Good food + gratitude + football? Seriously, what could be better than that?
And it's not just that I love Thanksgiving, I love cooking for Thanksgiving. All of it. The turkey, the cranberry sauce, the mashed potatoes. And of course, the pies. Oh, the pies.
Ever since cooking my very first Thanksgiving dinner as a college student in 1999 (which wasn't great, I'll admit), I've worked very hard to hone and refine my menu, collecting and developing a lineup of tried-and-true recipes that always knock it out of the park. My goal for Thanksgiving has always been that every dish on the table is the best thing you've ever tasted, and after more than 20 years of trial and error I felt like I had finally nailed it.
Ready to lose weight and get healthy for life without dieting, drugs or making yourself miserable?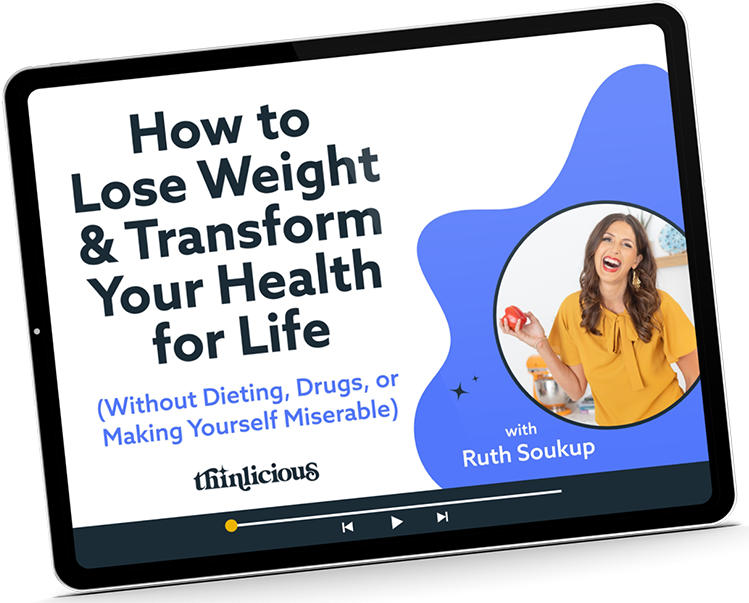 Our free on demand video training will help you understand why it's been so hard and what do to about it.
And then I went low carb.
Honestly, it's the best thing I ever did. I lost 40 pounds. I radically transformed my health and my body. I gained so much energy and confidence.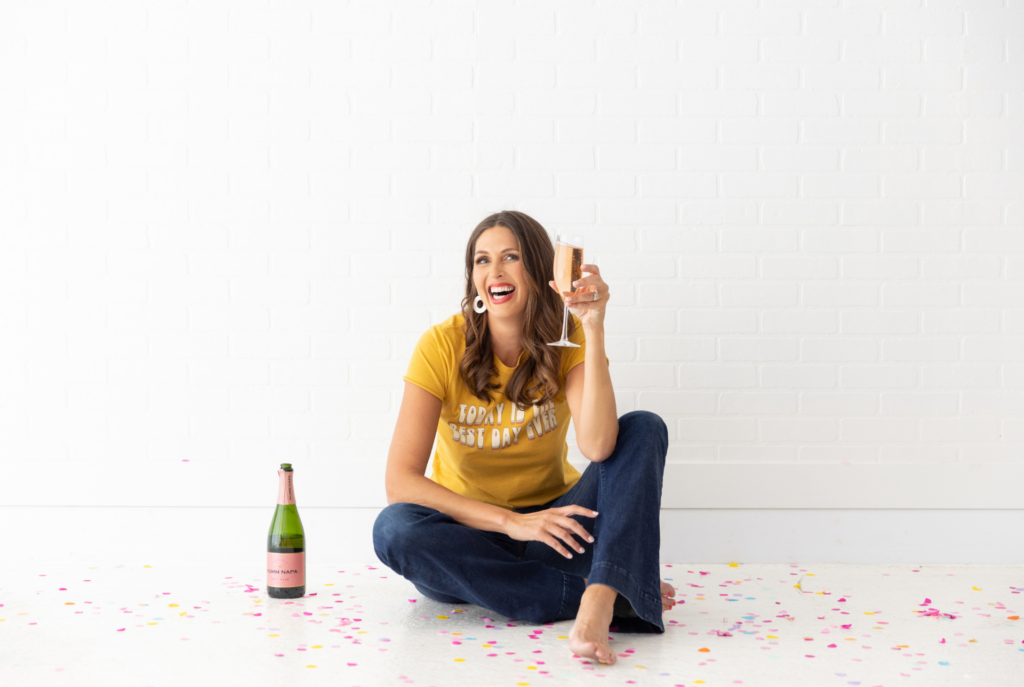 For me, there's no going back.
Which meant I had no choice but to make a few adjustments to my perfect Thanksgiving menu.
Luckily for me (and for you), my revised low-carb, keto-friendly Thanksgiving menu is just as delicious as the original and even MORE perfect because you get to enjoy it guilt-free.
Not only that, these recipes are all so good, no one will even know they're low carb. And I promise there is something to satisfy even your pickiest relatives!
To get the full menu and all our recipes, along with our step-by-step Thanksgiving planning checklist, shopping list and prep guide, be sure to grab A Very Thinlicious Holiday while it's available for a limited time!

In the meantime, keep reading to find out how to make this your best Thanksgiving yet.
Low-Carb Thanksgiving Tips
Of course, before we jump straight to the menu, let's chat for a minute about how to successfully pull off your low-carb Thanksgiving without feeling like you're totally missing out. Because the truth is that Thanksgiving doesn't have to be about overeating all the sweets and carbs until you fall into a food coma.
Prepare
Every successful Thanksgiving dinner starts with planning and preparation. In this guide, we created the entire Thanksgiving menu for you.
Sit down with your favorite people and pick out your favorite recipes from this list. It's okay to make them something with carbs, as long as you cook enough low-carb recipes that everyone can eat together so you don't feel excluded or ostracized.
Use A Very Thinlicious Holiday
As mentioned above, here at Thinlicious™ we've put together a guilt-free, zero-deprivation plan called A Very Thinlicious Holiday. It is seriously AMAZING. So, grab it now while it's available. Then use it. I promise you'll thank us!
It includes everything you need to maintain your low-carb lifestyle through the holidays—not just for Thanksgiving. The do's and don'ts are straightforward, giving you the focus to face every festive gathering with confidence, all season long.
The holiday guide also has a detailed holiday planner, blank menu printables, shopping list and almost 40 delicious low-carb holiday recipes, and more!
Don't try to do this alone. We did all the work for you and put it together in a beautiful printable guide. Get yours today and face Thanksgiving with confidence.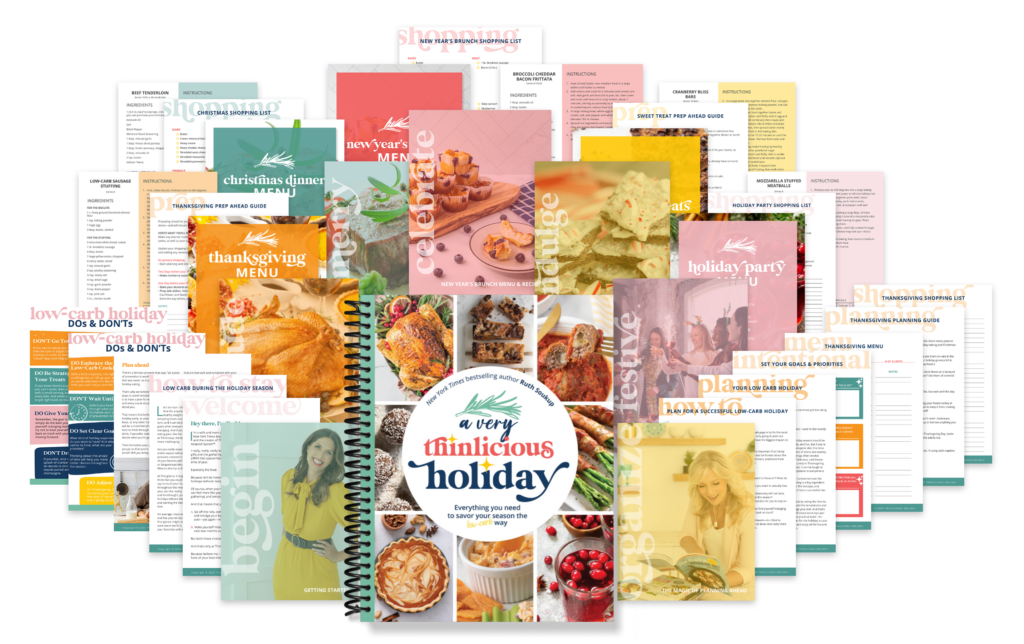 Keep It Simple
Don't overcomplicate Thanksgiving. Choose easy recipes with a few whole ingredients. The simpler the recipe, the more likely you will be to actually cook it.
In fact, the simplest recipes often turn out to taste the best! When you let the herbs, spices and meat or vegetables stand out, you'll be shocked at how tasty the dish is.
For example, low-carb garlicky green beans are always a huge hit, but they couldn't be easier. The flavors are pronounced with just garlic, green beans, butter and chicken broth, not covered up with extra salt or sugar.
All of the recipes below are in our holiday guide, A Very Thinlicious Holiday. Grab your copy, and you'll have all the recipes in one place, with the shopping list included!
Adjust Your Macros
If you've been following a low-carb diet for any length of time, then you know that there are a lot of different ways to do it. For some people, that means staying under 30 grams of carbs per day, while others might aim for closer to 50 grams. In fact, here at Thinlicious in our Thin Adapted System™ our macro recommendations change fairly significantly, depending on which phase of the program you are in.
Wherever you fall on that spectrum, if you know you're going to be facing a lot of temptations during the holidays, it might be helpful to give yourself a temporary reprieve on certain days, then adjust your macros accordingly.
That means that if you're normally eating 30 grams of carbs per day, consider aiming for closer to 80-100 grams of carbs on Thanksgiving, knowing that one day of higher carbs isn't going to totally derail your progres, as long as you get back on track the next day.
This gives you the opportunity to enjoy a few more indulgences than you maybe normally would, whether that be a taste of your favorite pie, a scoop of mashed potatoes or a few extra glasses of wine without feeling like you're totally blowing your diet or sabotaging the progress that you've made.
Being intentional about adjusting your macro requirements on special days will also preserve your mindset and help you maintain your confidence and trust in yourself. You're not "losing control," you're finding a healthy, sustainable compromise. And that, in and of itself, is something to celebrate!
Embrace the Art of Low-Carb Cooking
If you really, truly want to stay on track during the holidays but don't want to miss out on all of your favorite foods, then I can't say this strongly enough: Get in the kitchen and learn how to make them yourself!
There are very few dishes out there that can't be made low carb with a few strategic ingredient swaps, and our A Very Thinlicious Holiday guide is packed full of them.
Whether it's Thanksgiving dinner, hosting a holiday gathering or throwing a New Year's brunch, we've totally got you covered with deliciously indulgent recipes that taste so good no one will even know they're "low carb."
And that's exactly the way it should be.
The reality is that with a little creativity, the right ingredients and a willingness to roll up your sleeves, throw on an apron and step into the kitchen, there's very little you can't enjoy over the holiday season. Maybe someday, the low-carb, ketogenic lifestyle will become so ubiquitous that everyone's eating this way, but for now, just take comfort in knowing that you're ahead of the curve.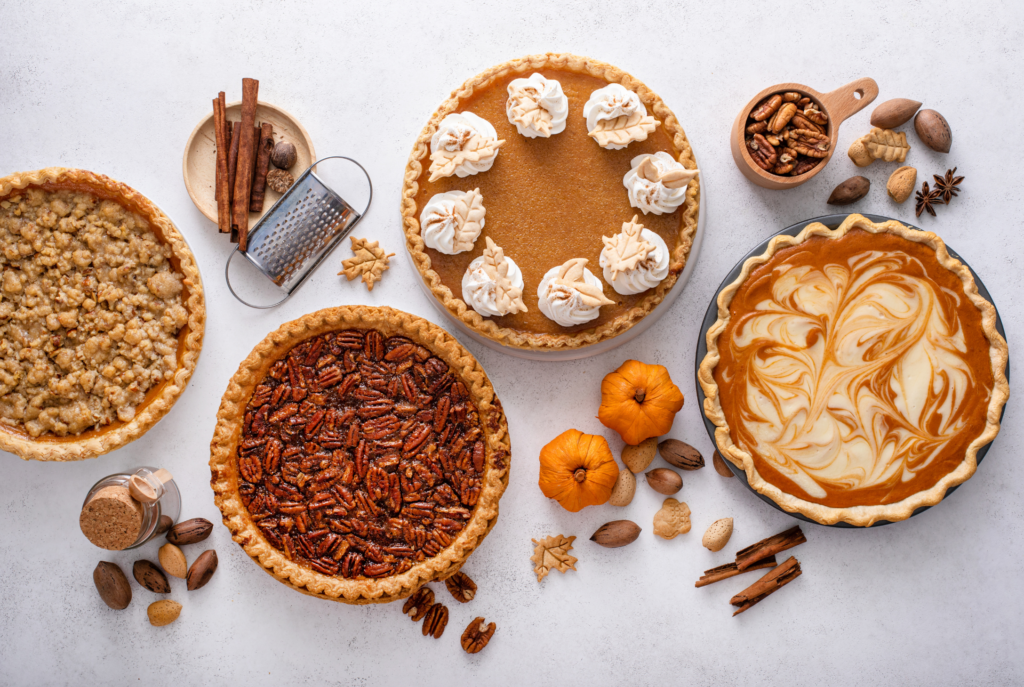 The Ultimate Low-Carb Thanksgiving Menu
Let's start with the main course—the turkey!
A roasted turkey is already naturally low carb. Use fresh thyme, rosemary, fresh lemon, whole garlic cloves and yellow onions for flavor. To keep it juicy, add some mayonnaise (we love avocado mayo, but any mayo is perfect).
Roast the turkey in a bag for the best results. It will take between 1.5-3.5 hours for the turkey to roast (check the time instructions that came with your turkey roasting bag). The time depends on the size of your turkey.
A juicy, herbaceous turkey is the star of your Thanksgiving meal. Our recipe only has about 7 grams of total carbs per serving.
Grab the entire recipe for low-carb roast turkey in A Very Thinlicious Holiday. We also included a thick, salty, savory recipe for keto turkey gravy. You don't need flour, just spices, turkey drippings and xanthan gum.
Low-Carb Thanksgiving Sides
Fill your table with nourishing, filling side dishes that are also gluten-free and low carb. There are five amazing and easy side dish recipes in A Very Thinlicious Holiday, and we are going to highlight four of the best ways.
Cranberry Sauce
Whether people love this tangy side dish or not, it's an almost expected part of the Thanksgiving menu. Leave it out, and people will ask where it is.
Our low-carb cranberry sauce will make fans out of people that usually snub canned cranberry sauce. This recipe is made with real cranberries, sweetener, orange zest and a combination of aromatic spices.
Every bite is like a tangy, zesty dessert!
Snag the low-carb cranberry sauce recipe in A Very Thinlicious Holiday.
Sausage Stuffing
Whether you call it stuffing or dressing, this side dish needs to be on your table. Instead of stale French bread, low-carb sausage stuffing is made with crumbled almond flour biscuits and keto white bread.
The rest of the ingredients are pretty standard for turkey stuffing. Onion, sage, celery salt and other spices are mixed with butter and breakfast sausage. It looks and tastes better than the stuff that comes in the bag.
The full recipe for this satisfying stuffing is in A Very Thinlicious Holiday. Here's a quick tip: make more almond flour biscuits than the recipe calls for and serve some of them on the side with some garlic butter. Yum!
Creamy Mashed Cauliflower
Every low-carb Thanksgiving menu should include mashed cauliflower. It's creamy, garlicky and the perfect way to replace carby mashed potatoes.
Cream cheese is the secret to dreamy mashed cauliflower that doesn't feel like pureed cauliflower. It's so rich that you don't need much of it to feel full either.
Learn how to make this easy mashed potato replacement in A Very Thinlicious Holiday.
Parmesan Roasted Brussels Sprouts
All you need are some Brussels sprouts, olive oil (or your favorite keto-friendly cooking oil), salt, pepper and some freshly grated Parmesan cheese.
Four simple ingredients + your oven (or air fryer) will make crispy, salty, amazing Brussels sprouts!
This is a classic recipe that we didn't even have to adjust to make it keto friendly, so your family members won't be surprised by something new or different.
Snag this simple recipe from A Very Thinlicious Holiday
Sweet Fauxtato Casserole
With candied pecans on top of this low-carb recipe, no one is going to miss the marshmallow-laden sweet potato casserole this year.
Sweet fauxtato casserole is made with a combination of butternut squash and cauliflower florets. The butter, sour cream and brown sugar substitute sweeten it beautifully! It smells so enticing that you'll want to sneak a taste before dinner starts.
The full recipe for sweet fauxtato casserole is in A Very Thinlicious Holiday.
Low-Carb Desserts
We know it's possible to indulge in our favorite food and still lose weight. So go ahead and bake your favorite desserts—just use low-carb ingredients.
These are two of our favorite low-carb Thanksgiving desserts.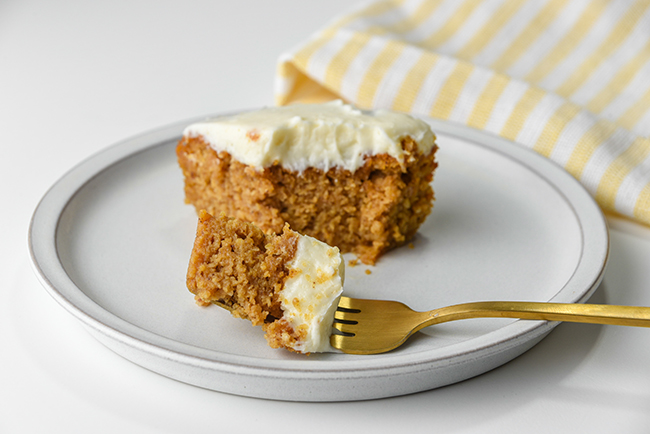 Pumpkin Bars With Cream Cheese Frosting
If you or your family loves cake, then these cinnamony pumpkin bars should be on your dessert table.
This recipe feeds a crowd! They taste like pumpkin muffins or pumpkin cake, but the rich cream cheese frosting takes it to a whole new level of deliciousness.
This recipe is here on Thinlicious—check out the pumpkin bars recipe and make it for your dinner.
No-Bake Pumpkin Cheesecake
No-bake recipes like this one are a lifesaver at Thanksgiving! Save your oven and air fryer for the other recipes you'll make for your family's dinner. This one just needs to chill in the fridge!
It's made with a buttery almond flour crust and filled with real pumpkin puree, cream cheese and the best pumpkin pie spice combination you'll ever use.
This easy pumpkin cheesecake recipe is in A Very Thinlicious Holiday. Snag your copy and make a dessert that will disappear!
Pecan Bars
There are two parts to this nutty dessert. The crumbly, buttery crust is topped with low-carb candied pecans. It's a delightfully low-carb take on pecan pie.
This recipe makes 16 bars—enough for your entire family! With heavy cream, pecans, butter and three different types of flour, this is a high-fat dessert that will leave you feeling full and satisfied.
This simple (but rich) dessert is also in A Very Thinlicious Holiday.
Thanksgiving Drinks
We also included some bubbly and fun drinks you can serve (and sip on) at Thanksgiving. These drinks are low-carb, sugar-free and can be made with or without alcohol.
Lemon Spritzer
Lemon spritzers are fun to make for kiddos because they feel like they are drinking something extra fancy! All that's in a simple lemon spritzer is some club soda, lemon juice and a lemon slice.
The exact ingredients and instructions are in A Very Thinlicious Holiday.
Prosecco
Adults, pour yourself a glass of sparkling white wine. Prosecco is a low-carb wine choice with a light taste that complements turkey and veggies at Thanksgiving. With only 1 gram of carbs per glass, it's a smart choice.
Cran-Lemon Cocktail
This is another wonderful choice for anyone of any age who wants a pretty and festive drink to sip on with your meal.
You can make this with or without alcohol. If you spike the cocktail, use vodka. If not, just mix together some unsweetened cranberry juice, club soda, a lemon and sweeteners.
The entire recipe for this festive drink – including which sweeteners we prefer to use with it – is in A Very Thinlicious Holiday.
Holiday Weight Loss
You can do it! You can face the holidays—even Thanksgiving—and maintain or even increase your weight loss efforts. A Very Thinlicious Holiday is the secret weapon you need.
It takes you through the planning (and mindset shift) and even plans out both Thanksgiving and holiday/Christmas meals for you. With shopping lists, recipes and tips, you'll be prepared to thrive from November to January.
Are you new to low-carb living or ready to reset and take control?
Start with the 28 Day Metabolism Reset. It's a four-week plan designed to introduce you to this new way of eating and help you change how your body burns fuel forever.
PIN FOR LATER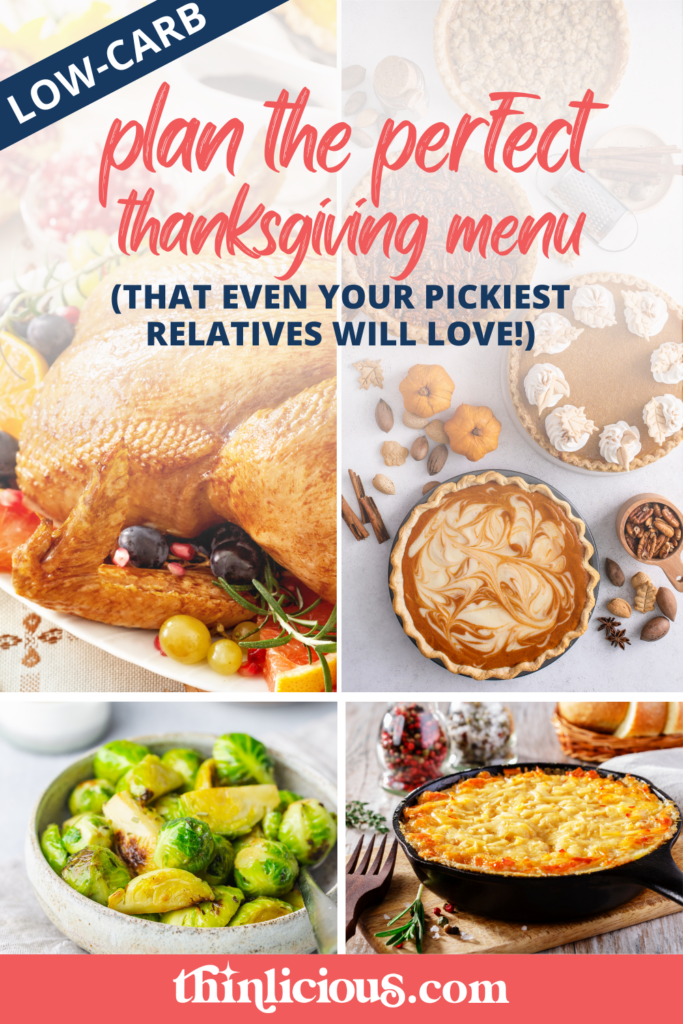 Get our FREE guide to finally fix your metabolism!
Losing weight & getting healthy is never easy, but lately you might feel like it's suddenly become impossible.
Our Flip the Switch guide will help you clearly understand what's been going on, as well as exactly what you can do to get your metabolism working again so that you can look and feel your best—it's easier and more simple than you think!