Looking for a delicious, easy way to indulge while you're on the go…without blowing your health goals? Then you have to try our Thinliciousâ"¢ Magic Protein Bars, the best-tasting health bar you've ever tried—for sale only on Amazon! Trust us; there's a reason we call them Magic!
When it comes to sticking to a low-carb diet, finding convenient snack options that aren't complicated (and don't taste like cardboard) is crucial. And, we'll be the first to admit that we are pretty picky about what is worth snacking on!
Luckily, that drive to find the perfect portable, keto-friendly snack led us to create what we couldn't find…a portable, healthy snack option that will keep you energized and full while supporting your health goals!
Ready to lose weight and get healthy for life without dieting, drugs or making yourself miserable?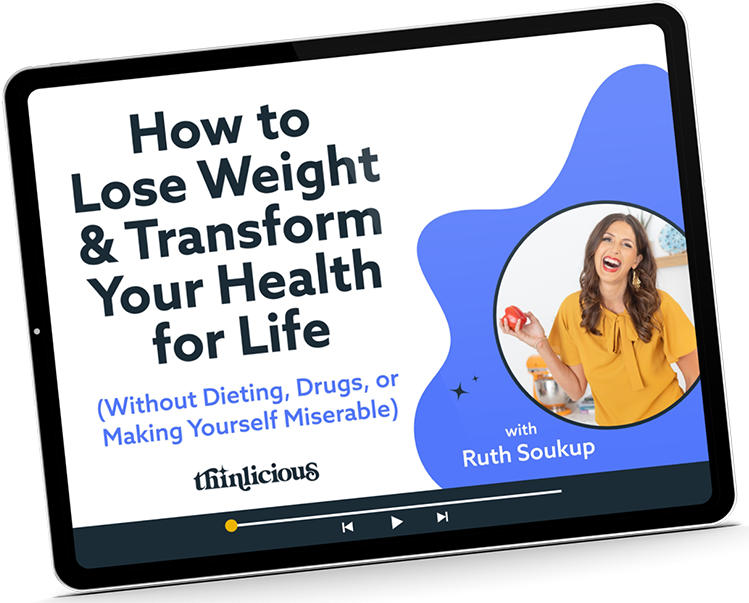 Our free on demand video training will help you understand why it's been so hard and what do to about it.
Packed with high-quality protein and healthy fats, Thinlicous Magic Protein Bars offer a satisfying and guilt-free snack option that fits seamlessly into your busy lifestyle. Whether you are running to the pick-up line or an appointment, these bars really are magical.
In this post, we'll explore the benefits of our keto protein bar and why it's a must-have addition to your snack collection. Let's dive in!
Ready to buy? Grab your Thinlicious Magic Protein Bars HERE (while they last!)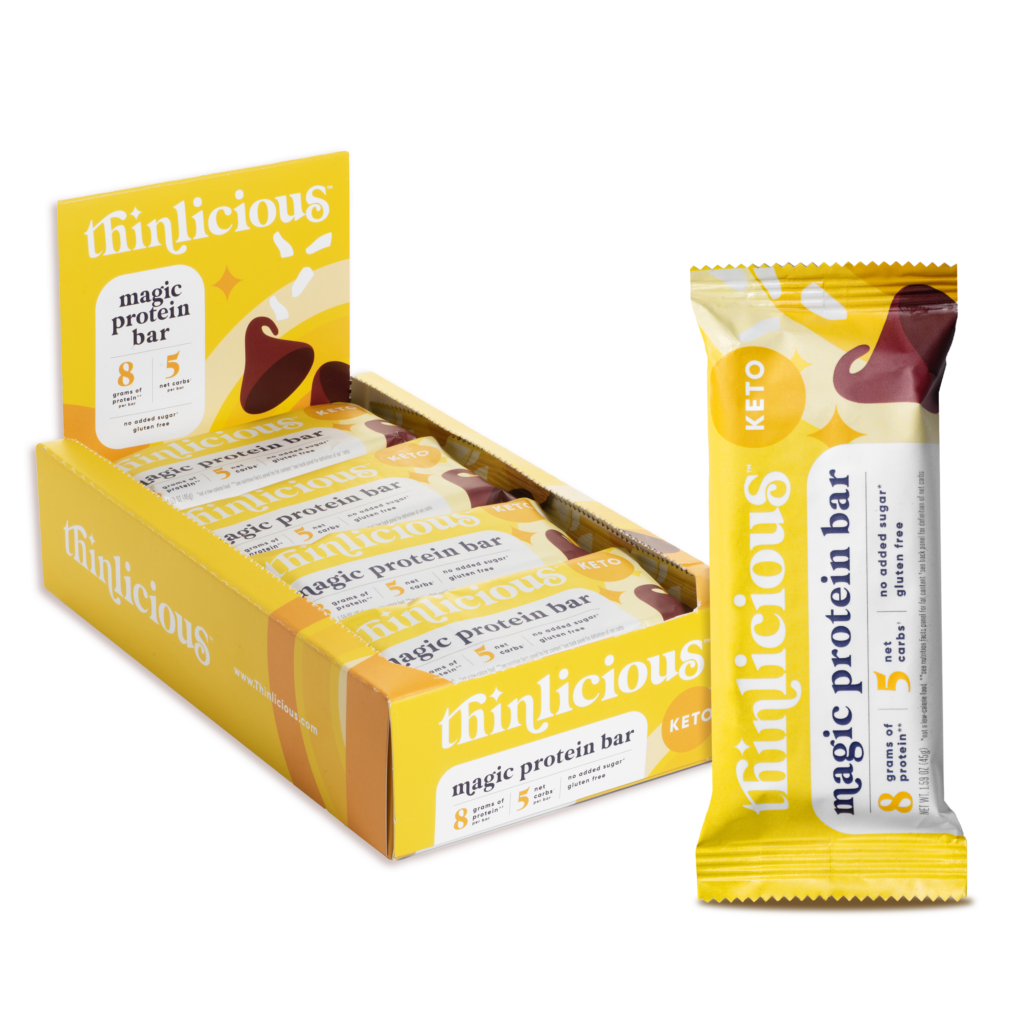 Tastes Fantastic
First things first: these bars taste incredible. We've worked to create a perfect balance of flavors and textures. With hints of coconut, caramel, almonds and, of course, chocolate, it's no wonder why we are all obsessed with this snack!
One of our core principles is that we believe getting healthy should taste and feel good. This bar is exactly that—it'll satisfy your taste buds and leave you feeling satisfied. It tastes so good, you won't believe it's keto!
These bars are made after one of our favorite childhood treats: 7-layer magic bars! If you have a lingering sweet tooth but don't want to deal with the side effects of sugar, this is the treat for you.
Low Carb + Keto Friendly
Thinlicous Magic Protein Bars are perfect for those following a low-carb or keto diet. Each bar is packed with healthy fats and protein while keeping the carbs to a minimum.
These bars are specifically designed to have as little impact on your blood sugar as possible, meaning your blood sugar will stay nice and stable as you enjoy it. No more crazy sugar cycles!
They also happen to be gluten-free so even more people will be able to enjoy them.
Portable Source of Energy
Packed with just enough healthy fats to give you the fuel you need, these bars are oh-so-easy to toss in your purse to enjoy between meals or when you need an extra boost.
No more reaching for sugary snacks that leave you feeling worse than before or scrambling to find something to eat that doesn't blow your health goals. The Thinlicous Magic Bars will give you sustained energy without any of the guilt!
Nutrition Stats for Magic Bars
Each bar has:
180 calories
13 grams fat
8 grams of protein
5 grams net carbs (see more on this below)
FAQs About Thinlicious Magic Bars
Have an additional question? Drop it in the comment box below, and we'll get back to you!
How do you calculate the net carbs?
Those of you that have followed our Thinlicious system might be a little confused about the net carbs labeled on the box when we tell you to focus on total carbs.
Food products are highly regulated by the FDA, and our bars are being sold to the general public on Amazon. As such, we had to use the industry standard for calculating net carbs, which subtracts the fiber as well as the allulose.
The formula looks like this:
21 grams total carbs – 8 grams of fiber – 2 grams sugar alcohol – 6 grams allulose = 5 grams net carbs.
In our Thin Adapted System program (particularly in Phase 1 and 2), we don't recommend going solely on net carbs. Instead, we recommend paying attention to TOTAL carbs. While we would have loved to have the total carb count be lower, we made the conscious choice to prioritize flavor over obtaining the lowest possible carb count.
(Trust us—the lower-carb versions just didn't taste that good!)
That being said, our Magic Bars are intended to be a delicious OCCASIONAL snack or supplement to a well-rounded, low-carb eating plan! We will always recommend eating REAL food as much as possible.
Interested in learning more? Read our guide to counting carbs here!
When will the Thinlicious Magic Bars be restocked?
We'll be super honest…developing, ordering and selling these has been a journey that's taken over a year to complete. We're incredibly happy with our result, but it was certainly a learning process!
Because this is our first round of selling these bars, our manufacturer advised us to start out with a smaller batch. Little did we know how much excitement and buzz there would be over these bars once they arrived!
Bottom line: there is a very limited supply of these bars available. We don't anticipate being able to restock for at least 3-4 months, so if you still see these bars available on Amazon, don't wait. Grab them while you can!
We can't wait for you all to give these a try—we know you'll love these bars just as much as we do!
PIN FOR LATER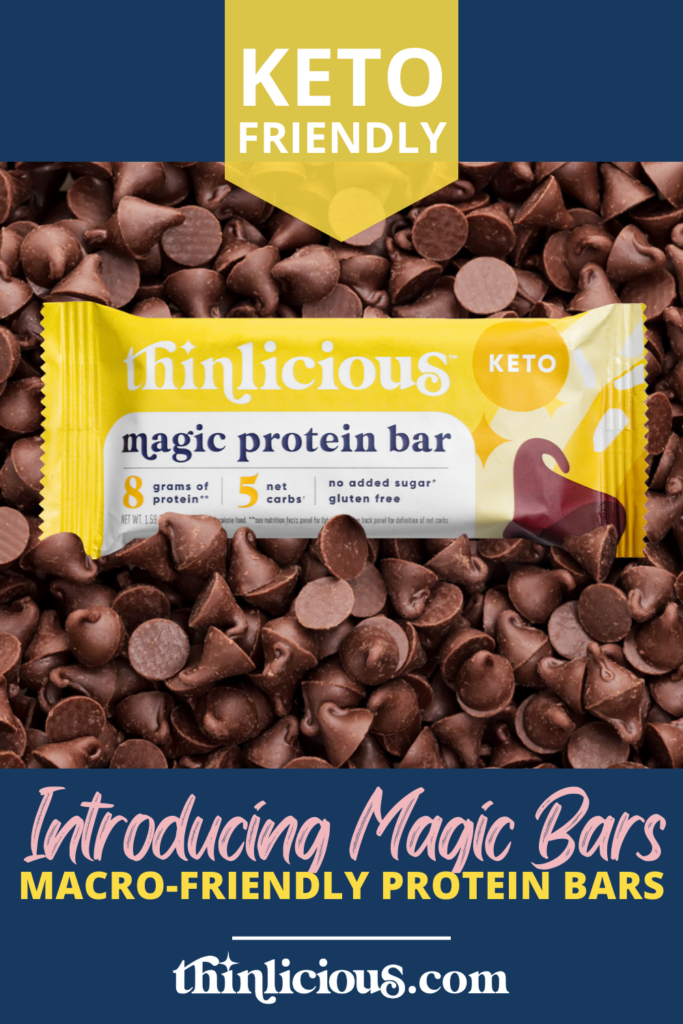 Get our FREE guide to finally fix your metabolism!
Losing weight & getting healthy is never easy, but lately you might feel like it's suddenly become impossible.
Our Flip the Switch guide will help you clearly understand what's been going on, as well as exactly what you can do to get your metabolism working again so that you can look and feel your best—it's easier and more simple than you think!