</p>
Hours of slow cooking make this beef rendang keto curry rich, tender and velvety smooth. This Malaysian beef curry is the perfect mid-winter meal but I enjoy it all year long. I can't get enough of this delicious flavour!
This keto-friendly alternative to takeout is incredibly easy to make too, with minimal hands-on time. Just turn on the slow cooker in the morning, and add your ingredients. Then, dinner is cooked when you walk in the door tonight. Serve with fluffy cauliflower rice for a complete family dinner. Your taste buds will thank you!
Is curry keto?
Curry can be keto as long as you avoid the curry paste and curry sauce that has added sugars. Most traditional curries can easily be adapted to become a low-carb curry or a keto curry.
Are you ready to create the ultimate 12-month blueprint for reaching your health & weight loss goals this coming year?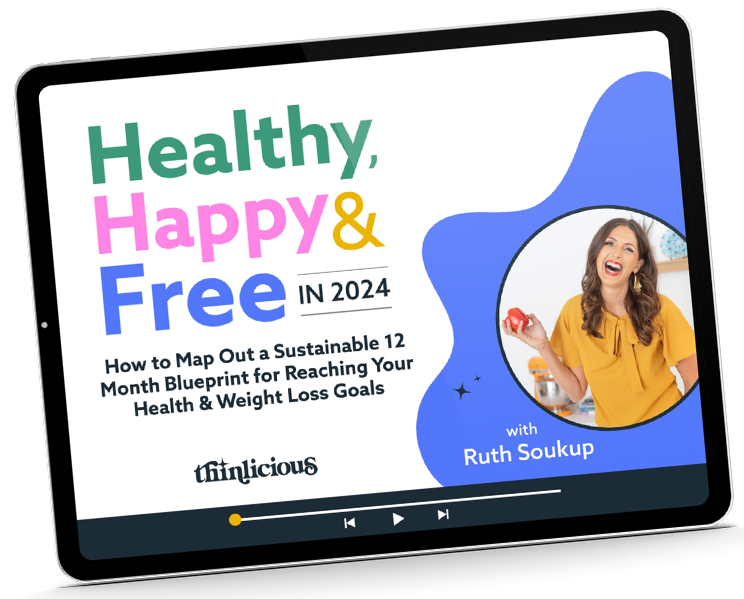 Our free on-demand video training will walk you through how to make 2024 THE year you set health goals…and keep them.
If you make your own homemade curry paste, your curry dinner will be healthier, cheaper and more flavoursome.
Most store-bought pre-made curry sauces have a high sugar content and are packed with wheat and other refined starches to thicken the sauce.
Many of my low carb curry recipes are chicken curry has all the traditional herbs and curry spices you would expect in a Malaysian curry recipe. You can enjoy it guilt-free!
It comes together in a very nice way as it is naturally thickened by the slow cooking process and the full-fat coconut cream in the homemade curry sauce. The gentle heat is mild enough for the entire family too.
What is beef rendang?
The authentic beef rendang curry is served across Indonesia and is often known as Malaysian beef curry in various parts of the world. It is generally a drier curry with much less sauce than you might be used to.
Many will argue as to which spices belong in a rendang curry. Others will also debate whether it should be a dry curry or a wet curry. In fact, they are both correct, there is dry rendang and a wet rendang recipe.
Many people will typically only picture chicken curry, but the beef makes for a flavourful dish—I highly recommend you try it!
There are also pork rendang, seafood, papaya, dried meat and even tripe rendang out there too. Once you get this delicious spice mix down, you can swap out proteins as you'd like.
How many carbs are there in a low carb beef curry?
When you make homemade authentic curry it has minimal carbs. This recipe has only 1.1g NET grams of carbs.
Be aware that the cauliflower rice and any leafy greens you decide to add are in addition to this.
And for anyone following a high protein diet, this Friday night curry has a whopping 30.4g protein per serving.
If you're on the carnivore diet, ditch the cauliflower rice and have a double serving of the beef instead.
Coconut beef curry vs coconut chicken curry?
If you're wondering which is best, both are delicious, it depends on which meat you prefer.
I love to make a creamy rich chicken coconut curry because it has a milder taste and is perfect for a mid-week family dinner. The combination of curry paste or curry powder with coconut cream, pumpkin and spinach, makes this a healthy balanced easy healthy dinner.
But if you want a more authentic taste, then beef keto curry is the winner. This quick recipe has an exotic flavour that you will fall in love with. It's easy to throw together and has the classic taste of a spicy coconut sauce. So you can stop your fast food or takeout curry because this can be prepared in the morning and cook all day long in your slow cooker (or Instant Pot) and be ready for you when you come home.
What can I serve curry on instead of rice?
Once you discover how much white rice (or even brown rice) raises your blood sugars, you know rice is not suitable for anyone who has trouble with blood glucose control or for those who are on a low-carb diet or keto diet.
So if you are avoiding rice, fluffy coconut cauliflower rice or curried cauliflower rice is the best side dish to serve with a keto curry.
You can also make my keto tortilla recipe but add some turmeric or favoured spice, and make a quick and easy keto roti flatbread, keto naan bread, or chapati bread.
How to make cauliflower rice?
If you are going to make cauliflower rice there are two basic ways:
1: Sauteeing or frying the cauliflower rice in a big skillet over a medium temperature.
2: Cooking or steaming cauliflower rice in a saucepan for 5 to 7 minutes.
For both methods, you can use one or two tablespoons of your favourite cooking oil to prevent the cauliflower pearls from sticking to your pan. You might also like to use ghee (clarified butter) or some more coconut cream. Adding coconut cream and salt to your cauliflower rice really does make a huge difference to the end result and flavour.
Ingredients
With only a few simple ingredients, you can make your own Friday night takeout at home, for a fraction of the cost and without the carbs, sugars and starches. This 5 star recipe is loved by my entire family but also makes for a nice, elevated dish for date night too. It's the perfect way to end the day!
Beef – You can use any casserole beef such as gravy beef, blade steak, chuck steak, rump steak for example.
Coconut cream – always buy the full fat coconut cream and not the coconut milk. The fat gives the curry sauce an amazing creamy texture and authentic coconut taste.
Spices – While many curries include garam masala, this recipe calls for an aromatic curry paste made from a blend of spices that's similar, but slightly different. By mixing all the different dried spices together with the coconut cream, you get a variety and complexity of flavours. It may seem daunting to have all these in your spice drawer but once you have them, you can make curry paste for a fraction of the price of that from the grocery store.
Onion – if you want to make this keto curry even lower in carbs, or you cannot tolerate onions, you can omit the onion altogether. It really does taste beautiful with the sliced onion included in the curry recipe, but it will taste just fine if you choose to omit it.
All the measurements are in the recipe card below.
Instructions
Cooking casserole meat on low heat for hours renders the meat to be delicate, smooth and absolutely delicious. Buying cheap cuts of meat such as casserole steak is the easiest way to make healthy family dinners affordable and cheap.
I love using the slow cooker for keto recipes. Put it on in the morning, and it is ready for you when you get home. It is also a really great way to economise by buying the cheaper cuts of meat, making extra and saving the leftovers for lunch the next day or freezing for another night.
Instant Pot instructions
Want to know my secret? I often forget to prepare my meals in the morning and turn the slow cooker on but I have no other way to cook casserole meat to be a soft and tender stew. So I have discovered I can quickly and easily prepare my low carb curry in the instant pot. Here's how I do it.
Turn the SAUTE function on you Instant Pot. Saute (fry) your onion with oil until no longer raw.
Add all the spices and stir for 1 minute to enhance the aromatics from the curry mixture.
Add the cubed beef and fry until each piece of beef is browned on all sides.
Throw the coconut cream into the casserole dish.
Cover with the pressure cooker lid and cook for 20 minutes.
When the timer has finished, manually release the steam.
If you would like the spinach in your low carb curry, then stir it into the curry as soon as you lift the lid. The heat from the cooked meat and coconut sauce will wilt and cook the spinach.
How to cut the beef
Cut the raw beef with a sharp knife into cubes. You don't want them to be too small otherwise they will fall apart and look like pulled pork. I would suggest cutting into 1 inch/2.5cm cubes, or even larger.
How to Use Coconut Cream or Coconut Milk in a Curry
By using coconut cream, makes this recipe dairy free, Paleo, and Whole 30 friendly too. But which type of coconut liquid should you use?
Coconut cream makes for a more creamy sauce and a thick curry paste. If you want to use coconut milk you just need to place your can of coconut milk in the fridge for 1 hour or freezer for 20 minutes. The high-fat coconut cream will rise to the top and you can scoop the creamed coconut off the top and use this.
If you use regular coconut milk (or reduced-fat coconut milk) your spicy curry sauce will be thin and runny.
Top tip: Always make sure you buy a sugar-free or keto-friendly coconut milk. So look at the nutrition labels and buy a can or box with more than 20% fat and less than 4% carbohydrates. Check the ingredients to check there are no added sugars or thickeners.
What's the Difference Between Curry Paste and Curry Powder?
Curry powder is convenient because it has a long shelf life and doesn't need to be refrigerated once open but many say it lacks the depth of flavour. Store-bought curry powder is usually yellow whereas curry paste can be yellow, red or green.
Curry paste is made with water or oil. Whist curry paste can be a complex array of flavours, it is often made with the types of unhealthy fats and oils that we would usually avoid in a whole food diet. Processed seed oils such as canola, sunflower and soy are easily oxidised and inflammatory.
It's for this reason that I tend to make my own blend of herbs and spices then blend with coconut cream or ghee. Ghee is clarified butter and is traditionally used in Indian curry recipes.
Red Curry Paste vs Green Curry Paste
There are subtle but important differences between green curry paste and red curry paste. As a general rule, red curry paste is spicier because it is made from red chillies whereas green curry paste is milder because it's made from green chillies.
How to make keto curry paste
Measure all of your spices.
Measure the coconut cream into the slow cooker.
Mix all the spices into a small mixing bowl or directly into the slow cooker dish.
Mix your curry paste ingredients together to make a paste.
Now add the cubed raw beef to the curry paste inside the slow cooker, add the onion that has been cut into quarters, and mix until all the beef cubes have been coated in the curry paste.
Place the lid on the slow cooker and cook on LOW HEAT or HIGH HEAT as per the recipe card below.
Just before it's time to serve, stir through some leafy vegetables and cook for 1-2 minutes only.
Why this Recipe Works
This beef curry recipe is only 1.1G net carbs per serving, and when served on cauliflower rice, it makes for the perfect keto dinner, low-carb dinner, gluten-free dinner and family dinner.
It's one of the most popular curry recipes because it doesn't require any marinating time. You don't need to stand over the oven stirring the beef on a medium heat and hoping it doesn't boil dry.
The nutrition facts speak for themselves, it's easy keto at its tastiest.
How to serve keto coconut curry
There are so many delicious keto side dishes but the best has to be cauliflower rice, often flavoured with coconut and spices. If you want to be super organised in the morning, shred/grate the cauliflower in the morning and leave it in the saucepan ready to go.
When you get home, pour some coconut cream into the cauliflower pan, and begin to cook on medium heat. Your vegetable rice will be ready in less than 10 minutes!
Just before serving your homemade curry, stir some of your favourite leafy greens such as chopped spinach, sliced silverbeet, Swiss chard or kale to add even more nutrition and colour. Add the greens 3-5 minutes before serving and cook for only 1-2 minutes. They will be wilted, but remain their vibrant green colour.
Sprinkle some desiccated coconut or a spoon of coconut cream to garnish individual serving dishes.
More keto curry recipes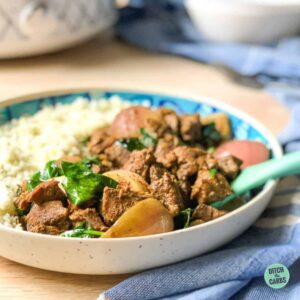 Slow cooker keto curry recipe (beef rendang)
Hours of slow cooking makes keto beef rendang (Malaysian beef curry) rich, tender and velvety smooth. It's the perfect mid-winter meal. Turn it on in the morning and it's cooked when you walk in the door tonight. Serve with fluffy cauliflower rice for a complete family dinner.
Print
Pin
Rate
Want to lose weight and get healthy for life—without dieting, drugs, or making yourself miserable?
We can help! Tell me how!
Equipment
Slow cooker

Measuring cups and spoons

Instant Pot
Ingredients
800

g

beef, stewing steak cubed

cut into large pieces

200

ml

coconut cream

1

red onion quartered and sliced

1

tsp

ground cardamom

1

tsp

Chinese five spice

1/2

tsp

chilli powder

1

tsp

ground cinnamon

2

tsp

ground coriander/cilantro

ground

1

tsp

ground cumin

1

tsp

turmeric powder

4

cloves

whole

leafy greens chopped
Instructions
Put the coconut cream and all the spices into the slow cooker. Mix to make your own delicious homemade curry paste.

Add the chopped onion and diced beef. Stir until all the meat has been coated in the curry paste.

Cook on LOW for 8 – 10 hours or HIGH for 4-6 hours, depending on your slow cooker settings and recommended times.

Add your choice of leafy greens to the slow cooker 5 minutes before serving. Fold them through gently.

Serve with fluffy cauliflower rice.
Notes
The nutrition values will vary widely depending on which coconut cream you use.
Cauliflower rice has not been included in the nutrition panel.
Nutrition
Serving:
1
Serve (serves 6)
Calories:
273.1
kcal
Carbohydrates:
3.7
g
Protein:
30.4
g
Fat:
14.6
g
Sodium:
80.8
mg
Potassium:
624.2
mg
Fiber:
2.6
g
Sugar:
1.5
g
Vitamin A:
60.4
IU
Vitamin C:
2.6
mg
Calcium:
47.5
mg
Iron:
4.3
mg
Get our FREE guide to finally fix your metabolism!
Losing weight & getting healthy is never easy, but lately you might feel like it's suddenly become impossible.
Our Flip the Switch guide will help you clearly understand what's been going on, as well as exactly what you can do to get your metabolism working again so that you can look and feel your best—it's easier and more simple than you think!