You and your children will fall in love with fat head sausage rolls. They're perfect as a snack or lunch. They're only 3g NET carbs and 23g of protein.
The secret is to use keto dough from my Fat Head pizza to wrap sausages and cover in sesame seeds, bagel seasoning, or onion flakes.
What is fat head pastry?
If you have never heard of Fat Head pastry, get ready. This is famous for a very good reason.
Fat Head pastry is incredibly low in carbs, grain-free, wheat-free, gluten-free and super easy.
Are you ready to create the ultimate 12-month blueprint for reaching your health & weight loss goals this coming year?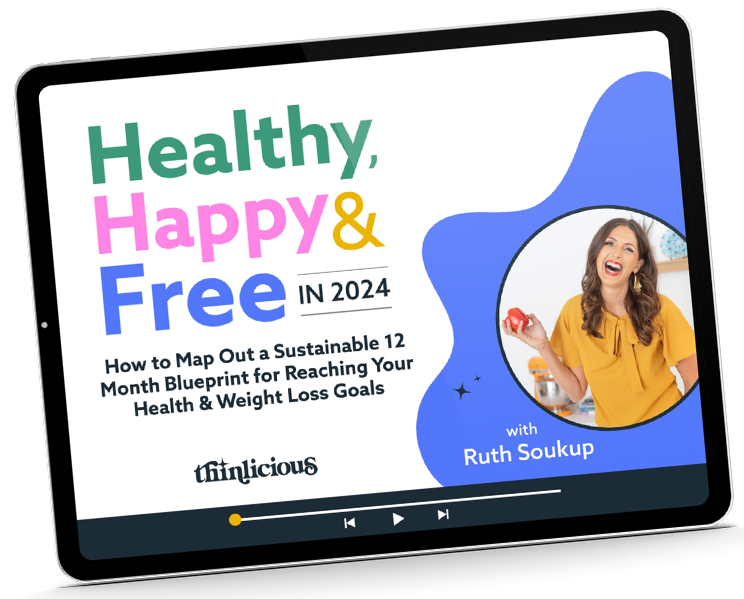 Our free on-demand video training will walk you through how to make 2024 THE year you set health goals…and keep them.
The keto dough is made with cheese, cream cheese, an egg and either almond meal/flour or coconut flour. It is sturdy, easy to make and can be flavoured in many different ways.
If you have never made fat head dough (mozzarella dough), take a look at the supreme guide to making fat head dough even without a microwave. Can be made with almond flour or coconut flour PLUS 16 keto recipes to use it.
Tips on buying sausages
Firstly let's cover the basics of the sausage roll filling. There are two options.
Buy your own pork sausage meat and flavour it exactly how you wish.
An easier option is to buy pork sausages then remove the sausage casing before cooking (this stops them from curling up as they cook).
Whether you buy sausage meat or sausages, read the label carefully to ensure it has at least 80% meat. A quick and easy guide to what has gone into a sausage (as some labels don't state clearly what is inside), is to look at the carbohydrate value.
If they state it has 1% or 2% carbs, then you know the majority of the sausage will be made of meat or fat. I have seen sausages saying 80% meat but the label states 10% carbs. You know these will have a lot of fillers such as rice, wheat or sugar in them.
Avoid sausages such as rosemary and honey, sticky Chinese, or pork and apple for example. These are high in natural sugars.
Top Tip – check those 'gluten-free' sausages. They might not have wheat or gluten, but they can be packed with rice as the starchy filler.
I prefer to cook my sausages first for the Fat Head sausage rolls. I simply run a sharp knife down the centre of each sausage to split the sausage skin. Using the knife, peel back, remove and discard the skins.
Place each sausage meat on a baking tray lined with baking parchment. Bake at 180C/350F for 10-15 minutes until just cooked (they will cook again once wrapped in the Fat Head pastry).
How to wrap sausages with keto dough
While the sausages are cooking, you can make the Fat Head pastry. Roll it out as shown in this post, on baking parchment paper.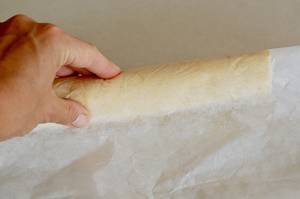 Place the cooked sausages along one edge of the pastry. Using the baking parchment, roll the pastry around the sausages then cut the excess off with a knife. It is similar to how you might make sushi, only Fat Head style.
Remove the baking parchment, and cut into small, medium or large sausage rolls. Sprinkle some onion flakes on top for that real sausage roll taste (or you could use sesame seeds).
Place each Fat Head sausage roll on a lined baking tray and bake as per the recipe below.
For those of you with nut allergies, I have discovered you can make Fat Head pastry with coconut flour. It sometimes turns out a little heavier than using the original almond flour/meal recipe, but it works.
To serve, I use salsa (with no added sugar and less than 5% carbs), sugar-free BBQ sauce, or homemade sugar-free ketchup.
Fat Head sausage rolls are brilliant for school lunch boxes, a picnic, snack or dinner served with a huge side salad or veggies.
So never have a plain sausage again, pimp those bad boys with Fat Head pastry.
More fathead recipes
You all know that keto pastry is so incredibly versatile and there are so many meals you can make with fat head dough. And of course, there is the original recipe, Fat Head Pizza – the holy grail.
You will also know, that I always give full credit to Tom Naughton, who gave the title Fat Head following his Fat Head movie. Read more about that here.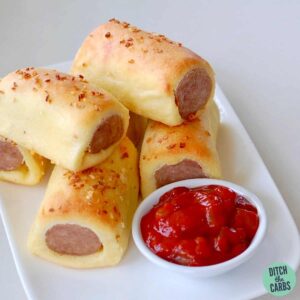 Fat Head Sausage Rolls Recipe
Fat Head sausage rolls are the perfect party food, dinner or lunch box filler. Make as large or as small as you like. See the conversion below to see how to make these using almond flour or coconut flour.
Print
Pin
Rate
Want to lose weight and get healthy for life—without dieting, drugs, or making yourself miserable?
We can help! Tell me how!
Equipment
Baking sheets – non stick

Silicone baking sheets
Ingredients
Fat Head Pastry
170

g

pre-shredded/grated mozzarella

or Edam/mild

85

g

almond meal/flour

2

tbsp

cream cheese

full fat

1

eggs – medium

pinch

salt

to taste

1

tsp

onion flakes
Instructions
Pre-cook the sausages
Cut the sausage casing down the centre using a sharp knife. Peel back the casing and discard.

Place each sausage on a lined baking tray and cook at 180C/350F for 10 minutes.
Fat Head Pastry
Mix the shredded/grated cheese and almond flour/meal in a microwaveable bowl. Add the cream cheese. Microwave on HIGH for 1 minute.

Stir then microwave on HIGH for another 30 seconds. Remove and stir again. Add the egg, salt, and onion flakes. Mix.

Place the Fat Head pastry between 2 pieces of baking parchment/paper and roll into a thin, rectangle (see photos here). Remove the top baking paper/parchment.

Cut the Fat Head pastry along one side and place the sausages along that edge. Begin to roll as shown in the pictures above and cut off the excess pastry.

Cut into sausage rolls and spray or drizzle oil over the top. Sprinkle with onion flakes (or sesame seeds) to garnish.

Bake at 220C/425F for 12-15 minutes, or until golden all over.
Notes
Fat Head pastry can also be made by replacing the almond meal/flour with 1/4 cup (4 tbsp) coconut flour.
The nutrition panel is per serving (the entire recipe makes 6 servings). The number of sausage rolls you make, will depend on how big or small you like to cut them.
Nutrition calculated using pork sausages containing 1.5% carbs.
Nutrition
Serving:
1
serve
Calories:
448.3
kcal
Carbohydrates:
4.6
g
Protein:
23.1
g
Fat:
37.8
g
Sodium:
733.8
mg
Potassium:
258.3
mg
Fiber:
1.6
g
Sugar:
1.3
g
Vitamin A:
358.5
IU
Vitamin C:
1.2
mg
Calcium:
191.3
mg
Iron:
1.7
mg
Get our FREE guide to finally fix your metabolism!
Losing weight & getting healthy is never easy, but lately you might feel like it's suddenly become impossible.
Our Flip the Switch guide will help you clearly understand what's been going on, as well as exactly what you can do to get your metabolism working again so that you can look and feel your best—it's easier and more simple than you think!