QUICK and easy crustless smoked salmon and cream cheese quiche recipe (quiche frittata).
The simple 1 bowl recipe, needs only 4 main ingredients and can be prepared in less than 10 minutes.
The healthy crustless salmon quiche that's gluten-free, freezer-friendly, and a family-friendly keto recipe.
With just 2.2 grams of net carbs in each slice, you can enjoy this filling salmon frittata completely guilt-free!
Ready to lose weight and get healthy for life without dieting, drugs or making yourself miserable?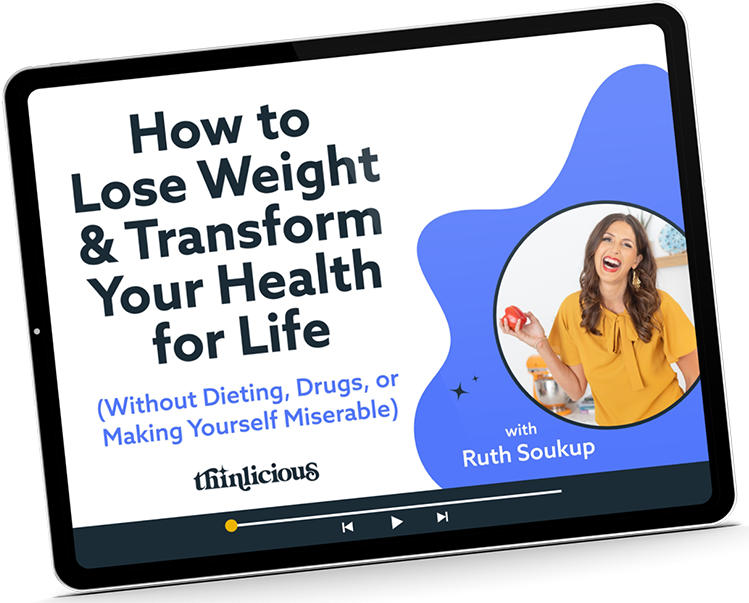 Our free on demand video training will help you understand why it's been so hard and what do to about it.
Serve this for brunch or enjoy it as a light lunch option along with a salad. It's sure to be a winner!
Following the success of my crustless bacon and egg pie, here is another variation – but this time it involves smoked salmon so it tastes incredibly luxurious.
What is a crustless quiche (or a frittata)?
A quiche traditionally contains a wheat crust. On the other hand, a crustless quiche will generally have the same egg mixture but baked without a crust, in the oven.
A frittata is often the same egg mixture as a quiche, but it is cooked on the stovetop in a frying pan or skillet and then finished in the oven to create a crispy crust.
It goes by lots of other names too. It might also be known as an egg bake, oven omelet, egg casserole, or baked savory custard.
Because this salmon quiche recipe is crustless, it is naturally wheat-free, gluten-free, grain-free, and nut-free. This makes it suitable for diabetics, coeliacs, nut allergy sufferers, and of course, those on a low-carb diet, keto diet, or high-protein low-carb diet.
Ingredients
Making a smoked salmon crustless quiche (or frittata) is easy and only needs a few simple ingredients.
smoked salmon fillet – you can use a fresh raw smoked salmon fillet that has been diced/cubed. You can also use smokd salmon offcuts or cooked salmon leftovers from the night before. Cold smoked salmon slices from the deli also work well.
eggs – use whole eggs but if you have any leftover egg whites or egg yolks, you can add a few of those too.
cream cheese – always use full fat, not lite, low-fat or spreadable
full-fat milk – or double cream, heavy cream
salt and pepper – add more or less. Season to your preferred taste
dried dill
All quantities, ingredients, and instructions are in the recipe card below.
Instructions
This crustless quiche recipe is a simple and economical way to make an expensive piece of smoked salmon stretch for a healthy family meal.
This is one of my favorite delicious recipes because it is so easy to make. It has minimal prep time and will become one of your favorite ways to make (and enjoy) wholesome, real food.
STEP 1:
In a medium bowl, whisk the eggs, milk (or cream), salt, pepper, and dill. You can use a fork or a small egg whisk.
STEP 2:
Add the keto smoked salmon and cream cheese – make sure they are both diced small.
Gently fold and mix using a fork or an egg whisk.
STEP 3:
Next, you will pour the egg mixture into a greased pie pan or a greased dish that has been lined with baking parchment paper (remember, we are not using a pie crust).
The quiche fillings will become the entire quiche. That's the beauty of crustless quiches!
Before baking, use a fork to move the smoked salmon pieces around and distribute them evenly so each bite is filled with delicious flavor!
STEP 4:
Bake at 180C/350F for 30 minutes.
The smoked salmon crustless quiche can be served hot or cold.
How to bake quiche
You can bake the salmon egg quiche mixture in one large quiche dish, a greased pie dish, or mini muffin tins. My recipe makes enough to fill a regular pie plate.
If I'm doing meal prep, I often opt for the mini version. These mini crustless smoked salmon quiches are perfect for packing a healthy lunch or as a nutritious high-protein snack.
Be careful when you pour the egg mixture into mini muffin pans. It is often easier to use a small quarter cup to scoop the eggs and salmon mixture into each muffin pan. Place a cube of cream cheese into the center.
How to air fry quiche
To cook quichs in the air fryer you need to find a baking that will fit inside your air fryer. There must be at least 1 inch on all sides to allow the heat to circulate evenly.
Preheat your air fryer to 180C/350F.
oil and line your baking dish.
Make the quiche recipe following the recipe card below.
Gently lower your baking dish onto the air fryer wire rack. Ensure there is plenty of space between the ramekin dish and the side of the basket.
Cook for 20 minutes, depending on the size of your air fryer and the size of your baking dish. You may need to bake for a further 10 minutes.
Best keto side dishes (for salmon)
There are so many delicious low-carb and keto side dishes to serve with crustless smoked salmon quiche. Salmon is a versatile family-friendly dinner and so you need to choose quick and easy healthy side dishes the whole family will love.
Here are some of my favorite keto side dishes to serve with salmon.
How to store quiche
If want to make the quiche ahead of time, use it for meal prep, or store in the freezer, allow the keto smoked salmon quiche to cool completely in the baking dish on a wire rack.
A baked smoked salmon crustless quiche can be frozen in individual portions for a quick and easy high-protein snack. Wrap each slice in baking parchment paper and place in an airtight container to keep the crustless salmon quiche moist.
If you don't have an airtight container, you can also just store leftovers in a standard pie dish wrapped in plastic wrap.
Variations
Top with fresh dill. This will add a fresh flavor to your recipe.
Sprinkle bagel seasoning on top. Everything bagel seasoning is a really easy way to add flavor to lots of low-carb recipes.
Add hot sauce. This will give your crustless keto smoked salmon quiche a fantastic kick.
Add a sliced red onion. These are the sweetest onion varieties and add the perfect amount of flavor. Be careful toonly add a few slices. Red onions are a root vegetable and higher in carbs. A little goes a long way with this ingredient!
Goat cheese – use goat cheese, feta, or marscapone instead.
Salmon crustless quiche FAQs
Where can I find smoked salmon pieces?
You can usually find smoked salmon in the seafood section of the grocery store. It is sold in vacuum-sealed packs. In a pinch, tinned salmon can also work, just make sure it is boneless so there aren't bones in the salmon mixture.
Can I use goat cheese instead of cream cheese?
Yes, you can replace the cream cheese in this recipe with goat cheese. Goat cheese has a stronger flavor and a different consistency, but it will still melt and taste wonderful too.
Can I eat this for dinner?
Yes, this will make a delicious light dinner. It is full of healthy fat (it's one reason I love salmon). Serve it with a simple green salad. You can even add more smoked salmon and some cheese on top of your salad to boost the nutritional value. Or, give my high-protein Ceaser salad a try!
What's the difference between cold smoked salmon and hot smoked salmon?
Cold smoked salmon is smoked at a lower colder temperature for a longer time than hot smoked salmon. Cold smoked salmon is smooth and creamy and has a velvety texture. Hot smoked salmon is often sturdy and smoked baked.
More keto salmon recipes
If you love keto smoked salmon quiche (blender recipe), keto smoked salmon scrambled eggs (best breakfast for beginners), and smoked salmon and cream cheese roulade (for special occasions).
Get our FREE guide to finally fix your metabolism!
Losing weight & getting healthy is never easy, but lately you might feel like it's suddenly become impossible.
Our Flip the Switch guide will help you clearly understand what's been going on, as well as exactly what you can do to get your metabolism working again so that you can look and feel your best—it's easier and more simple than you think!