The perfect kid-friendly easy keto chili casserole. It's a mid-week winter family favourite and the perfect high-protein comfort food.
You won't believe how easy it is to make for dinner tonight and it's only 7g net carbs per serving.
Is chili keto?
Chili can be keto but you have to watch out for added sugars and added carbs such as kidney beans, rice, and tomato sauce with added sugars. These are the first types of ingredients and unwanted carbs that you can easily avoid when starting your low carb diet.
When you make homemade chili, you can control the ingredients, the carb count, and the calories for your low-carb chili recipe.
Are you ready to create the ultimate 12-month blueprint for reaching your health & weight loss goals this coming year?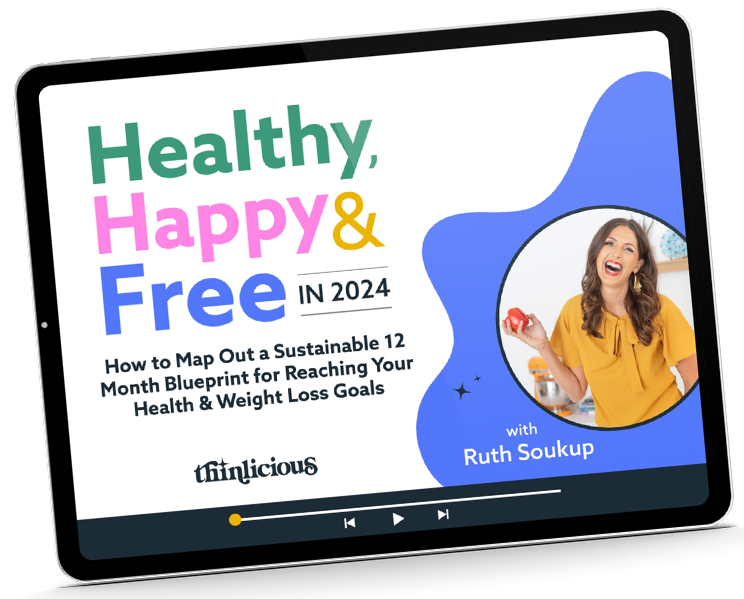 Our free on-demand video training will walk you through how to make 2024 THE year you set health goals…and keep them.
Is it chili, chilli or chile?
All three spellings are correct, depending on where you live. American English commonly uses chili, British English is chilli, and if you're in Spain, the most common spelling is chile.
Is canned chili keto?
No, most canned chili meals have added sugars, starches, and unhealthy oils.
This homemade chili recipe is extremely low in carbs and high in protein (especially when compared to canned chili). It fits perfectly into your low carb keto diet and makes for an easy ground beef meal prep recipe.
Nutrition information:
Canned beef chile with beans (1 cup, 247g): 24.5 g net carbs, 17.3 g protein, 8.1 g fat.
Homemade beef chili casserole (1 serve): 7 g net carbs, 29.5 g protein, 36.3 g fat.
Nutritional values from cronometer.com
How to make chili keto
We love chili but without the kidney beans and the high starch rice, but how can you make it low-carb and a family-friendly meal? By bumping up the meat, the cheese, the sour cream, and the bell peppers make this tasty and healthy alternative to regular chili.
By adding lots of low-carb vegetables, spices, and vibrant colours. The extra peppers, tomatoes, and spices make up for the lack of traditional kidney beans.
And if you love your chili with cornbread, I've got you covered too. Try my keto cornbread recipe. It's a quick and easy low-carb bread made with coconut flour.
Instructions
All quantities, ingredients, and instructions are in the recipe card below.
In a skillet or frying pan over medium-high heat, cook the onion and garlic until soft. Add the minced/ground beef, and cook until all the meat has browned. You may need to drain fat, not because we want this to be low fat, but because we don't want a sloppy Joe's chili casserole.
Add the peppers/capsicums, bell pepper and cook until soft.
Add spices and all the other casserole ingredients, stir and cook for a few minutes (the ground beef is already cooked) then pour into a baking dish or casserole dish.
Before you bake your low-carb chili, remember to load it up with plenty of grated/shredded cheese. Every kid (and adult for that matter) loves a gooey melted cheesy topping.
Preheat oven to 180C/350F and cook for 20 minutes.
Some areas of the melted cheese crust are soft and stringy whilst other areas turn into crispy cheese corners.
What to serve with chili?
The two most popular ways to serve this keto chili recipe is to spoon your chili into individual serving bowls. Garnish with sour cream and a sprinkle of coriander/cilantro.
The other popular meal is to make keto chili dogs. What are chili dogs? They are regular hot dogs in a wheat flour bun with beef chili spooned over the top. Generally served with beans, fries, and a sugary drink.
There are so many delicious side dishes to serve with beef, these are just 2 ideas.
So next time you make your keto chili, make double and reserve the other casserole dish as a keto chili dog casserole. Make your own keto hot dog buns and sugar-free BBQ sauce.
Variations
There are a number of substitutions to the keto recipe so you can make it exactly to your liking.
Spices – use dried chili powder, dried chili flakes or your own chili powder you have made from your family recipe. Smoked paprika is also a wonderful addition if you love a smokey flavour.
Onion – instead of using a fresh raw onion, you can use onion powder or onoin flakes. It will also reduce the carbs, perfect fro your low-carb diet.
Canned tomaotes – you can use fresh diced tomatoes, just make sure to drain any excess water to avoid a watery sloppy low-carb casserole.
Tomato paste – instead of canned tomaotes, using a little tomato paste is the secret to giving a tomato flavour, but without the extra unwanted carbs.
Garlic – use fresh garlic, crushed or flakes.
Garnish with sliced jalapenos, tabasco sauce, tabasco chipotle, or sugar-free BBQ sauce.
Recipe FAQ
What cheese can I use?
Pre-shredded mild cheese such as shredded mozzarella cheese or shredded cheddar cheese. But always read the nutrition label to ensure there are no added starches that prevent the shredded cheese from clumping together. I often spot potato starch as a hidden ingredient. Or you can shred your own cheese in a food processor such as cheddar. It's cheaper and you know there are no additives or starches.
What size baking dish do I need?
I used a 11 inch x 10 inch x 3 inch deep (29cm x 25cm x 7cm deep) rectangle casserole dish. If you use a smaller or larger baking dish, your cooking time will vary.
How do I make a keto chili dog?
Make a hot dog bread bun using my hamburger bun recipe, place a (keto) hotdog in the center, then top with homemade keto chili dog casserole, cheese, and sour cream. Beef hot dogs with a sugar-free tomato sauce are perfect for game night.
How can I reduce the carbs?
To make the recipe even more low carb reduce how much canned tomato and sliced vegetables. Increase the ground beef and the ratio of carbs will drop and protein will be raise.
Can I make chili in the slow-cooker?
Yes, just throw it all together in the morning and cook on LOW for 6-8 hours, or HIGH for 3-4 hours. When it's dinner time, place shredded cheese all over the top for the final 15 minutes of cooking time.
Can I freeze low-carb chili?
Yes, store any leftover chili in an airtight container in the freezer for up to 3 months. Store in the fridge for up to 3 days.
Can I make chili ahead of time to cut down on prep time?
Yes, just cook the ground beef, sices, and vegetables ahead of time. Store in the fridge for up to 3 days. On the day you want to serve, place the cooked beef chili in a baking dish, cover with shredded cheese and bake until piping hot and the cheese has melted. Such an easy dish for a mid-week dinner the whole family will love.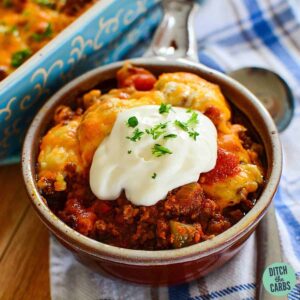 Easy Keto Chilli Casserole Recipe (chili dog casserole)
EASY keto chili casserole recipe can be ready in 25 minutes! A healthy winter family meal everyone will enjoy. High-protein comfort food.
Print
Pin
Rate
Want to lose weight and get healthy for life—without dieting, drugs, or making yourself miserable?
We can help! Tell me how!
Ingredients
1

onion

quartered and sliced

500

g

ground/minced beef

2

cloves

garlic minced

crushed

½

red pepper/capsicum

diced

½

green pepper/capsicum

diced

2

tsp

ground cumin

2

tsp

ground coriander/cilantro

1

tsp

chilli powder

2

tsp

tomato paste

250

ml

tinned/canned chopped tomatoes

+/- salt and pepper

to taste

100

g

shredded/grated cheese
Instructions
Fry the onion and garlic until soft, add the minced/ground beef, and cook until all the meat has browned.

Add the peppers/capsicums and cook until soft.

Add all the other ingredients, stir and cook for a few minutes (the beef is already cooked) then pour into a baking dish.

Sprinkle the shredded/grated cheese over and cook at 180C/350F for 20 minutes.

Spoon into individual serving bowls. Garnish with sour cream and a sprinkle of coriander.
Nutrition
Serving:
1
serve ( serves 4)
Calories:
481.7
kcal
Carbohydrates:
9.1
g
Protein:
29.5
g
Fat:
36.3
g
Sodium:
665.6
mg
Potassium:
661.9
mg
Fiber:
2.1
g
Sugar:
4.6
g
Vitamin A:
1135.6
IU
Vitamin C:
40.4
mg
Calcium:
260.5
mg
Iron:
4.3
mg
More spicy keto recipes
There is no deprivation when living low-carb especially when making delicious spicy meals such as chicken curry with pumpkin, slow-cooker beef rendang curry, Instant Pot lamb curry, or easy keto kebabs with a curry dipping sauce.
Related recipes:
Get our FREE guide to finally fix your metabolism!
Losing weight & getting healthy is never easy, but lately you might feel like it's suddenly become impossible.
Our Flip the Switch guide will help you clearly understand what's been going on, as well as exactly what you can do to get your metabolism working again so that you can look and feel your best—it's easier and more simple than you think!