Looking for some new ways to cook zucchini? These are the best keto zucchini recipes you will ever make (and the family will actually eat).
From sweet keto bread to zucchini noodles and even a yummy Taco Tuesday idea, these are some fun ways to eat zucchini.
When it's zucchini season and you want to break out of your zucchini rut, these quick and easy healthy recipes will make you fall in love with this keto garden vegetable all over again!
These delicious recipes will make you a new fan of this long green squash once again. In fact, even if you've previously shied away from this low-carb vegetable, I bet you will love it once making some of these low-carb zucchini recipes.
Ready to lose weight and get healthy for life without dieting, drugs or making yourself miserable?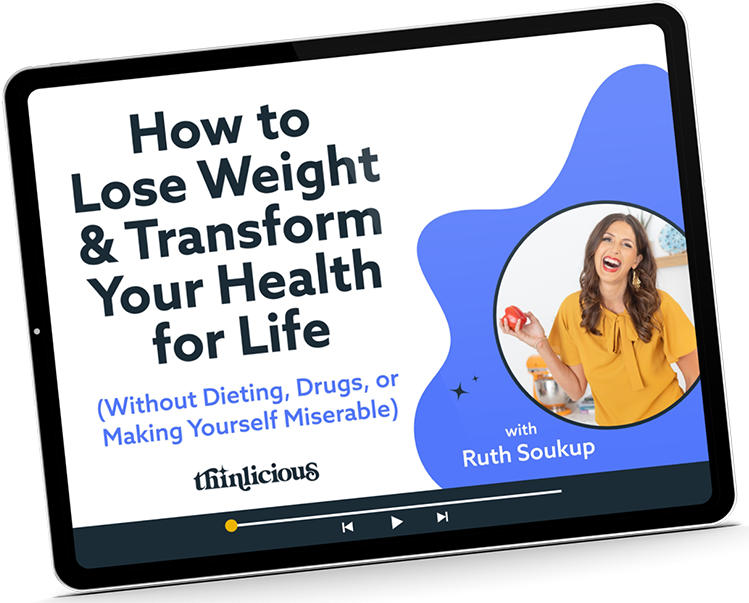 Our free on demand video training will help you understand why it's been so hard and what do to about it.
Is zucchini low carb?
When you are on a keto diet, zucchini is one of the best low-carb vegetables you can eat. Zucchini is a versatile vegetable and can be used in sweet and savory recipes.
Zucchini nutrition facts: One cup (149g) of chopped, fresh zucchini has 3.1 grams of net carbs, 1.8 g protein, 0.5g fat, and 25 calories.
For that reason, any keto recipes made with zucchini will be low in carbs and high in fiber.
Frozen zucchini vs fresh zucchini – which is best?
Deciding whether to use raw zucchini or frozen depends on the zucchini recipes you are making and how you want the texture to be at the end.
It's easier to make fresh zucchini have a crispier consistency. Frozen zucchini will have a softer texture.
For example, if you are going to make crispy low-carb zucchini fries, you need to use fresh zucchini so that the fries are not soggy.
On the flip side, if you are making a cheesy casserole, you can easily use frozen zucchini slices instead of spending time chopping and slicing.
Different ways to cook zucchini
There are so many different ways to cook this delicious squash. The dish, cuisine, and type of recipe will all determine how you prep it. All you need is a basic spiralizer, an electric spiralizer, or a set of knives.
Roasted – Dust zucchini slices with garlic powder and roast it in the oven or air fryer.
Spiralized – Zucchini noodles are also called zoodles. You can buy them already prepped in the frozen food aisle or use a spiralizer to make your own.
Grated – People use grated/shredded zucchini in baked recipes such as zucchini chocolate cake.
Chopped – Chopping it up is a fantastic way to use it in a casserole or hot dish.
Sauteed – This is a quick and easy way to prepare this veggie for dinner – just make some zucchini slices and heat them up in a large skillet with butter or olive oil. Add some parmesan cheese and almond flour for a quick "breaded" crust.
Fried – Coat some zucchini slices in beaten eggs, then dip into your favorite low-carb breading and heat them in hot oil. This is a great swap for onion rings on the keto diet.
Baked cheesy zucchini – The simplest recipe for dinner tonight, is to make baked zucchini in a shallow baking dish, covered in shredded cheese.
The best keto zucchini recipes
If you are looking for a unique zucchini recipe then you came to the right place! These are my personal favorites because they are quick to cook on the stovetop, air fryer, oven, or frying pan.
These keto zucchini recipes are all absolutely delicious. Browse them, pick out your favorites, and make something different tonight. They are all perfect to eat on a ketogenic diet and the nutrition, calories, and how many carbs they have are all in the recipe, so click on through and find something absolutely delicious.
Zucchini Taco Boats – This easy recipe tastes best when you serve warm and is a perfect substitute for flour or corn tortillas. It's a fun way for kids to eat fresh zucchini and has the best taste too!
Keto Zucchini Taco Boats Recipe (courgettes)
Super easy recipe for keto zucchini stuffed taco boats. A delicious and healthy Mexican meal for the whole family. Quick and easy.
Check out this recipe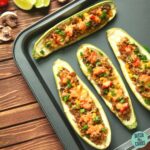 Baked Zucchini Chips – The best thing about these chips is their crunchy texture – they really do taste like potato chips!
To get the sliced zucchini to bake evenly, make your zucchini slices with a mandolin slicer. Sprinkle them with some olive oil and your favorite spices, onion powder, or garlic powder and you are good to go!
Healthy Baked Zucchini Chips Recipe (4 ways)
Healthy baked zucchini chips that are quick and easy and are low carb and keto friendly. 4 delicious flavours you're family will love.
Check out this recipe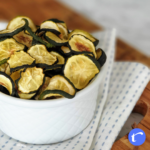 Low-Carb Chocolate Zucchini Cake – This great recipe will impress you because you can't even taste the zucchini. All you taste is soft, melt-in-your-mouth chocolate cake. Serve with fresh whipped cream or cream cheese frosting.
Low-carb chocolate zucchini cake recipe
This Low-Carb Chocolate Zucchini Cake is an ideal moist keto chocolate cake filled with healthy shredded zucchini, and only 5.2g net carbs per double layer slice!
Check out this recipe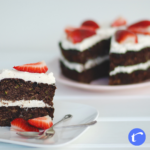 Baked zucchini and bacon egg casserole – One of the most delicious keto zucchini recipes is baked bacon quiche with sliced zucchini. It's the perfect high-protein breakfast, lunch, or dinner.
Coconut Flour Low-Carb Zucchini Bread – This is a delicious recipe the whole family will love. Serve it for breakfast or as a healthy and sweet side dish. It's low in carbs, sweet, and even tastes perfect with some sugar-free chocolate chips sprinkled in.
Zucchini Parmesan Bake – This baked zucchini side dish has great flavor thanks to the crispy parmesan cheese on top. You'll be surprised at the short amount of time zucchini takes to bake too!
Low-Carb Spaghetti Bolognese – This is a fantastic alternative to spaghetti with classic noodles. This is made with ground beef, but you can use ground turkey or chicken instead if you prefer. Then top it with garlic powder, parmesan cheese, and fresh basil.
Frequently asked questions
Here are some questions people often ask about keto recipes with zucchini. If you don't see your question in this list, please leave it in the comments.
Is zucchini a low-carb vegetable?
Yes, zucchini is keto-friendly. There are only 3.1g net carbs per cup of chopped zucchini.

There are so many different keto zucchini recipes you can make – from zucchini noodles to gluten-free sweet bread, and keto side dishes are boosted with nutrition when you make them with zucchini.
How many net carbs are in a zucchini?
There are just 3.1 grams net carbs in one cup of chopped raw zucchini and just 25 calories.
Are zucchini the same as yellow summer squash?
Zucchini and yellow squash are cousins, but they are not the same vegetable. The delicious ways you cook zucchini can be used for yellow squash too, however, the carb count will be significantly higher.
What can I use instead of bread crumbs in recipes with zucchini?
If you love zucchini fries, then coat strips of zucchini dipped in egg then coat with either almond flour or crushed pork rinds, and then top them with fresh herbs. For added flavor you can use parmesan cheese, garlic powder, onion powder, and even taco seasoning.
What is a low-carb cheese that tastes good with zucchini?
Cheese is a fantastic way to add lots of flavor to a recipe without adding too many carbs. Try one of these delicious choices: gruyere cheese, cream cheese, shredded cheese, or parmesan cheese.
What can I do with too much zucchini?
Chopped zucchini or sliced zucchini can be frozen for up to 3 months. You can use frozen zucchini in all these keto zucchini recipes that are absolutely delicious.
How do I fry zucchini slices?
Heat some olive oil in a large frying pan or skillet and fry zucchini slices until golden brown on both sides. Season with salt and pepper. If they are too oily or greasy, allow cooling on kitchen paper towels.
How do I cook zucchini in the air fryer?
Spray the air fryer basket with olive oil and place sliced zucchini into the basket. Bake at 180C/350F for 5-10 minutes. Open the air fryer basket and shake to ensure there are no overlapping slices. Serve with salt, pepper, and garlic powder.
Can I boil zucchini?
No, zucchini will become soggy and watery. Fresh zucchini is best fried, baked, or used in one of these delicious recipes.
Get our FREE guide to finally fix your metabolism!
Losing weight & getting healthy is never easy, but lately you might feel like it's suddenly become impossible.
Our Flip the Switch guide will help you clearly understand what's been going on, as well as exactly what you can do to get your metabolism working again so that you can look and feel your best—it's easier and more simple than you think!