It's time to make my EASY zucchini taco boats! These will give you plenty of flavour without guilt as they are both low-carb and keto-friendly. The secret? It's all in the seasoning! I'll show you how to make your own healthy taco meat stuffing.
You'll be left with a delicious healthy Mexican family dinner even the pickiest children will love.
There are even options to make this with ground turkey. I'll show you how to prep ahead of time, and how to make it more (or less) spicy.
Is zucchini keto?
Zucchini can be eaten if you are on a keto diet because it only has 2.1 grams net carbs per 100g. You will still need to monitor how much and how often you enjoy zucchini so you still stay within your daily macros.
Are you ready to create the ultimate 12-month blueprint for reaching your health & weight loss goals this coming year?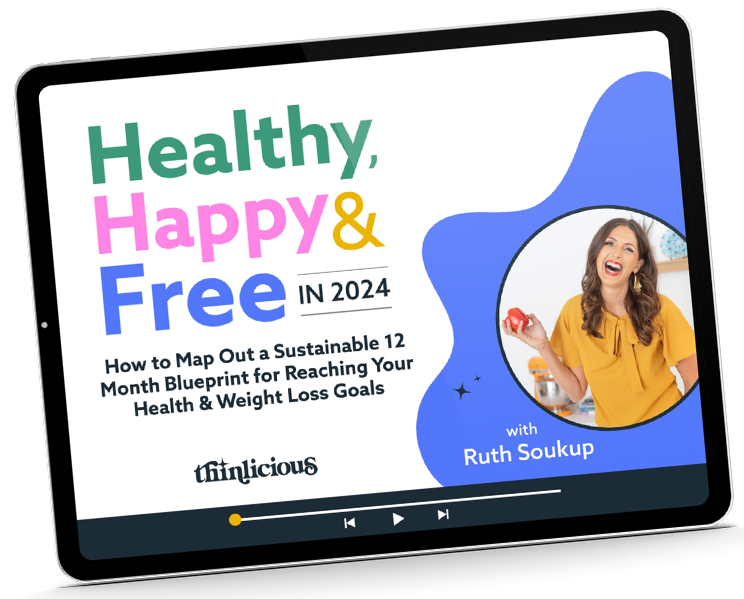 Our free on-demand video training will walk you through how to make 2024 THE year you set health goals…and keep them.
There are so many delicious keto recipes to use zucchini (that kids will actually eat). Zucchini bread, chocolate cake, baked bacon egg zucchini casserole, and of course, low-carb spaghetti bolognese with zoodles.
Zucchini (courgette) nutritional information: per 100g
3.1g Total carbs, 1g fibre (= 2.1g net carbs ), 1.2g protein, 0.3g fat, 17 calories
RDA: 24% Vitamin C, 13% Vit B6, 10% manganese, 9% Vit A.
Nutritional values from cronometer.com
What are zucchini boats?
Zucchini boats are hollowed-out zucchini halves. By the way, depending on which part of the world you live in, zucchini is also known as courgette. These veggie boats are a great idea for those who want a healthy taco night. It's also perfect for those who want a low carb Mexican meal or want to avoid high carb tortillas on Taco Tuesday.
They are a delicious healthy recipe and a great alternative to traditional tacos, taco shells, or carby gluten-free tortillas. Plus, this can be adapted to suit almost all dietary requirements.
The best part? This recipe is a great way to use up any ground beef leftovers. Just add some taco flavour, plenty of cheese, and sour cream and your kids will be asking for a second helping.
What is keto taco stuffing?
Keto stuffing is a Mexican ground beef mixture of onions, spices, beef and diced vegetables. This healthy keto Mexican recipe can be served just on its own, in a small bowl, loaded with your favourite cheese and avocado toppings.
Taco stuffing can be used in a taco salad, nachos, and even a keto tortilla. You can use a variety of Mexican spices, or make your own homemade keto taco seasoning.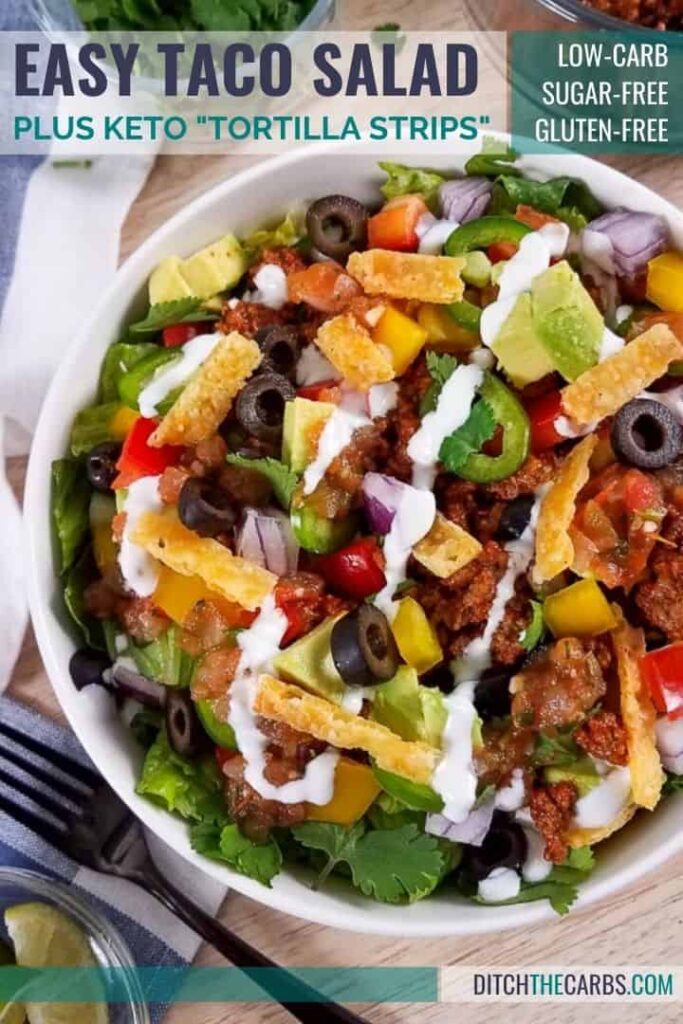 FAQs About Zucchini Boats
Do you eat the skin on zucchini boats?
Yes, you eat the zucchini skin. If you find the skin too tough, you can remove some using a veggie peeler.
Which size zucchini plant should I use?
You may choose small zucchini where the skin is softer but you won't be able to fit enough taco filling into them once halved.
If you choose the large zucchinis (often called marrows) the skin can often be a little tough but you can squeeze extra delicious filling into the large scooped out centre. So I like to use medium zucchinis which have the best of both. Soft skin with a good area for stuffing.
How do you hollow out zucchini?
Grab a dessert spoon or teaspoon. Both work equally well. Begin by digging in your spoon at one end, then scrap along the centre to scoop out the flesh of the fresh courgette.
You can throw away the scooped out vegetable pulp or you can use it as a vegan filling in soups, or when making bone stock and broth. Many readers like to fry it in butter as quick and easy vegetable side dish.
Once you have the taco boats ready, lay them upside down on a kitchen paper towel. This helps remove any excess water and makes baking easier.
Ingredients (and substitutions)
Which meat can you use for the taco stuffing?
Taco meat is usually made with ground beef but you can in fact use any ground meat. Fry (saute) the sliced onion until clear, add your meat of choice, and cook over medium heat until slightly browned. Add your taco spices and seasonings and cook for a minute or two to really get those spices to become aromatic and delicious.
You may wish to use one of the following:
Ground turkey
Ground chicken
Ground pork
You can even make vegan zucchini taco boats. Instead of using a traditional meat filling, your vegan filling could include cauliflower rice, diced peppers, and the "meat" of the zucchini that you scooped out (a great way to save food waste).
Why not add your favourite vegan protein substitutes such as beans or tofu? Just make sure they fit within your carb limits and are not heavily processed like so many vegan "products" can be.
Can you make your own taco seasoning?
Yes, you can create that authentic taco flavor by making your own homemade taco seasoning. Why? Because when you look at a store bought taco seasoning packet you may notice added sugars, wheat flour, preservatives and chemical enhancers.
By making homemade Mexican seasoning, it will be cheaper, with fewer carbs and a healthy seasoning that you know exactly what's inside.
Which taco salad is best?
Most taco salads have a mixture of sliced jalapenos, finely sliced red onions, cubed or sliced peppers (capsicum), corn, fresh tomatoes, black beans and other delicious Mexican salad ingredients.
Whilst most fast-food restaurants add leafy greens such as lettuce, Romaine lettuce, and sometimes coleslaw, this is not a traditional Mexican chopped salad.
What are the best toppings?
This is where you can make taco-stuffed zucchini boats suitable to everyone's personal preference at the dinner table. Once you serve the cooked taco boats, you can place all your favorite taco toppings on the dining table and everyone can add their preferred Mexican flavors.
It's a great way to make taco night a family occasion. There are so many different ways to make your delicious taco.
Pre shredded cheese, cheddar cheese, mozzarella cheese, Edam cheese, Colby Jack cheese
Sour cream
Cream cheese
Sliced bell peppers
Sliced jalapenos
Salsa
Avocado slices
Guacamole
Lime slices
Cilantro (coriander)
Tabasco
How to make it more/less spicy
You can add more or less chili powder when cooking your ground beef (or ground turkey). You can also place Tabasco sauce (or chipotle tabasco sauce) when serving. This way, everyone can adjust how much flavor and how much spice and chili taste they like. Extra spice, mild spicy or medium spicy.
⏲️ How to bake taco stuffed zucchini boats
Once you stuff each zucchini half with the taco meat filling, sprinkle plenty of shredded cheese on top of the taco stuffing and bake in the oven. The melted cheese will go a beautiful golden colour and little pieces will go crispy and crunchy.
You will need to adjust the baking time according to the size of the zucchini boat you have made. Thicker boats, and those that have thicker walls, may need an additional 10 minutes so they are cooked, but not soggy. Test the thickest part with a fork to make sure they are soft and tender.
💭 Top tips
Oil your baking dish with some olive oil or coconut oil before you begin. You can also use a baking sheet lined with baking parchment.
Using a vegetable peeler, remove a tiny slice of zucchini from the bottom of each boat. This makes them easy to lay flat when assembling and cooking in the oven.
If you have any leftover cooked ground beef from another Mexican dinner recipe, save it in the fridge in an airtight container then add more taco seasoning to the meat mixture before using it in this recipe. Cooked meat can only be reheated ONCE. Do not use the cooked leftover meat for this recipe AND reheat leftovers.
🔪 How to cut the carbs further
One fresh zucchini makes 2 zucchini "boats". The nutritional values are for the keto taco zucchini boats only. No toppings have been included.
You will need to add your choice of toppings to the nutrition information. Where one person may only add 1 tbsp salsa, another person might add 1/2 cup. Some may decide to add big handfuls of pre-shredded cheese, whereas another is trying to keep it within their daily fat limit or cutting back on dairy.
To reduce your carbs further, and stay within your keto lifestyle you may wish to:
Only eat one zucchini half but enjoy additional the taco meat and cheese.
Avoid all salsa or tomato sauce. Even if the label states no added sugar, these sauces can soon make the carb values go over your daily allowance.
Place your meat filling into lettuce wraps or keto tortillas and avoid the courgette boats entirely.
Make sure to read the nutrition panel on your shredded cheese to ensure it has no added starches, potato starch, rice flour or other anti-clumping agents.
Omit the fresh onion and fresh garlic and use a small number of dried onion flakes and garlic powder.
🥗 Side dishes
There are so many delicious and easy keto side dishes for beef, these are some of the most popular recipes.
🌡️ Storage
Can you freeze zucchini boats?
No, you cannot freeze zucchini taco boats. Because zucchini has very high water content, it tends to split and go mushy when frozen.
You can freeze the taco meat stuffing for up to 2 months in an airtight container. You then need to defrost your ground beef stuffing and cook in fresh zucchini halves sprinkled with pre-shredded cheese.
Can you meal prep taco zucchini halves?
Yes, you can meal prep this zucchini boat recipe ahead of time. This is a great recipe for family dinner meal prep. You have two great options:
Uncooked taco boats: Prepare the cooked taco meat ahead of time, store it in an airtight container in the fridge for up to 3 days. 20 minutes before you are ready to serve, turn the oven on. Whilst the oven is heating up, simply scoop out the zucchini halves and add the stuffing and cheese. Bake for 15 minutes.
Cooked taco boats: Keep the cooked taco boats in the fridge in an airtight container and cook/warm in the oven until the stuffing and cheese are hot and melted. Alternatively, you can reheat these in the microwave, but the stuffed zucchini will go soggy and the cheese will not crispen.
IMPORTANT: Cooked meat can only be reheated ONCE. Do not use the cooked leftover meat for this recipe AND reheat leftovers.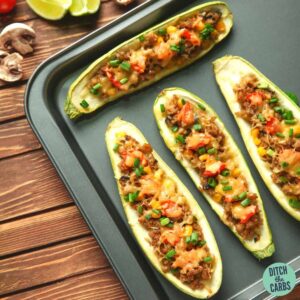 Keto Zucchini Taco Boats Recipe (courgettes)
Super easy recipe for keto zucchini stuffed taco boats. A delicious and healthy Mexican meal for the whole family. Quick and easy.
Print
Pin
Rate
Want to lose weight and get healthy for life—without dieting, drugs, or making yourself miserable?
We can help! Tell me how!
Ingredients
Zucchini Boats
4

zucchini/ courgette

large
Keto Taco Stuffing
2

tbsp

extra virgin olive oil

½

onion

finely diced

2

garlic minced

crushed

½

lb

ground/minced beef

1

tsp

ground cumin

½

tsp

smoked paprika

½

tsp

chilli powder

or more to your taste

+/- salt and pepper

to taste
To Serve
salsa

no sugar

avocado

shredded/grated cheese
Instructions
Zucchini Boats
Cut each zucchini in half lengthwise. Scrape out the flesh and seeds with a large spoon to create the "boat". Place the zucchini halves in an oiled baking dish.
Keto Taco Stuffing
Gently fry the olive oil, onion and garlic in a saucepan until cooked.

Add the ground/minced beef and continue to cook and stir until all the ground beef is cooked and no longer pink. Add the remaining spices. Mix and cook for a further two minutes whilst stirring gently. Season with salt and pepper to your liking. Drain any excess fat from the pan.

Gently spoon the cooked keto taco stuffing into the zucchini halves.

Sprinkle the top of each taco stuffed boat with your favorite pre-shredded/grated cheese.

Bake at 180C/350F for 10-15 minutes. Ensure each zucchini boat is cooked. You may need to adjust your cooking time to the thickness of your zucchini "boat".
To Serve
Add your favorite taco salad toppings such as avocado slices, guacamole, sugar-free salsa and pre shredded/grated cheese, sour cream and jalapeni slices.
Notes
One zucchini makes 2 zucchini "boats".
The nutritional values are for the keto taco stuffed zucchini boats only. No toppings have been included.
You will need to add your choice of toppings to the nutritional information. Where one person may only add 1 tbsp salsa, another person might add 1/2 cup. Some may decide to add big handfuls of pre-shredded cheese, whereas another is trying to keep it within their daily fat limit or cutting back on dairy.
To reduce your carbs further, you may wish to only eat one zucchini half but still enjoy the taco meat and cheese.
Nutrition
Serving:
1
(2 stuffed zucchini boats)
Calories:
251.2
kcal
Carbohydrates:
8.4
g
Protein:
12.5
g
Fat:
19.3
g
Sodium:
59.8
mg
Potassium:
710.6
mg
Fiber:
2.5
g
Sugar:
5.6
g
Vitamin A:
599
IU
Vitamin C:
36.6
mg
Calcium:
53.7
mg
Iron:
2.4
mg
More zucchini recipes you may like: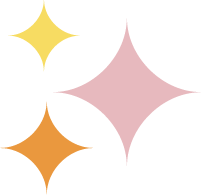 Get our FREE guide to finally fix your metabolism!
Losing weight & getting healthy is never easy, but lately you might feel like it's suddenly become impossible.
Our Flip the Switch guide will help you clearly understand what's been going on, as well as exactly what you can do to get your metabolism working again so that you can look and feel your best—it's easier and more simple than you think!