</p>
The low-carb 3 seed bread that kiwis and Aussies are raving about. Perfect with melted butter and only has 1.9 net grams carbs per slice!
This bread is absolutely perfect with melted butter and Vegemite or Marmite (depending on which side of the ditch you live in). It is gluten-free, grain-free, and a super easy recipe to make.
By the way, if you are missing bread when living low-carb, I've got your back!!! I have a whole list of easy recipes so you can make your own bread.
Are you ready to create the ultimate 12-month blueprint for reaching your health & weight loss goals this coming year?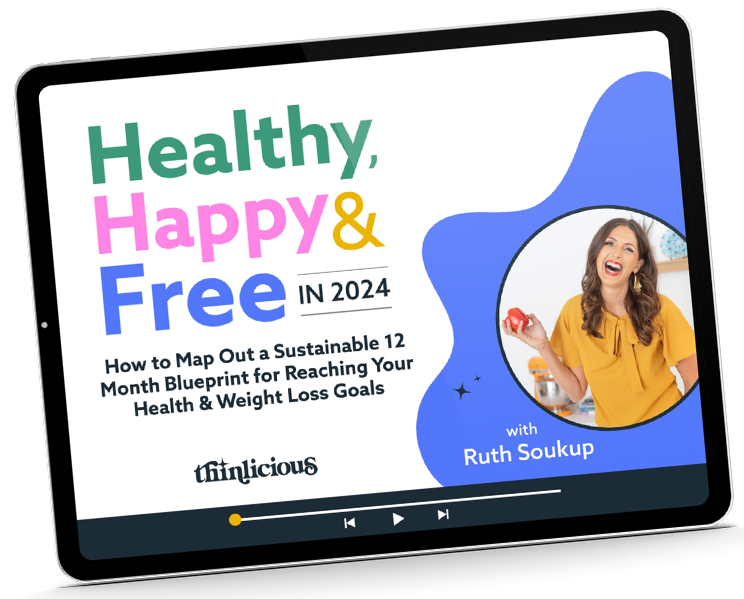 Our free on-demand video training will walk you through how to make 2024 THE year you set health goals…and keep them.
What is multigrain bread (without grains)?
The original recipe for multigrain bread contains whole grains, whole wheat flour, white flour, yeast, sugar (maple syrup or honey), all-purpose flour, oats and a selection of your favorite grains.
But since we are following a low carb diet (or keto diet) then we don't eat grains and are sugar-free, so what ingredients do we use in a multigrain bread?
Easy. Healthy whole seeds, water, eggs, and simple psyllium husk. Your whole family will love this heavy seeded sandwich bread.
What is so special about seeded bread?
This seeded bread is soft, yet dense enough to replace a true multigrain bread. This fluffy bread has a seeded crunchy topping. Be sure to sprinkle seeds on the top of your loaf before baking. Sesame seeds and poppy seeds are especially delicious for sandwich bread.
As I was developing the bread recipe, I posted a little video on Instagram and this is when I finally knew my low-carb bread recipe was perfect. I served it warm with butter and Vegemite dripping off the sides, well it received thousands of views and so many hilarious comments.
Oh hell to the yes!!! – Omggggggg thank you thank you Libby – You have made my day – Yummmmm!!!!!! Looks delish! – I've actually been dreaming of a seed loaf, toasted, with crunchy peanut butter
For those of you far far away from us Kiwis and Aussies, a famous snack is to enjoy Vogels bread (which is a whole grain, seeded loaf with many variations) toasted (some swear you must toast it twice for the authentic crunch) then slap on plenty of butter and as much Vegemite or Marmite as you can handle.
These are rich, thick, black yeast extract spreads that have a wonderful beefy salty flavour (although it is actually meat-free). You generally love'em or hate'em.
Serve a slice with a bowl of our easy keto oatmeal. YUM!
Yeast spreads have a tiny amount of barley extract (i.e.: sugar) but because yeast extracts are so powerful (read: strong) you only need a small amount. So, in reality, it is negligible.
But as always, read labels. Some other yeast extracts available around the world have thickeners, cornstarch, cornflour, and wheat.
Which low carb flour is best?
The most popular low-carb and keto bread recipes are my low-carb almond flour bread and keto coconut flour bread. But not everyone likes these keto flours.
It took me quite some time to develop the perfect low-carb hearty seed bread. I used coconut flour and psyllium husk powder. However, psyllium is a tricky flour alternative to working with. It never actually cooks properly because it is so absorbent of liquids.
Here are some other considerations I took in when developing this recipe. I'm proud to say I met them all!
It had to be almond-flour-free (so it can be included at schools with a nut-free policy).
It had to be easy to make (no one likes fussy recipes)
Use the minimum amount of eggs (too many readers are sensitive to the taste that many low-carb bread recipes have that use a large number of eggs in the recipe).
How to tell when the bread is cooked
You can tell when the centre of this bread has completely cooked when a knife pushed into the centre comes out clean and dry. There is no raw bread dough sticking to the knife.
However, it's also perfectly fine for the middle of the loaf to appear to be a little soft and moist. That is how it should be and will still toast beautifully.
What are the best toppings for seed bread?
We've already talked about how this is the perfect vehicle for Vegemite or Marmite. But, don't just stop there! These are my favorite ways to serve this keto seed bread.
Want even more ideas? Check out my school lunch box ideas. And take a look at my book Low Carb Easy Family Meals – how to be a low carb family. It's a great way for everyone to start living low carb, ditch the sugars and ditch the junk food once and for all.
Which seeds do you need for this bread recipe?
As the name suggests, I used three different types of seeds in this recipe. For this homemade bread, the main ingredients are chia seeds, pumpkin seeds, and sunflower seeds. These seeds work best for gluten-free seed bread because they are small enough to add to the flavor and texture without having too bold of a taste.
What equipment do you need?
Good news. You don't need any fancy equipment. No bread maker is needed. You don't need a food processor. You simply need one large bowl and a measuring cup.
Mix the dry ingredients with the wet ingredients in one large bowl. You don't need to wait for the dough to rise, to wrap in plastic wrap or to sit in a warm cupboard that most traditional bread recipes require.
Is this keto seed bread gluten free?
Yes, this keto loaf of bread is naturally gluten-free. The only type of flour I used is coconut flour and psyllium husks. Both of which do not contain any gluten (but please check your brand carefully for their cross-contamination policy).
Which pan to use?
To bake the perfect sandwich bread, use a loaf tin (loaf pan), lined with parchment paper. By lining your baking tin, makes it easy to remove the hot loaf and place it onto a cooling rack. Even though the baked loaf will smell delicious, please try to hold yourself back and wait until it has completely cooled before slicing with a bread knife.
How to store bread
For best results, store your homemade sandwich bread in an airtight container. The bread will stay fresh for up to 3 days in the fridge, or sliced in the freezer, for up to one month.
When you want a slice of bread, remove one or two slices from the freezer and place them on a plate at room temperature to defrost in less than an hour, place in the microwave for 20 seconds or toast in the toaster.
So next time you make a loaf, why not make a two or three loaves of bread so you have a lot of bread, sliced, frozen and ready to go. You can vary each recipe to use a variety of nuts, you could cut some thick hearty slice and some thin sliced.
Baking 101 (tips & charts)

More keto bread recipes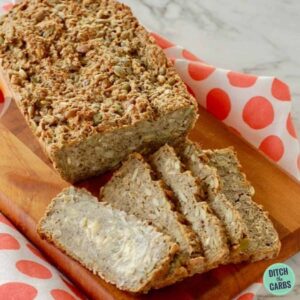 Low-Carb 3 Seed Bread Recipe
This is it!! The famous 3 seed bread kiwis and Aussies are raving about. Perfect toasted with butter then sweet or savoury toppings.
Print
Pin
Rate
Want to lose weight and get healthy for life—without dieting, drugs, or making yourself miserable?
We can help! Tell me how!
Ingredients
35

g

chia seeds

75

g

sunflower seeds

75

g

pumpkin seeds

25

g

coconut flour

75

g

psyllium husk

1

tsp

baking powder

1/4

tsp

salt

optional

50

g

butter

melted

2

eggs – medium

250

ml

water

warm
Instructions
Place all the dry ingredients in a large mixing bowl and stir.

Add the melted butter and eggs. Stir until almost mixed.

Add the warm water and stir until all the ingredients are full incorporated.

Place in a loaf tin and bake at 180C/350F for 35-45 minutes. Ensure it is golden on the outside

and cooked in the centre. Cooking times may vary with each oven.
Nutrition
Serving:
1
slice
Calories:
107
kcal
Carbohydrates:
5.8
g
Protein:
3.5
g
Fat:
8.2
g
Potassium:
123
mg
Fiber:
3.9
g
Sugar:
0.4
g
Get our FREE guide to finally fix your metabolism!
Losing weight & getting healthy is never easy, but lately you might feel like it's suddenly become impossible.
Our Flip the Switch guide will help you clearly understand what's been going on, as well as exactly what you can do to get your metabolism working again so that you can look and feel your best—it's easier and more simple than you think!