</p>
Super easy keto chicken curry (with pumpkin) is the perfect hearty meal to enjoy at the end of a busy day.
You only need 6 simple ingredients and it takes less than 5 minutes to prepare a healthy family dinner.
Generous chunks of chicken are cooked in a delicious rich coconut cream sauce made with store-bought curry paste. It's the easiest low carb curry recipe you'll ever make.
Are you ready to create the ultimate 12-month blueprint for reaching your health & weight loss goals this coming year?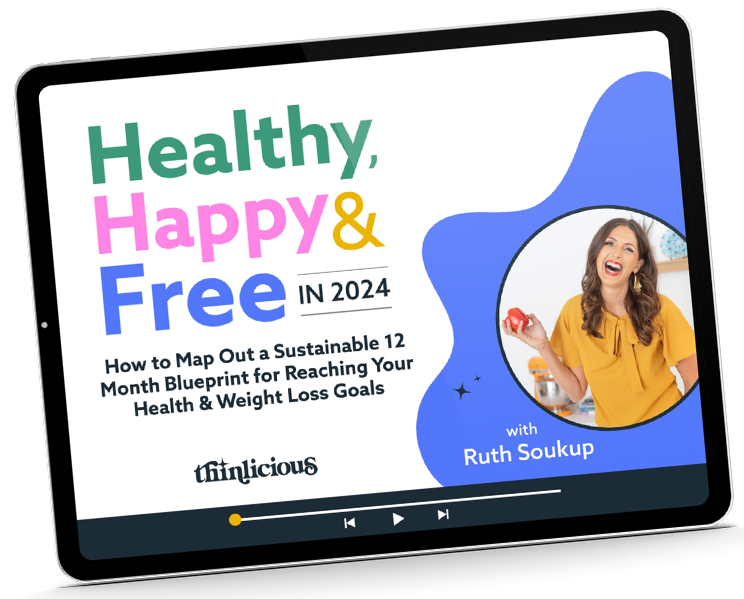 Our free on-demand video training will walk you through how to make 2024 THE year you set health goals…and keep them.
This keto chicken curry recipe is cooked in the slow cooker so it's perfect to throw together in the morning of a busy day.
I even prepare the cauliflower rice in the morning. That way, when it's dinner time all I have to do is heat the cauliflower rice on the stovetop, then ladle a generous serving of keto curry sauce over it to serve.
Is curry chicken keto?
Curry can be keto-friendly, depending on how it's made. While many curry recipes and pre-packaged sauces can be made with added sugar and other high-carb ingredients, keto curry recipes like this one are simple to make and very low in g net carbs.
This keto curry chicken is a rich and tasty ketogenic meal that won't ruin your keto diet. You get all that lovely rich flavour and warmth without any of the bad bits!
Many takeaway curries contain high-carb vegetables such as potatoes, chickpeas, green beans, and too much sauce.
Nutrition values for keto curry chicken and pumpkin: 6.6 g net carbs,12.7 g protein, 29.9 g fat, 351 calories.
Nutrition
Chicken is a versatile and filling source of complete protein. It is often used in low carb recipes and keto recipes due to its versatility and high protein. For this curry, I use chicken breast or chicken thighs.
The nutritional values of chicken depend on which part of the chicken you are cooking. Some areas of the meat will have higher fat content and contain chicken skin, dark parts will have higher iron and the chicken breast has the least fat.
Nutritional values from cronometer.com
| | | | | |
| --- | --- | --- | --- | --- |
| Per 100g (3.5oz) | Net Carbs | Protein | Fat | Calories |
| Chicken breast, skinless | 0 | 30.9g | 4.5g | 173 |
| Chicken drumstick, skin eaten | 0 | 27.3g | 10g | 206 |
| Chicken drumstick, skinless | 0 | 24.2g | 5.7g | 155 |
| Chicken skin | 0 | 20.4g | 40.7g | 454 |
| Chicken thigh, skin eaten | 0 | 28.2g | 13.2g | 239 |
| Chicken thigh, skinless | 0 | 27.7g | 6g | 173 |
| Chicken wing, skin eaten | 0 | 23.8g | 16.9g | 354 |
Chicken nutrition per 100g/3.5oz serving
Ingredients
Low carb chicken coconut curry is vibrant, fresh and a healthy low carb family meal. It is extremely low in carbs, high in healthy fats, wheat-free, sugar-free, grain-free, paleo, primal, you name it, and it is absolutely packed with nutrition.
All quantities, ingredients, and instructions are in the recipe card below.
To make this keto chicken curry recipe you'll need:
finely chopped or sliced onion – you can reduce this to half an onion to reduce carbs
curry paste – or you can make your own homemade curry paste using your favourite curry powder and fresh ginger (or ground ginger), fresh garlic (or powdered garlic), and garam masala.
diced chicken – I prefer chicken thighs but you can also use chicken breast or a combination of the two
pumpkin – you can reduce this if you wish to reduce carbs
keto coconut cream – make sure to purchase coconut cream, not coconut milk! It's the thcik coconur cream that makes your curry sauce rich and creamy. Top tip: There are tips in the recipe card if you can only find full fat coconut milk.
spinach – fresh chopped spincach leaves adds colour and flavour
cashews – these are added as a garnish to replicate my favourite Indian restaurant. They are higher in carbs so are completely optional but makes quite a lovely garnish in this keto curry recipe!
I often get asked why pumpkin is added to this curry. The simple answer is that pumpkin is lower in carbs than potatoes or sweet potatoes.
It adds flavour, colour, bulk, and texture to this dish.
If you are wondering about spinach, it's an amazing leafy green vegetable packed with vitamins, fibre, and antioxidants.
Magnesium, iron, zinc, calcium, Vit A, B, C, E, K, manganese, tryptophan, and copper are just a few!
In terms of curry paste, you can use whichever one you like best. Just make sure to take a look at the ingredients – some that are very heavy in tomato paste or have added sugar may be higher in carbs than you'd imagine.
Whether you go with red curry paste or green curry, choose whichever fits best with your tastebuds and keto diet!
Instructions
Making this low-carb curry is simple thanks to the slow cooker!
Add the sliced onion, curry paste, diced chicken breasts (or chicken thigh), cubed pumpkin, and coconut cream to the crockpot.
Stir all the curry ingredients together and cook, either on LOW for 6-10 hours or HIGH for 4-6. If you have the time, now is a good moment to meal prep your cauliflower rice to cook later in the evening!
While the coconut chicken curry is cooking, you can go about your day! Just give it a stir every once in while if you can to help those flavours blend and marinade.
Before you serve, add the fresh spinach to the coconut curry chicken mixture.
To serve, ladle over cauliflower rice. You can garnish with a few cashews (optional), or some sliced green onion. Some people even like a squeeze of fresh lime juice, lime juice, chopped cilantro (fresh coriander) to balance the curry spices!
Storage
This keto-friendly dish makes about six servings. If you don't finish it all the day you make it, you can place it in an airtight container in the fridge. I have found that it will last for about 3-4 days after cooking.
You can also freeze keto chicken curry in freezer-safe containers for up to 3 months.
When you are ready to enjoy, reheat the coconut chicken curry in a pot over medium heat, or zap in the microwave.
Sides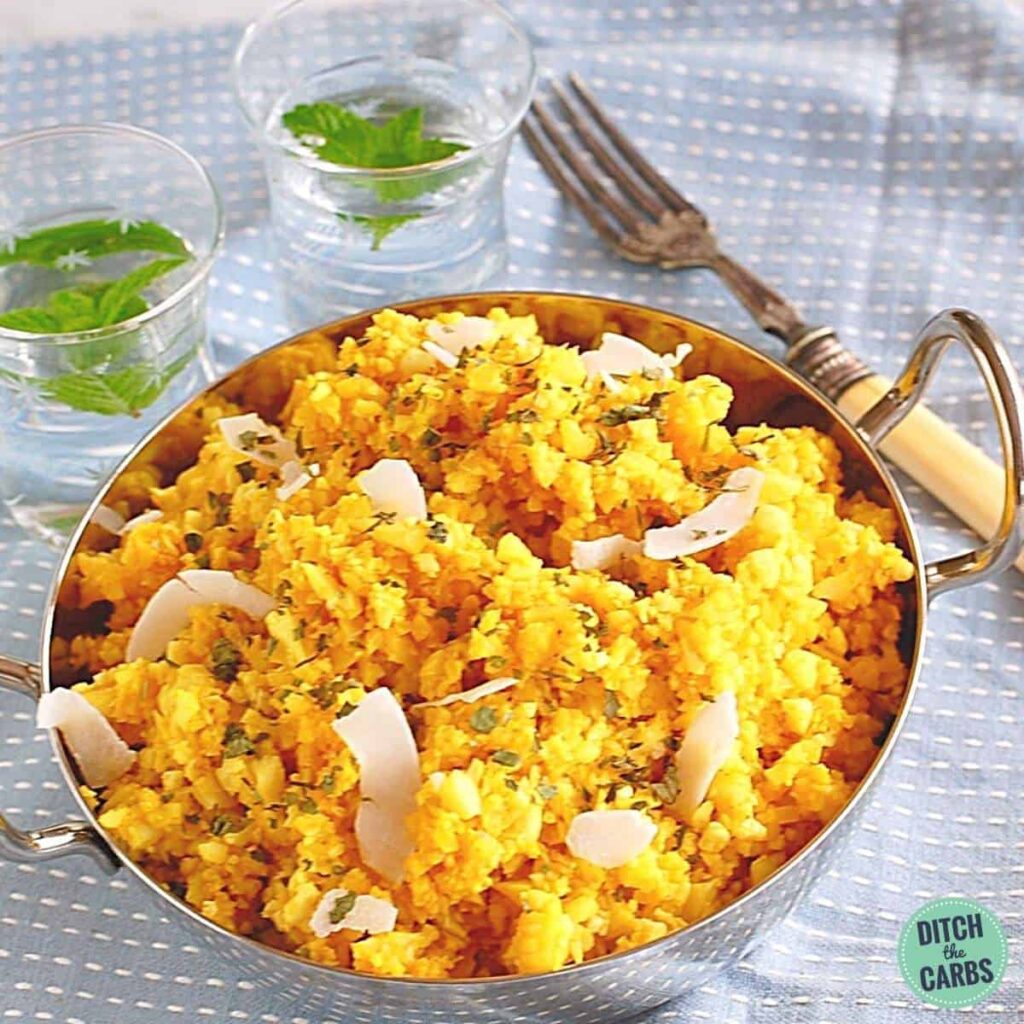 Indian restaurants will serve high-carb side dishes such as naan bread and rice, but the perfect chicken side dish for a keto curry has to be cauliflower rice and my new keto roti flatbread or keto garlic naan bread.
If you have never tried cauliflower rice, you can try basic cauliflower rice or curried cauliflower rice. It's an absolute staple in a low-carb diet.
Does cauliflower rice smelly? To prevent any smells I always flavour it with coconut cream and plenty of salt and seasoning. No one likes bland cauliflower rice, but flavour it and add some spices and you'll win everyone over. See how easy cauliflower rice is to prepare.
More keto curry recipes
If you love this keto curry recipe with a creamy curry sauce, you'll also love keto beef curry (beef rendang), keto lamb curry, and keto chicken kebabs.
And if you want a quick curry snack, you can also make curried deviled eggs or curried mayonnaise.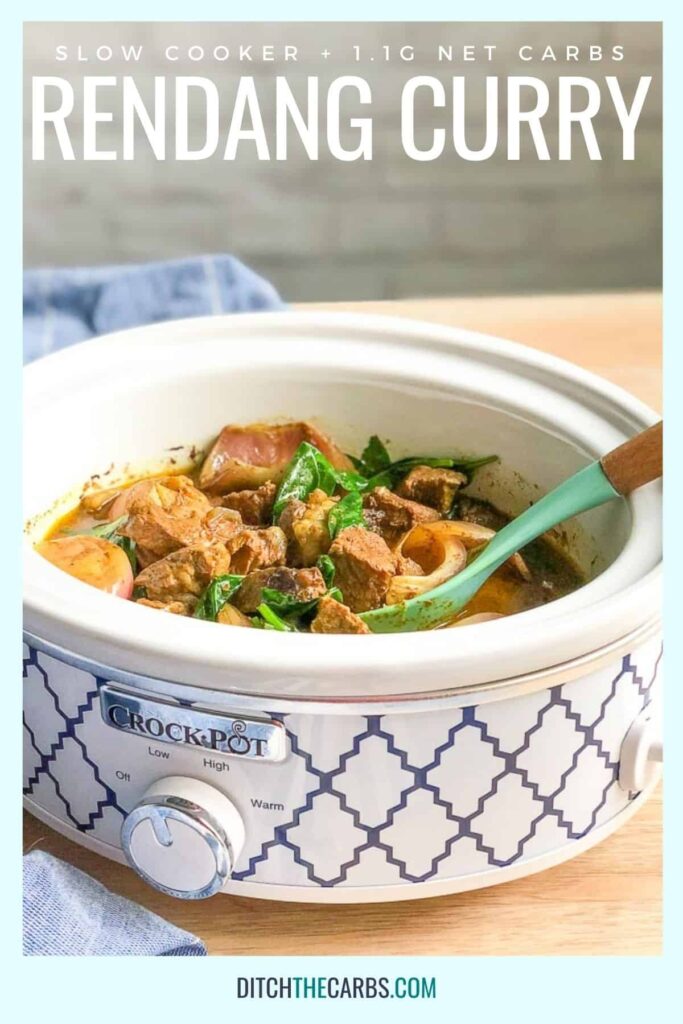 FAQs about keto curry chicken
What's the difference between coconut cream and coconut milk?

This keto chicken curry recipe calls for coconut cream, not coconut milk. Coconut cream is much higher in fat than canned coconut milk.

It's thicker than coconut milk with a consistency similar to heavy whipping cream. If you can't find coconut cream a quick replacement can be made by placing full fat coconut milk in the fridge. Open the can carefully and scoop out this cream and fat that has risen to the surface.

Your keto curry sauce will be rich and thick with a delicious flavor thanks to the coconut cream.
Is this keto chicken curry spicy?

This low carb curry is made with curry paste (or mild curry powder), so it's not too spicy. If you love spicy food, you can add additional curry paste, curry powder, or extra chili powder for a real kick.

I personally love spicier keto chicken curry, but for the sake of my children, I keep this milder.
Can I make the curry ahead of time?
Yes, place all the ingredients into the bowl of the slow cooker and place them in the fridge the night before you need it. The next morning, place the slow-cooker bowl in the slow-cooker and turn it on as per recipe.
Can I make a keto vegetarian curry?
Yes, just swap out the chicken and use your favourite plant protein, but be careful to calculate your carbs. You might want to use chickpeas, tofu, tempeh, or paneer (Indian cheese). The curry will no longer be keto but a lower carb vegetarian curry.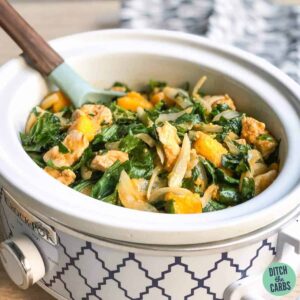 Keto Chicken Pumpkin Curry Recipe (Slow-Cooker)
Easy keto chicken curry cooked in the slow cooker is a fabulous way to have dinner ready when you get home from a busy day out. A healthy family dinner packed with flavour and spices.
Print
Pin
Rate
Want to lose weight and get healthy for life—without dieting, drugs, or making yourself miserable?
We can help! Tell me how!
Equipment
Slow cooker

Instant Pot

Measuring cups and spoons
Ingredients
1

onion

2

tbsp

curry paste/powder

500

g

chicken breasts

cubed

400

g

pumpkin

cut into cubes

400

ml

coconut cream

400

g

spinach

chopped

cashews

to garnish (optional)
Instructions
Place the first 5 ingredients in the slow cooker dish. The spinach and cashews are added at the final stage.

Stir and cook on LOW for 6-10 hours or HIGH for 4-6 hours.

Stir occasionally to allow the flavours to mix.

Ten minutes before serving, add the spinach to the chicken coconut curry and stir through. The spinach will wilt and cook. You may not fit all the spinach in one go, but wait for the first handful to wilt then add more and stir again.

Serve with cauliflower rice and garnish with cashews (optional) or a sprinkle of coconut threads.
Notes
Coconut cream – each brand varies widely in its fat and carbs. This recipe uses coconut cream which is about 25% fat and 2% carbs.
If you can't find coconut cream a quick replacement can be made by placing full fat coconut milk in the fridge. Open the can carefully and scoop out this cream and fat that has risen to the surface.
Cashews – included for the authentic garnish for serving but are optional because cashews are a high-carb nut. Cashews are NOT included in the nutrition panel above.
Nutrition
Serving:
1
serving (serves 6)
Calories:
351.8
kcal
Carbohydrates:
11.4
g
Protein:
12.7
g
Fat:
29.9
g
Sodium:
84.8
mg
Potassium:
917.7
mg
Fiber:
4.8
g
Sugar:
3.3
g
Vitamin A:
12781.9
IU
Vitamin C:
29
mg
Calcium:
103.1
mg
Iron:
4.4
mg
Get our FREE guide to finally fix your metabolism!
Losing weight & getting healthy is never easy, but lately you might feel like it's suddenly become impossible.
Our Flip the Switch guide will help you clearly understand what's been going on, as well as exactly what you can do to get your metabolism working again so that you can look and feel your best—it's easier and more simple than you think!