"Nutella" Keto Mug Cheesecakes lets you enjoy the rich chocolate flavor of hazelnut spread without the sugar and no need to roast hazelnuts.
The rich chocolate egg-free nutella keto mug cheesecake is the perfect single-serve keto dessert.
This "Nutella" keto cheesecake in a mug is a great dessert for holidays like Christmas and Valentine's Day. But this is one of those keto recipes that is so easy to make that it can be enjoyed anytime.
This "Nutella" cheesecake was inspired by my sugar-free nutella recipe that only takes a few minutes to make at home. So whip up a batch and enjoy—you won't miss traditional cheesecake at all!
Are you ready to create the ultimate 12-month blueprint for reaching your health & weight loss goals this coming year?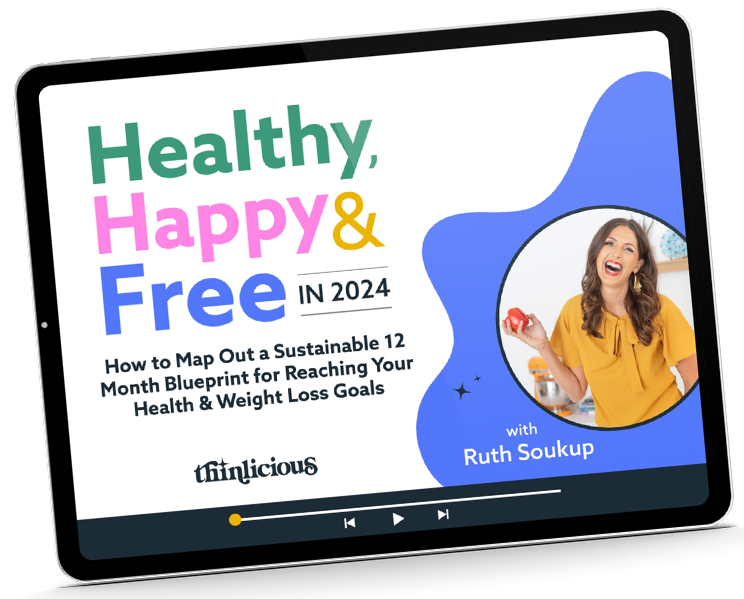 Our free on-demand video training will walk you through how to make 2024 THE year you set health goals…and keep them.
Ingredients
Nutella keto mug cheesecake used the same simple ingredients as many other traditional cheesecake recipes, minus the eggs.
Of course, I've also swapped out some of the traditional, high carb ingredients for sugar-free ones. This is the best keto mug cheesecake ever, and the perfect addition to your low carb diet or keto diet.
All quantities, ingredients, and instructions are in the recipe card below.
cream cheese – make sure to use full fat cream cheese
Greek yogurt – unsweetened
vanilla extract – or vanilla essence
granulated sweetener of choice – or any other sugar repalcement that doesn't raise blood sugars. A powdered sweetener makes a smooth cheesecake taste and texture.
baking powder – check the expiry date to ensure it is fresh
And that's it! One of the most simple keto desserts ever – no coconut flour, no baking, no fuss! Naturally gluten free.
See the keto microwave cheesecake recipe card below for quantities.
Instructions
Before you begin, make sure to find suitable microwave-safe mugs or microwave-safe glass jars.
Start by softening your cream cheese either on the counter or in the microwave.
To soften your cream cheese in the microwave place it in your mug/jar in the microwave for 15-30 seconds on half power.
Next, mix all your ingredients together in your mug/jar until smooth. This Nutella keto cheesecake in a mug recipe is egg-free so don't worry about over mixing until completely smooth.
Once the keto microwave cheesecake is mixed, cook it in the microwave at 50% power in 1-minute increments for up to 2-minutes. You will know your cheesecake is done when it looks firm, but still jiggles when you gently shake it.
Remove the cooked keto cheesecake in a mug from the microwave and let it cool on the counter for 10 minutes. Then place it in the refrigerator to chill for at least 1 hour before serving.
Hint: gently take your mug/jar on the counter several times before cooking to level your cheesecake and release any large air bubbles that may be trapped.
I have been known to eat this without waiting for it to cool completely. Allow it to sit at room temperature for 1-2 minutes until it has stopped bubbling and it has naturally lowered to a safe temperature to eat.
Substitutions
Each person has different dietary restrictions they may need to follow. Below are a few substitutions for this keto cheesecake in a mug you can make to meet your needs.
Greek yogurt – instead of Greek yogurt, you can use heavy cream, coconut cream, or sour cream for a tangier taste.
Baking powder – use xanthan gum instead of baking powder if needed. You would only need 1/4 tsp xanthan gum.
Vegan – the full fat cream cheese can be replaced with a plant based vegan "cream cheese" substitute. The yogurt can be replaced with coconut cream or vegan sour cream.
Keep in mind that if you make any substitutions you may need to recalculate the nutritional facts for this recipe. The nutritional facts listed in the recipe below are only for the ingredients listed in the recipe.
Variations
Looking for a way to give your keto microwave cheesecake a little something extra? Check out our variations suggestions and other toppings. We'd also love to hear what you come up with and how the mug cake tastes like a real cheesecake recipe.
Add chopped nuts – add chopped walnuts, chopped macadamias, diced pecans, or hazlenuts to your cheesecake or sprinkle over the top.
Chocolate – mix unsweetened cocoa powder into your cheesecake instead of sugar-free "Nutella"
Add a crust – create an almond flour crust for your mug cheesecake. Either sprinkle the crust on top, or press the crust into the bottom of your mug and pour the mixed batter over it.
Add even more chocolate – drop a few sugar-free chocolate chips into the mug cakes before cooking.
Top it with sugar free whipped cream – take this cream cheese recipe to the next level with some sugar free whipped cream on top. Just make sure to watch those net carbs!
Keto pumpkin pie spice cheesecake in a mug (egg free)
Sugar-free strawberry mug cheesecake (egg free)
1-minute keto mug cheesecakes – 4 flavours, all egg-free
See these 16 Best Keto Cheesecakes on my website for more inspiration!
Equipment
Your cheesecake will need to be cooked in a microwave-safe mug or jar that is tall enough that your cheesecake will not overflow while cooking.
I used a half-pint jar because it's easier to see what each cheesecake looks like when cooked. I also like that I can screw the lid on the jar to store the cheesecakes.
The cheesecakes were also cooked in a microwave at 50% power. Each microwave is different so if you are having a hard time finding 50% power on your microwave here are some options.
Use the softening function on your microwave if you have it to cook your cheesecakes.
If you cannot change the power on your microwave cook in 30 second increments instead of 1 minute increments.
Bake your cheesecakes in the oven instead. Cook at 175C/350F for 15-17 minutes. Be sure to use an oven safe container such as a small-medium ramekin.
Storage
The uneaten or leftover cheesecakes can be stored covered in the fridge for up to 3 days. You can also freeze these cheesecakes for up to 30 days.
If you intend to freeze the cheesecakes make sure you use a freezer-safe jar, or remove the cooked cheesecakes from the mug and store them in a freezer-safe container.
A frozen keto mug cheesecake can be defrosted on the counter for 1-2 hours or in the refrigerator overnight.
Top tip
Choose a good quality cream cheese when making cheesecake. A good quality cream cheese will make a big difference in texture and flavor.
Always make sure your cream cheese is softened before mixing your ingredients together.
If you find your cream cheese is not soft enough and you've already mixed your ingredient together let it sit on the counter for another 5-10 minutes, then mix again.
Since there are no eggs in this cheesecake you can't over mix it and it's safe to eat the raw cheesecake filling.
More mug cakes
If you love mug cheesecakes, you'll absolutely fall in love with vanilla berry mug cake, lemon curd mug cake, double chocolate chip mug cake, and cinnamon swirl mug cakes.
They really are the perfect sugar-free and keto single-serve dessert.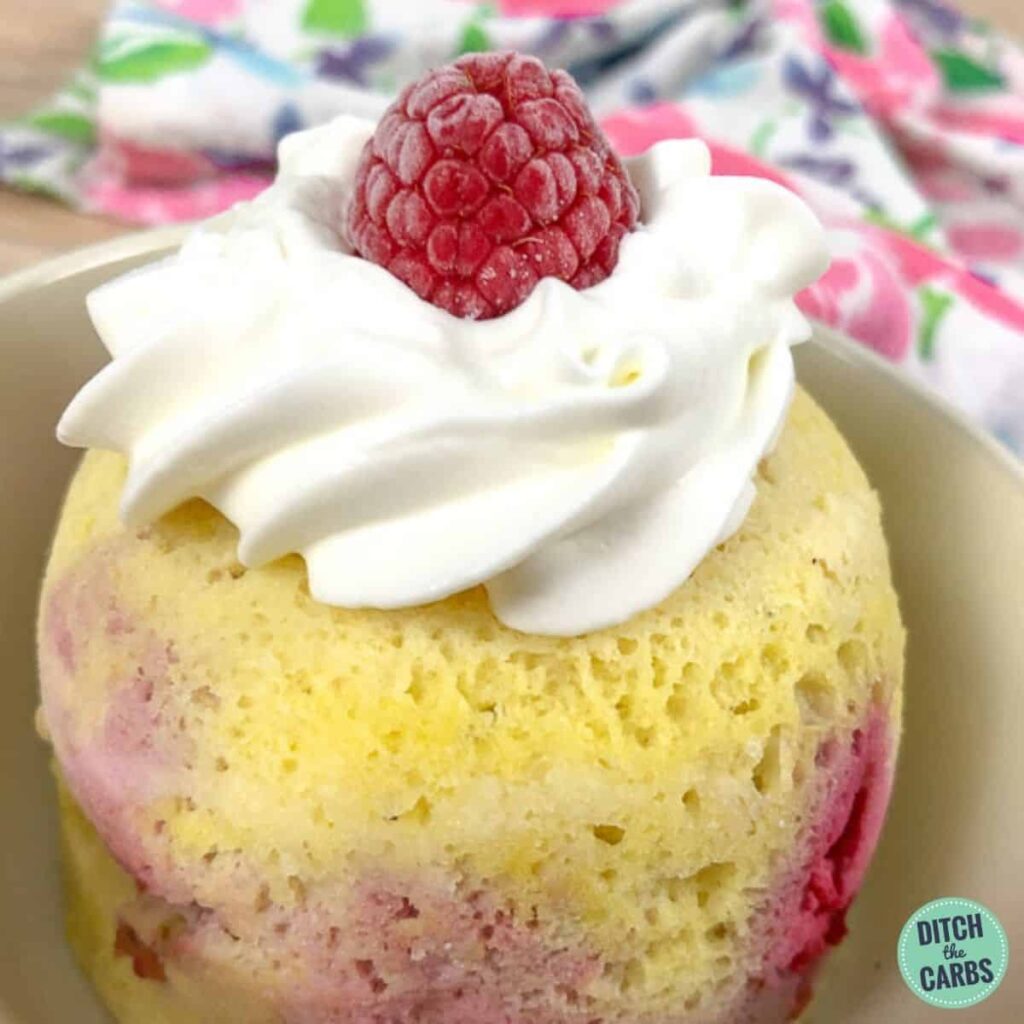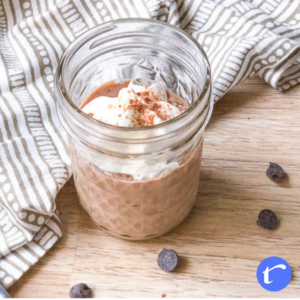 Keto Nutella Mug Cheesecake
Delicious egg-free and sugar-free nutella flavored cheesecake that you can cook in a mug or ramekin using your microwave!
Print
Pin
Rate
Want to lose weight and get healthy for life—without dieting, drugs, or making yourself miserable?
We can help! Tell me how!
Equipment
Measuring cups and spoons

Whisk

Microwave
Instructions
Place the cream cheese into the bottom of your mug. Microwave for 30 seconds to soften the cream cheese.

Add the rest of the ingredients except the toppings to the mug and mix until smooth.

Place the cheesecake in the microwave. Cook the cheesecake in the microwave at 50% power in 1-minute increments for a maximum of 2 minutes. If cooking at normal power cook in 30-second increments for a maximum of 1 minute.

Remove the cheesecake from the microwave and chill it in the refrigerator for 1-2 hours. Top with sugar-free sweetened whipped cream and a sprinkle of cocoa powder for garnish. Enjoy!
Nutrition
Serving:
1
mug cake
Calories:
335.3
kcal
Carbohydrates:
7.4
g
Protein:
8.3
g
Fat:
30.6
g
Sodium:
195.5
mg
Potassium:
338.8
mg
Fiber:
1.3
g
Sugar:
4
g
Vitamin A:
794
IU
Calcium:
182
mg
Iron:
0.4
mg
Get our FREE guide to finally fix your metabolism!
Losing weight & getting healthy is never easy, but lately you might feel like it's suddenly become impossible.
Our Flip the Switch guide will help you clearly understand what's been going on, as well as exactly what you can do to get your metabolism working again so that you can look and feel your best—it's easier and more simple than you think!