</p>
Homemade crunchy sugar-free cinnamon roasted almonds (candied almonds) are only 3.9g net carbs per 1/4 cup plus FREE gift tags.
They only require 6 simple ingredients and are a delicious snack or sprinkle on top of salads.
They're a beautiful healthy sugar-free homemade gift at Christmas too.
Are you ready to create the ultimate 12-month blueprint for reaching your health & weight loss goals this coming year?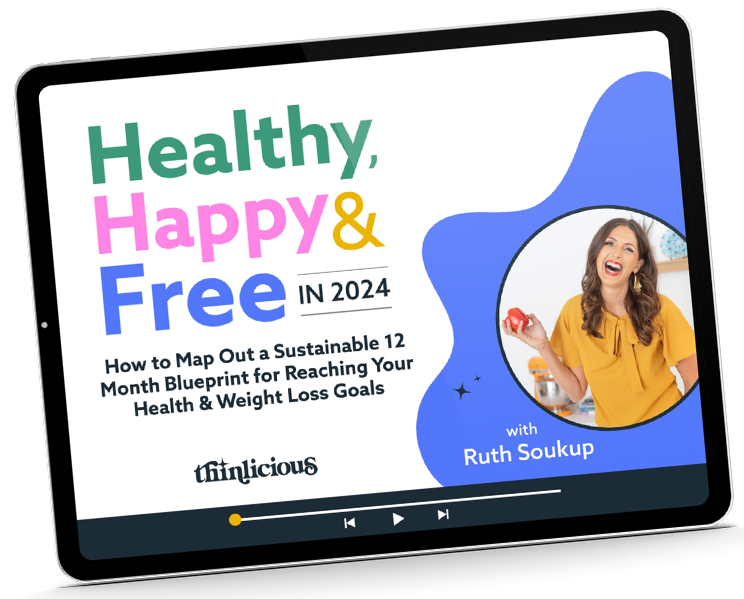 Our free on-demand video training will walk you through how to make 2024 THE year you set health goals…and keep them.
Do you ever walk by those roasted nut vendors at Christmas and smell the amazing spices, but hate all the sugar in them? I've managed to develop a recipe for sugar-free cinnamon-roasted almonds. These are beautiful to take to a shared meal or pop into a festive jar and give as a gift.
FREE printable gift tags are at the end of the post. These are a wonderful way to turn these sugar-free spiced almonds into an affordable homemade gift with keto snowball cookies this festive season.
How many carbs are in almonds?
Almonds are low in net carbs and high in fiber. They are used in gluten-free baking, low-carb, and keto baking and are perfect as a quick nutritious snack.
Almonds are most commonly used as whole almonds, sliced almonds, ground almonds, almond flour, almond meal, and almond milk (however it is technically a juice, not milk).
Almonds nutrition (raw, per 100g): 21.6 g total carbs, 12.5 g fiber, 8.8 g net carbs, 21.2 g protein, 49.9 g fat, 579 calories.
Nutritional values from cronometer.com
What are candied almonds?
Candie almonds are coated in a sugar coating and then baked or roasted to become a crunchy candy-covered almond. They can have various spices but the most common is sugar and ground cinnamon.
Once you've made your candied almond recipe, you can enjoy them hot or cold. They can even be frozen.
And if you love the warm taste of ground cinnamon, you've got to make my 1-minute cinnamon roll low-carb mug cake. It's the perfect sugar-free sweet snack in a hurry.
Sugar-free candied almonds
For those of us who are wanting to follow a healthy diet, we avoid anything with added sugar. So sugar-free candied almonds are made with a granulated sugar replacement such as erythritol, xylitol, allulose, or whichever is your favorite sweetener that doesn't raise your blood sugar.
How many low-carb nuts can I eat?
Nuts have healthy fats and are a great source of protein, but you want to pay attention to portion control. The net carbs will start adding up unless you track how many servings you're eating.
But many people slip up by overindulging with nuts and then realize their weight loss has stopped and wonder why.
They never make the connection between nuts and the slow creep of carbs back into their diet.
There are 2 reasons why nuts may be causing a weight-loss stall.
QUANTITY – Nuts are easy, portable and so easy to overdo. They can be oily and salty which is designed to hit our "bliss point". This encourages us to overeat and the packet to disappear before our very eyes.
CARB VALUE – Many don't realize how high in carbs some nuts and seeds can be. I can hear the groans already as I tell you to avoid cashews, chestnuts, and pistachios.
Ingredients
You only need 6 simple ingredients from the grocery store to make a sugar-free candied almonds recipe.
Whole almonds – use raw uncooked almonds. You may also like to use pecans, walnuts, or macadamias.
Egg whites – you can use fresh egg whites or carton egg whites. Both will work in this recipe.
Ground cinnamon –
Ground cloves – may be omitted but it adds an authentic festive roasted almond taste.
Mixed spice – may be omitted but adds an authentic festive flavor.
Sweetener – you choose your favorite sugar replacement. I like to use erythritol or allulose. Granulated sweetener works best as the powdered version has a tendency to dissolve and go sloppy with the egg whites. To keep the roasted almonds crunchy, use your favorite granulated sweetener. You may want to add more or less sweetener than is in the recipe card below.
Instructions
Making cinnamon-roasted almonds (candied almonds) is quick and easy. Follow the simple step-by-step instructions and you can have some in your oven or air fryer ready for your next snack or salad.
Whisk the egg whites then pour the almonds and mix until completely coated.
Leave the almonds to sit for 2-5 minutes.
Mix spices and sweetener then sprinkle over the almonds. Turn gently.
Place onto a lined baking tray.
Bake at 130C/260F for 10 minutes, turning halfway through.
Air fryer
To cook roasted almonds in the air fryer you need to find a small baking dish or pie dish that is small enough to fit inside your air fryer. There must be at least 1 inch on all sides to allow the heat to circulate evenly.
Preheat to 190C/375F.
Place your sugar-free cinnamon almonds in your oiled baking dish.
Gently lower your baking dish onto the wire rack. Ensure there is at least 1-inch space between the pie dish and the side of the basket.
Cook for 10 minutes, depending on the size of your air fryer.
Turn/shake the roasted almonds once or twice so they cook and go crunchy on all sides.
If you love using your air fryer, I have 101 keto air fryer recipes for you to choose from (chicken, pork, ground beef, salmon, vegetables, and even desserts). Discover how to use your air fryer plus FREE printable air fryer cooking cheat sheets.
Storage
Once the baked roasted cinnamon almonds are ready, remove the sheet pan from the oven and allow it to cool completely. Once they are cold you can store them in an airtight container for up to 1 month.
To freeze candies almonds
Remove the baking tray from the oven, place the baking tray on a wire rack and allow it to cool completely.
Place the baking tray directly into the freezer for 2 hours.
Remove the baking tray and pour all the individually frozen roasted almonds onto a ziplock bag or another airtight container.
Freeze for up to 3 months.
They can be reheated by placing them in a small baking tray and popping them into a warm oven for 5 minutes.
Serve
COLD CANDIED ALMONDS: Serve sprinkled on top of leafy salads, broccoli, and cauliflower salad, or even on buttery bacon Brussels sprouts.
WARM CANDIED ALMONDS: You can enjoy these roasted almonds warm out of the oven after cooking. Allow them to cool for a few minutes first. You can enjoy snacking on them while warm or you can stir them through hot Brussels sprouts.
Sugar-free Christmas
These sugar-free almonds are perfect all year round, but they are especially wonderful if you're wanting to stay on track this Christmas. It can be tough to navigate all the high-carb junk food that surrounds you.
Start by taking your own nibbles and healthy snacks for a shared morning tea, lunch, or drinks night. Make your own delicious holiday festive recipes instead.
For more Christmas ideas take a look at my low-carb Christmas recipes where you'll find delicious treats so you can stay on track.
A fun stocking stuffer for snackers
Spend an afternoon making a few batches of these sugar-free cinnamon-roasted almonds. Then package in mason jars or plastic cone treat bags.
You can give it a beautiful finish with a decorative bow and the printable cards available below.
You could use a variety of nuts for this recipe such as pecans, walnuts, or any other low-carb nuts. Create a gift basket filled with an assortment of low-carb, sugar-free roasted nuts and homemade sugar-free truffles and fudge too.
FREE printable gift tags
Click here to download the PDF file for your free printable gift tags, ready for printing.
Recipe FAQ
Why are my candied almonds soft?
You probably didn't slow-roast them long enough. The egg white needs to be cooked and dried to make these almonds crunchy.
Can I freeze roasted almonds?
Yes, they can be frozen in an airtight container for up to 3 months.
Which sweetener should I use?
Use a granulated sweetener. You can see all my preferred sweeteners and then stick to one that you love.
How much sweetener should I use?
That's up to you and how far along your sugar-free journey you are If you are just starting to give up sugar, you may want to use double or triple the recipe suggests.
How do I store cinnamon-roasted almonds?
They can be stored in an airtight container for up to 1 month or in the freezer for up to 3 months.
What almonds should I use?
You need to use raw unsalted almonds.
Sugar-Free Cinnamon Roasted Almonds Recipe (Candied Almonds)
Sugar free cinnamon roasted almonds (candied almonds) are a superb tasty snack at any time of the year. Why not make them sweet or spicy?
Print
Pin
Rate
Servings:
4
(1/4 cup per serve)
Want to lose weight and get healthy for life—without dieting, drugs, or making yourself miserable?
We can help! Tell me how!
Equipment
Whisk

Mixing bowls

Cup

Fork

Baking sheets – non stick

Baking sheets – non stick
Ingredients
150

g

almonds (whole)

2

tsp

egg whites

1

tsp

ground cinnamon

¼

tsp

ground cloves

½

tsp

ground mixed spice

1

tsp

granulated sweetener of choice

or more, to your taste
Instructions
Whisk the egg whites until frothy with a fork in a large mixing bowl.

Pour the almonds into the egg whites and stir with the fork until they are completely coated.

Leave the almonds to sit for 2-5 minutes until most of the egg white has soaked into the almonds. The almonds should be coated and sticky, ready for the spices.

Place the spices and sweetener in a cup and stir to combine evenly, then sprinkle over the egg white covered almonds. Turn gently with the fork so the almonds are coated with the spices.

Place the spiced almonds onto a baking tray that has been lined with a silicone liner or baking parchment. Make sure there is some space between each almond and separate any clumps.

Bake at 130C/260F for 10 minutes, turning half way through. You only need the egg whites to cook and completely dry out to help with storage. You don't want any dampness remaining or these spiced almonds will not stay fresh.

Once completely cool, they can be stored in a sealed glass jar for up to a month.
Notes
Nutrition is for 1/4 cup serving.
Nutrition
Serving:
1
1/4 cup serving
Calories:
219.4
kcal
Carbohydrates:
8.8
g
Protein:
8.3
g
Fat:
18.6
g
Sodium:
5.1
mg
Potassium:
273.6
mg
Fiber:
4.9
g
Sugar:
1.5
g
Vitamin A:
2.7
IU
Vitamin C:
0.1
mg
Calcium:
106.8
mg
Iron:
1.5
mg
More low carb Christmas recipes
If you need more ideas for the holidays, I have 30+ healthy keto Christmas recipes for you, 61+ best Thanksgiving recipes, and the best ways to use Christmas leftovers.
Low-carb keto holiday recipes – savoury
Low-carb keto holiday recipes – sweet
Wishing you all a very happy Christmas and a healthy new year.
Get our FREE guide to finally fix your metabolism!
Losing weight & getting healthy is never easy, but lately you might feel like it's suddenly become impossible.
Our Flip the Switch guide will help you clearly understand what's been going on, as well as exactly what you can do to get your metabolism working again so that you can look and feel your best—it's easier and more simple than you think!