Low-carb zucchini and bacon quiche (keto egg casserole) is the perfect high protein breakfast, lunch, or dinner.
It's also easy to freeze so is the perfect recipe for your weekly meal plan and meal prep.
PLUS if you have too much zucchini this season, there are 6 more keto zucchini recipes to make cheap, healthy family dinners this summer.
Is zucchini low-carb?
Yes, zucchini is low-carb, especially if you monitor your daily carb limit and count your macros.
Ready to lose weight and get healthy for life without dieting, drugs or making yourself miserable?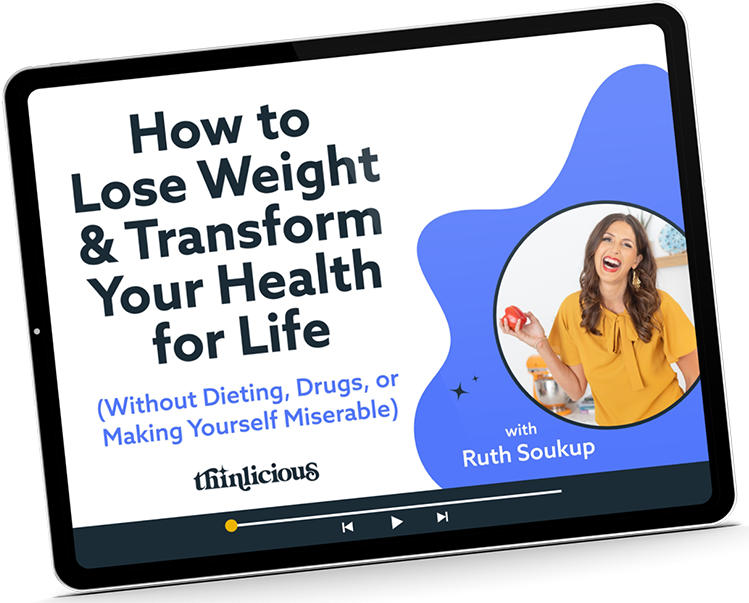 Our free on demand video training will help you understand why it's been so hard and what do to about it.
Zucchini nutritional value per 100g/3.5oz is 3.1 g total carbs – 1 g fiber = 2.1 g net carbohydrates. You use a mere 17 calories, 1.2 g of protein, and a whopping 29% of your daily vitamin C needs. Not bad for a medium zucchini!
Nutritional values from cronometer.com
What is an egg casserole (or quiche)?
A crustless quiche may also be known as a frittata or an egg casserole. It is often a combination of whisked eggs, leftover low-carb vegetables, meat such as ham or bacon, and topped with a shredded cheese crust.
A traditional quiche recipe would require wheat flour, or all-purpose flour, pastry base. Some recipes even add flour or cornstarch to the eggs mixture to make it heavy and dense.
Zucchini, cheese, and bacon quiche was a staple growing up in my family, but my new recipe is flourless and low carb. It is superb for dinners, lunches, and picnics. It's great for packing healthy school lunch boxes and the perfect make-ahead keto breakfast.
Easy low-carb keto meal plans
Using eggs as your main dish with leftover vegetables and meat is an easy addition to your weekly meal plan to stretch out your budget and make low-carb affordable.
When zucchini/courgettes are in season and going cheap, make a huge batch, and it will last a few days. It is a great recipe to fill your freezer. Just cut the keto egg casserole into individual slices when cold, wrap in baking parchment paper, and store in an airtight container.
Ingredients
All quantities, ingredients, and instructions are in the recipe card below.
Low carb zucchini and bacon slice is an adaptable recipe, simply throw in whatever vegetables or leftover meat you have in the fridge. Try different variations by adding a variety of cheeses, herbs, or cherry tomatoes on top.
Basic keto egg casserole: only requires 4 ingredients, then you can vary the fillings
Variations:
Step by step guide
Making a keto egg casserole recipe is extremely quick so begin by preheating your oven and then getting all your ingredients together.
You will need eggs, milk, zucchini/courgettes, spring onion, bacon and full-fat block of cream cheese.
Add the eggs to the bowl with the cream cheese, add the milk, whisk together (you can use heavy cream if you wish).
Dice/chop the zucchini/courgettes into little pieces.
Dice the bacon (or other meat of choice). It can be added raw or cooked. The raw bacon will cook in the low-carb zucchini slice.
Mix everything together.
Pour all the ingredients into an oiled and lined baking dish. Cover with plenty of grated/shredded cheese of choice.
Side dishes
You can either serve this crustless quiche (keto egg casserole) as the main meal or as a side dish. I like to serve mine with a leafy green salad, coleslaw, or in winter, with mashed cauliflower for a hearty and comforting dinner.
What can I do with too much zucchini?
When zucchini is growing fast and your garden is full, how do you make quick and easy healthy zucchini recipes? Luckily zucchini is an incredibly versatile low-carb vegetable that can be used as a healthy vegetable side dish, affordable keto dinners, naturally gluten-free cakes, and even sugar-free desserts.
There are so many delicious keto recipes to use zucchini (that kids will actually eat).
Zucchini low-carb baking recipes:
Zucchini keto dinners and side dishes:
How easy was that? This really has to be the simplest low-carb zucchini and bacon quiche recipe the whole family will love. It's also flourless, grain-free, gluten-free and made with simple whole food ingredients.
So why not throw some zucchini seeds in the ground this summer and see if you can grow a bumper crop to keep making the zucchini slice? If not, find a friend whose garden is overrun with zucchini and ask them for some fresh zucchini in return for some baked low carb quiche.
Realted recipes:
Get our FREE guide to finally fix your metabolism!
Losing weight & getting healthy is never easy, but lately you might feel like it's suddenly become impossible.
Our Flip the Switch guide will help you clearly understand what's been going on, as well as exactly what you can do to get your metabolism working again so that you can look and feel your best—it's easier and more simple than you think!