Wondering what are the best healthy salmon side dishes?
No more guessing because EVERY low-carb or keto side dish is low in carbs. So keep track of your macros and reduce your carbs without any effort at all.
If you want to know what to serve with salmon tonight, you can find the BEST side dish recipes that work perfectly. No matter how you cook your salmon.
If you are making heart-healthy salmon for dinner, then you will probably want to make a light and filling side dish to go along with it.
Ready to lose weight and get healthy for life without dieting, drugs or making yourself miserable?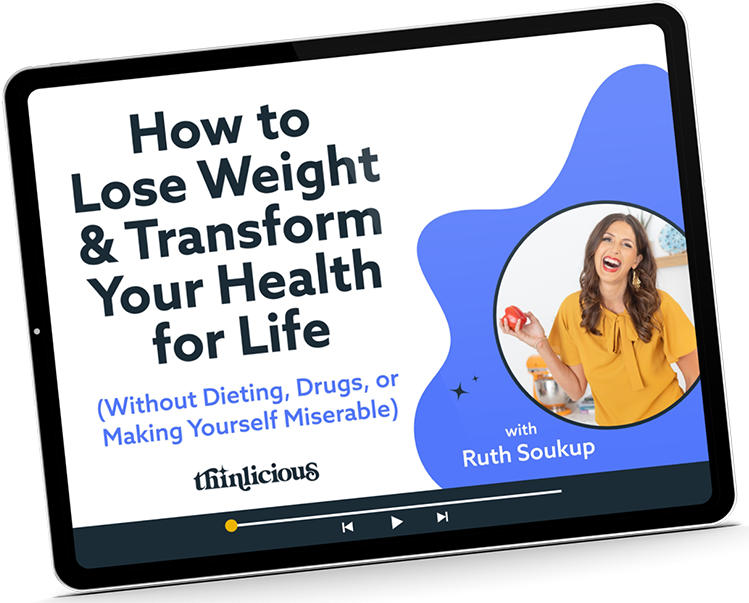 Our free on demand video training will help you understand why it's been so hard and what do to about it.
You might also want to bookmark what to serve with chicken and the best low-carb side dishes for pork to give you even more keto-friendly ideas.
Is salmon low-carb?
Yes, salmon is definitely low in carbs. In fact, it is known as a "zero carb food" because each serving has 0 grams of total carbs.
There are a lot of low-carb ways to cook it too. Just use your favorite seasonings – a squeeze of lemon juice, fresh dill, garlic powder, chili powder, or even fresh minced garlic. Even a lemon vinaigrette or herbed lime mayonnaise is a flavourful low-carb topping for salmon.
Salmon nutrtion
Salmon is known for being a good source of healthy fats and other nutrients. Just check out this handy nutrition guide.
In one 4-oz (112g) Atlantic salmon fillet, there are:
206 calories
9 grams of fat
29 grams of protein
0 grams of carbohydrates
3g omega-3
Nutritional values from cronometer.com
The best low-carb sides for salmon
All of the following side dishes taste amazing with seafood and even better with hearty salmon.
Mashed cauliflower 4 ways
If you can boil water, you can make delicious mashed cauliflower. These 4 clever recipes will keep the entire family happy (even the pickiest eater).
Baked asparagus
Asparagus is one of those vegetables that is known to pair perfectly with salmon. Baked Asparagus is incredibly simple. In fact, you can make it in the oven or the air fryer.
This is one of my favorite recipes to serve alongside salmon because the asparagus spears are so crispy and tender at the same time.
Keto Cheesy Baked Asparagus Recipe
Your whole family will love this keto cheesy baked asparagus. This asparagus is perfect if you are looking for a tasty low-carb side.
Check out this recipe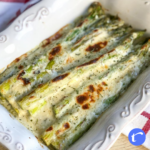 Broccoli cauliflower bake
I love how easy this casserole is – and it is incredibly filling too. The cheese sauce in this Broccoli Cauliflower Bake is made with yoghurt, mustard, and shredded cheese.
Don't forget to add the bacon – it's the best part! For a little extra crunch, you could add some sliced almonds or pine nuts and chili powder.
Low-carb coleslaw
Tangy and crunchy coleslaw brings out all the natural flavors of salmon.
Low-Carb Coleslaw is really easy to throw together and it tastes delicious as it sits in the fridge, soaking up all the fresh herbs and spices.
Cauliflower rice
Rice and fish go together like peanut butter and jelly. When you are eating low-carb, it's important to replace rice with a low-carb veggie. That's why I love cauliflower rice.
This recipe replaces rice pilaf, basmati rice, and jasmine rice. It will taste delicious with a little soy sauce
For a little extra pizazz, add some fresh rosemary or green onions on top. Or give it a nutty flavor with some roasted sesame oil.
Creamed leeks
These creamed leeks are baked with a creamy sauce that you will want to savor with slow bites.
This recipe is so delicious, you can replace mashed potatoes with it. If you want to bring out the flavor, even more, add some lemon zest on top. You can also make this recipe with Swiss chard or bok choy.
Spinach carbonara
This creamy dish tastes amazing with savory salmon. Spinach Carbonara only has six simple ingredients and is so delicious that you will want to serve it with other recipes too.
Eggplant bites
With all the cheese on top, these eggplant bites are the best side dish for your salmon dinner.
They have an incredible smoky flavor and you can replace smashed potatoes with this delicious recipe.
Fried Eggplant Parmesan Bites
Low-carb eggplant parmesan bites are perfect as a snack, appetiser or even a full meal depending on how many you choose to serve. Choose your favourite cheese to top them.
Check out this recipe
Creamed Brussels sprouts
Both garlic and parmesan are flavors that taste heavenly with salmon. In fact, when you make this recipe, it will be as popular and loved as the salmon itself. Even people that usually don't like Brussels sprouts will this love creamed brussels sprouts recipe.
This dish tastes amazing when you make it in a cast-iron skillet because you can put it in the oven and crisp it up under the broiler.
Creamed Brussels Sprouts Recipe (Garlic Parmesan)
EASY tender garlic creamed Brussels sprouts with parmesan are the perfect delicious cheesy side dish.
Check out this recipe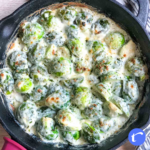 Avocado salsa
This isn't as much of a side dish as it is a topping. Add some avocado salsa on top of your salmon and enjoy the taste of the southwest.
You can also just place it on the table and use it as a dip for cucumber slices or pepper strips.
Keto Guacamole Recipe (Low-Carb Avocado Salsa)
The best chunky keto guacamole recipe you'll ever make. You only need 5 ingredients and it takes less than 5 minutes. Serve with low-carb tortilla chips, keto nachos, and even pork rinds.
Check out this recipe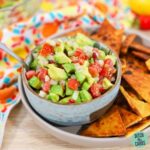 Zucchini parmesan bake
One of the best ingredients to make with salmon is parmesan cheese. Zucchini and Parmesan Bake is a side dish that really ties the entire meal together.
This is the perfect recipe to use to replace mashed sweet potatoes or roasted sweet potatoes. Sprinkle some fresh basil on top or add some Italian seasoning.
This is a baked recipe, but you can also make grilled zucchini with salmon too.
Cauliflower couscous
Have you ever made couscous before? Lemon herb couscous is a popular side dish to serve with salmon. Instead of the grain bowl, make this Cauliflower Couscous.
There are less than 3g net carbs in each serving!
Cauliflower Couscous Recipe (With Dukkah)
A wonderful healthy low-carb vegetarian dish, straight from the Mediterranean. Easy Cauliflower Couscous.
Check out this recipe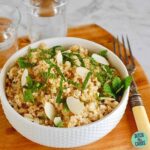 Veggie fritters
These veggie fritters have an irresistible crunch. Plus, you will love the fresh taste of mint that is baked into the coating!
Top them with a dollop of sour cream for a wonderful taste.
Bacon broccoli cauli salad
This low-carb bacon broccoli cauliflower salad is one of my favorite side dishes for salmon because it is covered with a cream bacon sauce. It's so savory and delicious.
Add some summer squash to the mix and you have a wonderful side!
Keto biscuits
Biscuits are another classic side dish to pair with seafood. In fact, these keto biscuits are a perfect way to replace sweet potatoes.
They are made with high-protein almond flour and cheddar cheese. Add some creamy goat cheese on top or drizzle some sugar-free maple syrup for a little sweetness.
Keto Cheddar Biscuits Recipe (Keto Cheese Scones)
Amazing keto cheddar biscuits (cheese scones) that are made with 7 simple ingredients and ready in 20 minutes.
Check out this recipe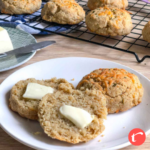 Curry cauliflower rice
Bring in some flavours from the east with some zesty curry cauliflower rice.
Curry Cauliflower Rice has incredible flavors of turmeric and coconut in it. This will elevate your dinner and pair perfectly with sweet fish.
Curry Cauliflower Rice Recipe (no mess method)
The perfect addition to any low-carb and keto curry night. Easy Curry Cauliflower Rice with turmeric and coconut.
Check out this recipe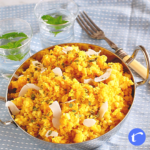 Prosciutto-wrapped asparagus
Another fantastic way to make roasted asparagus is with prosciutto.
Proscuitto Wrapped Asparagus is so easy to make you probably don't even need the recipe! But I'll walk you through it step by step anyways. 😉
Spaghetti squash
You can't beat the fresh taste of spaghetti squash. If you have never made it before, follow this easy Spaghetti Squash tutorial. It even has a video for visual learners.
Roasted cauliflower
Since you can't have roasted potatoes on a low-carb diet, make something that is similar in texture.
Roasted Cauliflower is covered with garlic butter for a taste that is perfect with salmon.
Low-carb naan
Naan is another one of my favorite salmon side dishes. To make it keto-friendly, use this Low-Carb Naan recipe.
I love to drizzle it with a little olive oil and sprinkle it with fresh herbs.
Garlic Keto Naan Bread Recipe
Keto naan bread is a soft and easy to make gluten-free bread that pairs perfectly with curries and other dishes.
Check out this recipe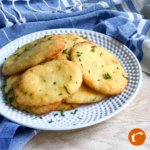 Curried devilled eggs
Curry is one of those flavors that you'll find excuses to cook with. You don't even miss brown sugar or other sweeteners.
These Deviled Eggs add a creamy texture to your plate as you enjoy flaky salmon.
Spring rolls
Finally, another one of my favorite new recipes is low-carb Spring Rolls. They are wrapped in cabbage leaves and filled with chicken and shredded veggies.
Low-Carb Spring Rolls Recipe (cabbage rolls)
These little low-carb spring rolls are the perfect healthy way to amp up your veggies. A gluten-free healthy nutritious meal for tonight.
Check out this recipe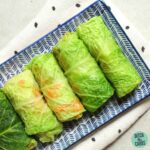 Simple side dish ideas for salmon – no recipe needed
When you don't have time to follow a recipe and just want to throw a few things together quickly, I have some ideas for you. There are a different amount of carbs in each idea, so track your macros and enjoy something that is easy to make.
These are easy lower carb side dishes for salmon to replace your regular smashed potatoes, sweet potatoes, green beans, baby carrots, and frozen peas with tomato sauce.
Cauliflower
There are so many different ways to make it. Serve it roasted or raw.
You can even make cilantro lime rice with cauliflower.
Salads
Just mix your own fresh salad and serve it with a sugar-free dressing, my magic 1-minute mayonnaise, or lime mayonnaise. Or, use a kit from the store.
Keto Caesar salad is a wonderful high-protein salad. If you don't like Caesar, then add some balsamic vinegar for a little zest and mix in your favorite fresh veggies.
Roasted vegetables
Roast your favorite low-carb veggies in some extra virgin olive oil and top them with fresh herbs and lemon juice.
Remember, sugar snap peas, baby carrots, roasted potatoes, and green beans are all higher carb vegetables so make sure you portion control them and add them into your daily carb limit.
Best keto dishes that use salmon
When it comes to fish and seafood, you just can't beat a thick and flaky salmon fillet. It is incredibly filling and one of the healthiest types of fish you can eat. All of the following recipes are incredibly tasty, you are sure to find something new to make for dinner from this list.
Now that you know the best keto salmon sides, let's look at some of the best ways to cook the salmon itself. There are lots of ways to cook salmon – in the oven, slow-cooker, Instant Pot, or air fryer.
These salmon recipes are the easiest place to begin when you are wondering what to make for dinner.
Or make these easy salmon dinners without a recipe:
Grilled salmon

– with summer squash and parmesan cheese.
Seared Salmon – served with minced garlic sauteed mushrooms and goat cheese.
Barbecued salmon – with herbed hollandaise sauce.
Baked salmon – along with colorful veggies and garlic powder as the salmon cooks.
Pan-fried salmon – serve with a tomato salad and toasted almonds.
Do you cook salmon skin up or down?
This is a question I get asked a lot. I like to drizzle the salmon with some olive oil and then cook it skin side down first. This will let the skin crisp up really well. Then, flip it over and let it continue to cook.
Get our FREE guide to finally fix your metabolism!
Losing weight & getting healthy is never easy, but lately you might feel like it's suddenly become impossible.
Our Flip the Switch guide will help you clearly understand what's been going on, as well as exactly what you can do to get your metabolism working again so that you can look and feel your best—it's easier and more simple than you think!