This 4-ingredients keto mini quiche recipe is perfect for weekly meal prep and healthy school lunch boxes.
They're a quick and easy nutritious high-protein breakfast, lunch, or high-protein snack.
They are sturdy, freezer-proof, portable, and your kids will love them.
These mini quiches are economical, gluten-free, grain-free, low-carb, and very popular as a keto breakfast or protein snack on the ketogenic diet.
Are you ready to create the ultimate 12-month blueprint for reaching your health & weight loss goals this coming year?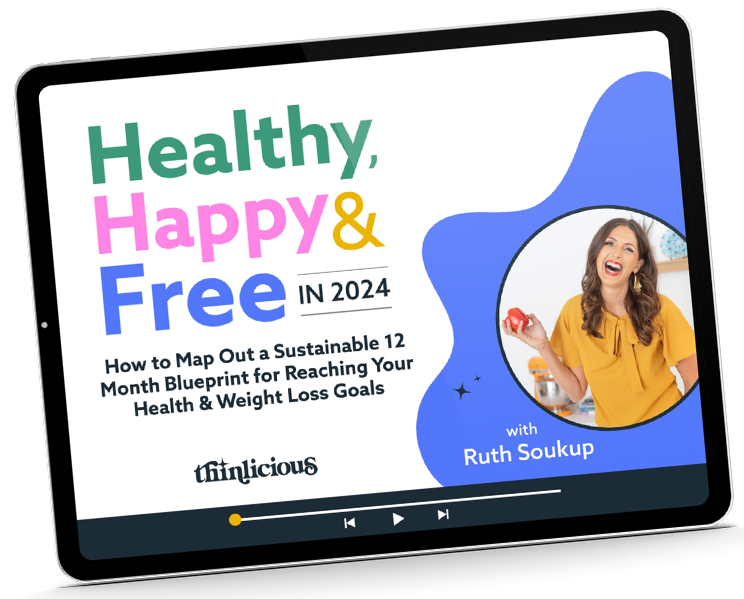 Our free on-demand video training will walk you through how to make 2024 THE year you set health goals…and keep them.
Not only are these super simple to make, but they are very affordable to put together too. Plus, this low-carb keto mini quiche is absolutely delicious, making it one of my favourite keto breakfast recipes!
These are great to work into your weekly meal plan and your daily carb limit. If you don't know how many carbs a day you should set for your keto diet, try my FREE macro calculator.
Once you learn how to count carbs and understand the keto food pyramid, you'll be set for success on your keto diet.
How many carbs are in mini quiches?
These are perfect for portion control because they are individually served and you can decide whether to eat 1, 2, or 3 depending on your daily carb and protein goal.
Quiche can vary widely with carbs, depending on if you are making keto recipes or eating out at a local bakery. The wheat crust is where most of the carbs hide, so if you ditch the crust you are avoiding all the unnecessary carbs and unhealthy fats.
This particular crustless quiche is very low in carbohydrates at 1 gram of net carbs. It also is high in protein and moderate fat. The perfect combination to keep you full longer.
Nutrition information per serving: 1 g net carbs, 10.5 g protein, 15.7 g fat, 191 calories.
This is a great recipe for a filling meal or snack. By eating lower carb and higher protein foods, your need to snack will reduce and eventually stop. But sometimes we need a little something. You can find more low-carb snack ideas here.
Ingredients you need
This keto mini quiche recipe is incredibly versatile. But, I wanted to share my basic recipe so you have a starting point. As you'll see in the "variations" section below, the possibilities (and flavours) are endless!
bacon – this will act as the "crust" for the egg mixture.
eggs – fresh medium or large eggs.
cherry tomatoes – you can sub this out for another low carb vegetable, but I like the pop of juicy flavour this adds.
cheese – I typically use shredded cheddar cheese because that's what I have on-hand, but any cheese will work such as shredded mozzarella too.
All quantities, ingredients, and instructions are in the recipe card below.
Instructions
Making keto mini quiche is simple! There's almost zero prep time.
First, take a slice of bacon and use it to line the bottom of a muffin tin. Cut it to size so it fits inside the tin, but make sure to cover the sides and bottom. This is going to be the "crust".
Then, crack the eggs into each tin. No need to stir it or whisk it up. Easy!
Next, add a cherry tomato half as well as some cheese into each egg. Now's the time to add seasoning too, like salt and pepper.
Bake for about 15 minutes, on the middle rack, let cool slightly, then enjoy.
Variations
While the basic recipe above is fantastic, feel free to experiment with the original recipe. Here are a few variations to try for your mini quiche (low-carb frittata):
eggs – even though the mini quiche shows whole eggs in the muffin tray, feel free to whisk your eggs with salt and pepper in a medium-sized bowl or a pouring jug before you begin for a more traditional egg quiche. You can even add some heavy whipping cream to the eggs to make them light and fluffy.
salmon – salmon, cream cheese, and dill are some of my all-time favorite muffin tin combinations
spinach and feta (goat cheese) – before you crack your egg, add a bit of spinach. Then add the egg and more spinach on top, along with a dollop of goat cheese.
asparagus – want to swap out the veggies? Try asparagus and ham, which is a perfect combo for a low-carb diet.
mushroom and sausage – think of this one as a meat lover's pizza in egg form. One of my favorite keto meal prep ideas with super low net carbs! Don't forget the cheese.
ham and 3 cheese mini quiche – place a slice of ham instead of bacon OR in addition to the bacon and add 3 cheese mix. Shredded cheddar cheese, mozzarella cheese, and parmesan cheese.
pepperoni and chorizo – for those who love spicy food.
pizza mini quiche – add pepperoni, sliced mushrooms, and when your mini quiche is almost cooked add tomato paste on the top and cover with shredded cheese for the authentic keto pizza taste.
Equipment
You don't need much to make this recipe. Unlike the usual keto quiche recipes, you don't even need a mixing bowl. A muffin tin and an oven are really all you need to have on hand for this easy recipe.
Note: You may need to spray your muffin tray with a tiny bit of nonstick cooking spray, melted coconut oil, or olive oil before you begin. Alternatively, line each muffin with a square of wax paper or baking parchment to make your crustless keto mini quiche easy to lift and store.
Keto mini quiche storage
Making this mini crustless quiche is so easy to do. Even better? They are perfect for meal prep and are freezer-friendly!
Once you make these, you can refrigerate them in an airtight container for 2-3 days, making it a perfect grab-and-go breakfast.
You can also do what I do and freeze a whole batch of them for school lunches. To thaw them out, just reheat them in the microwave for a few seconds until the egg mixture is heated through. Easy and nutritious!
Quiche FAQ
What is a quiche or a frittata?
A quiche traditionally has a crust or base. A crustless quiche is often called a frittata, just a baked egg mixture without a base.
Can I make keto mini quiches dairy-free?
Simply add eggs and all other fillings but omit the cheese (or heavy cream which is optional anyway). Keto mini quiches are so adaptable and you can use any leftovers you have in your fridge too.
How do I store keto mini quiche?
To store, allow the mini quiches to cool completely on a wire rack before storing in an airtight container in the fridge for up to 3 days and in the freezer for up to 2 months. Place wax paper between the delicious mini quiches and remove one to two at a time.
To defrost, place on a plate, covered, on the kitchen bench for one or two hours.
To reheat, place in a warm oven for 10 minutes, reheat in your air fryer for 5 minutes or use the warm function on your microwave.
Are mini quiches a good keto breakfast?
Baking eggs any way is a keto-friendly breakfast option. Mini quiches are particularly delicious for breakfast because there are so many variations you can make, you can utilise leftovers, they are sturdy, freezer-proof, low-carb, gluten-free, and will fit into every diet whether you are following a keto diet, Mediterranean diet, or high-protein diet for weight loss.
How do I stop my quiche from sticking to the baking dish?
Spray your baking dish with cooking oil, coconut oil, olive oil, or butter. Alternatively line with muffin liners, cupcake cases, wax paper, or baking parchment paper.
More keto quiche recipes
Making quiches has to be one of the easiest low-carb recipes for beginners. They are quick, economical, high-protein, and perfect if you are wondering what to eat on your keto diet.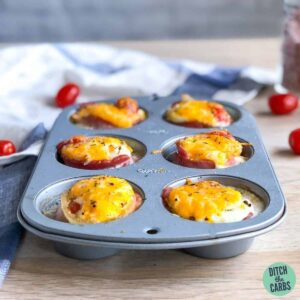 Keto mini quiche recipe (with bacon)
4-ingredients keto mini quiche (with bacon) is the perfect quick and easy high-protein breakfast, lunch, or keto protein snack. You can even hide vegetables in them so picky kids can amp up their greens.
Print
Pin
Rate
Want to lose weight and get healthy for life—without dieting, drugs, or making yourself miserable?
We can help! Tell me how!
Equipment
Cupcake tray

Silicone muffin liners
Ingredients
6

slices

bacon

6

eggs – medium

6

cherry tomatoes

50

g

shredded/grated cheese

+/- salt and pepper

to taste
Instructions
Line each cupcake case with the bacon, making sure the sides and bottom are fully covered.

Crack a whole egg into each bacon-lined case.

Place a cherry tomato into each egg, sprinkle with the grated/shredded cheese and finish off with salt and pepper to taste.

Place each cupcake case onto a baking tray and bake at 180C/350F for 15 minutes.
Nutrition
Serving:
1
mini-quiche
Calories:
191.3
kcal
Carbohydrates:
1.1
g
Protein:
10.5
g
Fat:
15.7
g
Sodium:
455.5
mg
Potassium:
149.5
mg
Fiber:
0.1
g
Sugar:
0.6
g
Vitamin A:
412.4
IU
Vitamin C:
3.9
mg
Calcium:
87.8
mg
Iron:
1
mg
Get our FREE guide to finally fix your metabolism!
Losing weight & getting healthy is never easy, but lately you might feel like it's suddenly become impossible.
Our Flip the Switch guide will help you clearly understand what's been going on, as well as exactly what you can do to get your metabolism working again so that you can look and feel your best—it's easier and more simple than you think!